Don't hate me. Truly. And no… this is not a Pantene commercial!
This post is supposed to be about showing you my messy studio, and then showing you the cleaned up version, but here's the thing: I don't make much mess while I work. And if I do, I clean it up before I go to bed.
So please…. don't hate me!
Here's how it looks in here most of the time:
I'm one of the few people that gets her creativity shut down by mess, and turned on by a lot of blank-slate work surfaces. The thought of digging under piles of fabric on the floor to find my fave scissors makes my stomach churn… instead, I pretty much put things back where the came from as I work.
I've always been a a relatively neat person (I was raised by parents who were raised by Victorians, and I wasn't allowed to get messy!) but I honed my current tidying process in a corporate job some years back. I used to work for 4 different project managers at once, and I did it while I was finishing my BA in Sculpture and single-momming my son. At work, I was introduced to the Franklin Covey planning system, and one of the things it advised is using the last 10 minutes of your day to set the scene for tomorrow. It saved me when I was juggling all those crazy obligations, and I've continued with it ever since.
So at the end of the day, I tidy up:
Put away fabrics (more about this below)
Empty the iron and turn it off (I use an Oliso and they last longer when emptied at night)
Put away the tools
Shut down the sewing machine and computer
Lay out tomorrow's project if I'm mid-stream on something
Add my hours to the studio tally sheets
Update my weekly lists – check off the DONE and add any new that cropped up during the day
The most important thing it does is gives me end-of-day peace of mind so I can sleep…. when I go to bed without doing this, I frequently wake up fretting about forgetting to do something. If it's all on paper and laid out, I can rest easy that I'll know right where to start tomorrow. I feel invited in by a tidy studio.
Now before you think I'm a saint, here's the place when things can get messy for me – the top surface of my fabric drawers: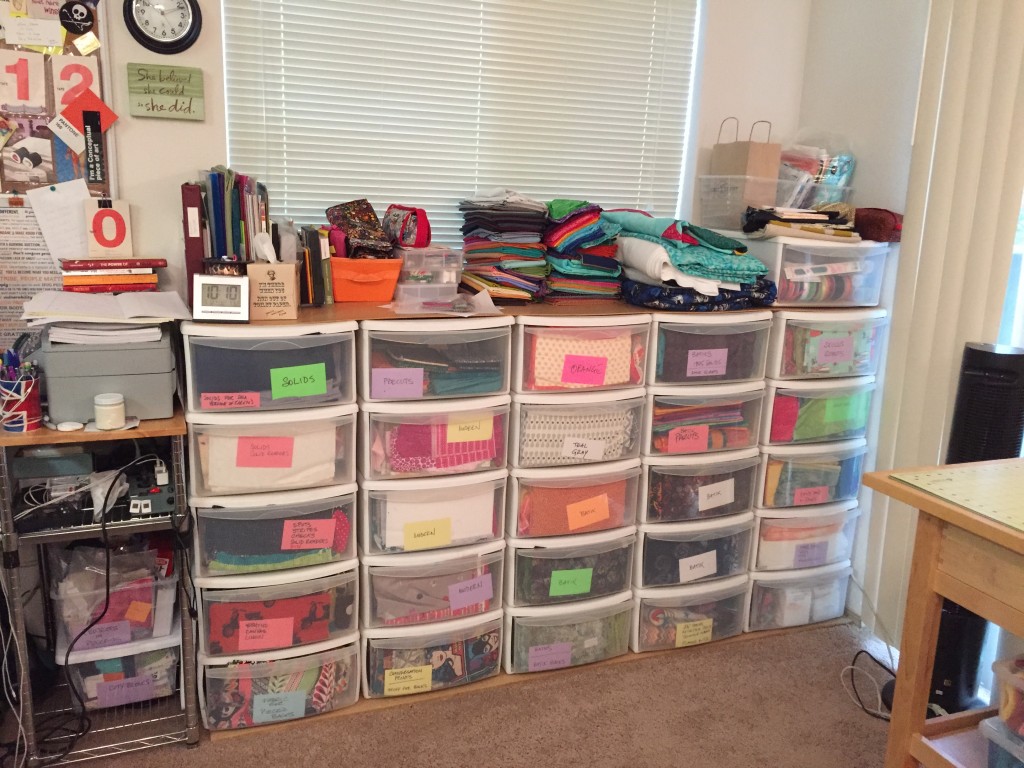 This space is where everything goes while I'm working. I pile on the fabrics that I've been using or auditioning, scraps, new purchases, bits of patterns in development, and all the quilts that are ready to be quilted. In this image, it's about half as bad as it can get (while still staying contained to this space). UFOs that are not yet quilt tops are in zippy bags in a bin under my printer (lower left).
When it bugs me, I sort it out, which usually entails trying to put all the fabric away. I love the fabric drawers I have, and alas, this model is no longer made so I can't buy more. Thus, I made the rule that if I can't fit my fabric it all in the drawers (with upcoming projects set aside in zippy bags – see the bin in the top right corner), then I must cull the herd. Right now, some of the drawers are so full I can't get a hand down the side, and yep, that actually makes me a little crazy.
So culling is on the agenda! Here is my plan:
Check the UFO bin to see if it's time for any lingering projects to be tossed out
Fit all the fabric into drawers
Donate culled fabric, or package it for giveaways
Empty the "working scraps" bin (upper right)
Bag up the projects in process with all their parts and notes
And here's the after image: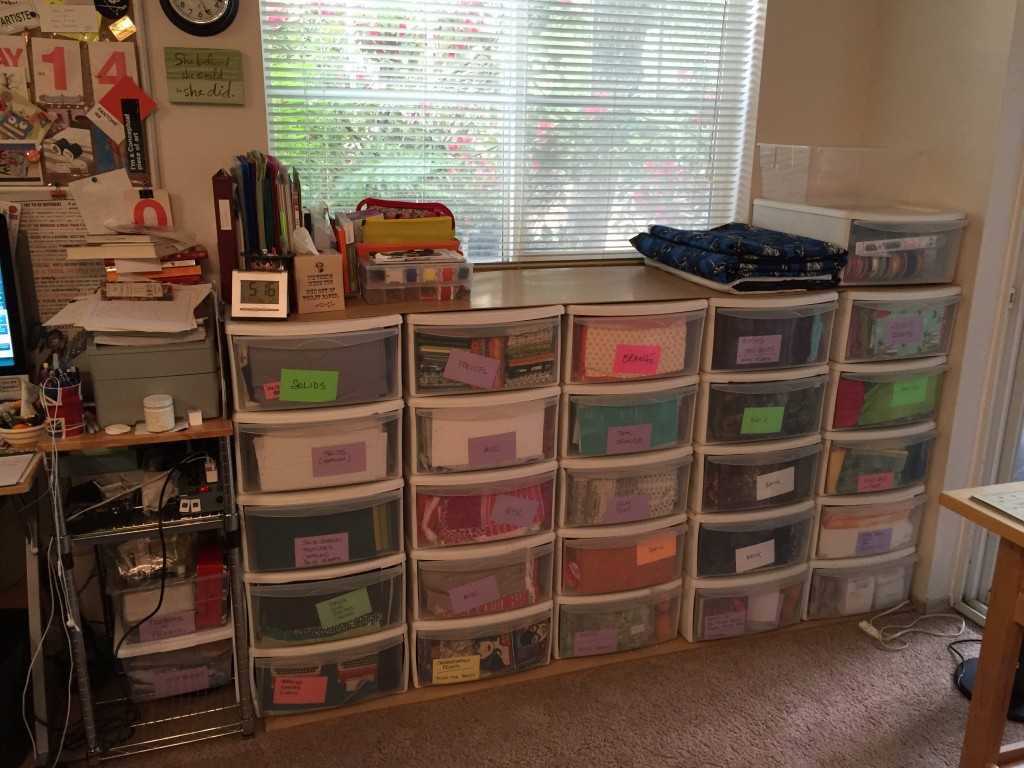 I love all that empty space! on top! I managed to cull over a drawer's worth out, and most of it got taken home by my mini group. There's still a deeper cull to be done, but for now, getting it all put away and photographed for this post was good enough!
If you're interested in how I use my space, read below for some posts I wrote a while back (in my old studio) about my storage processes:
And don't forget to check out the rest of the hop!