This a tutorial for the Colorblock LOVE pattern, specifically the E block. This post is also part of the Colorblock Love QAL!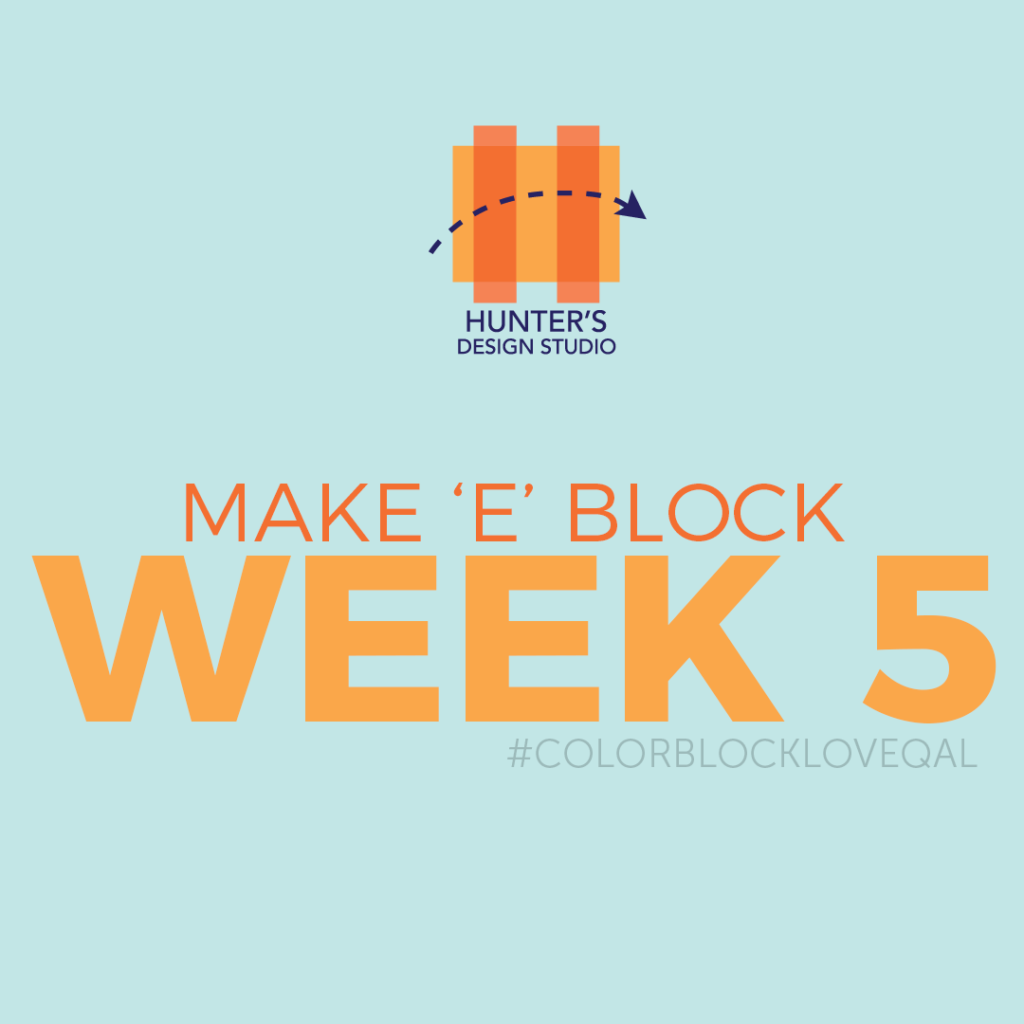 Please refer to the pattern for all measurements! If you're making the Kinship + LOVE version (buy your Kinship: 100 Block Fusion Sampler here), follow the steps in the Addendum (pages 9-11).
Before starting this step, you'll need to cut out and label all the sections for it (page 3). Refer to the Cutting Long Strips tutorial for help as needed.
I like to work with a design wall or any other surface that's big enough to hold all the pieces I'm working with. If you don't have a permanent design surface available, any flat surface will do. And if you need to be able to move your project around in pieces, I recommend using a cheap, flannel-backed, plastic table cloth (available seasonally at most chain craft stores). The fabric pieces will adhere to the flannel, and if you need to roll it up, they don't stick to the plastic.
Lay out all the parts of the E block, placing them in the space and orientation they should have when sewn.
Refer to Sewing Long Seams Without Stretching Them for tips on sewing this block. If you keep the stretching to a minimum, the block will lay flat. Flat blocks make for easier quilting!
I recommend pinning the seams on this block as they're just long enough to be easy to stretch. More pinning = less ripping, so if you hate ripping seams, get generous with your pins!
The E constructs like a strata. It's a hunk of strips sewn one on top of the next, with a finishing strip down the side. Start with the top piece, sewn on the next one down, and the next, etc. (Refer to page 4 for the sewing order.) The think to watch for here is to perfectly align the top and bottom of the strips, so the edge doesn't sneak into a funky diagonal that is not longer straight.
Press every seam as you sew. I usually press to the side, and press towards the dark, but feel free to press open or in any way that fights with you the least. Just be sure to PRESS, okay?!
Keep sewing the strips, following the pattern:
If you're making the Kinship + LOVE version of this pattern, your assembly will look like this:
And boom! You have an E block! Give it a good press all over, and put it aside for final assembly of your quilt.
Don't forget to post your work on Instagram! For Colorblock LOVE use #colorblocklovequilt , #colorblockloveqal (or #colourblocklove if you speak the Queen's English!) and if you're making the Kinship + LOVE version, add #kinshiplovequilt .