This is the first in an occasional series about building studio habits to ease your workflow.
As we hit the middle of January, and I read across my social media feeds of everyone's epic plans to ramp up this and change that, I find myself retreating to my studio armchair with a cuppa to ponder what advice I would offer for giving your sewing practice an infusion of new year's intentions.
No, I'm not going to give you an insurmountable list of how to be perfect – really, who needs ANY more of that! I find it beyond overwhelming to think I could change that many facets of my life in the single stroke of a late December midnight! But I do believe you can shift your life one thing at a time, thus I'm offering you ONE thing I think can improve your studio practice right now, and yes, it's free, and doesn't require you giving up chocolate 🙂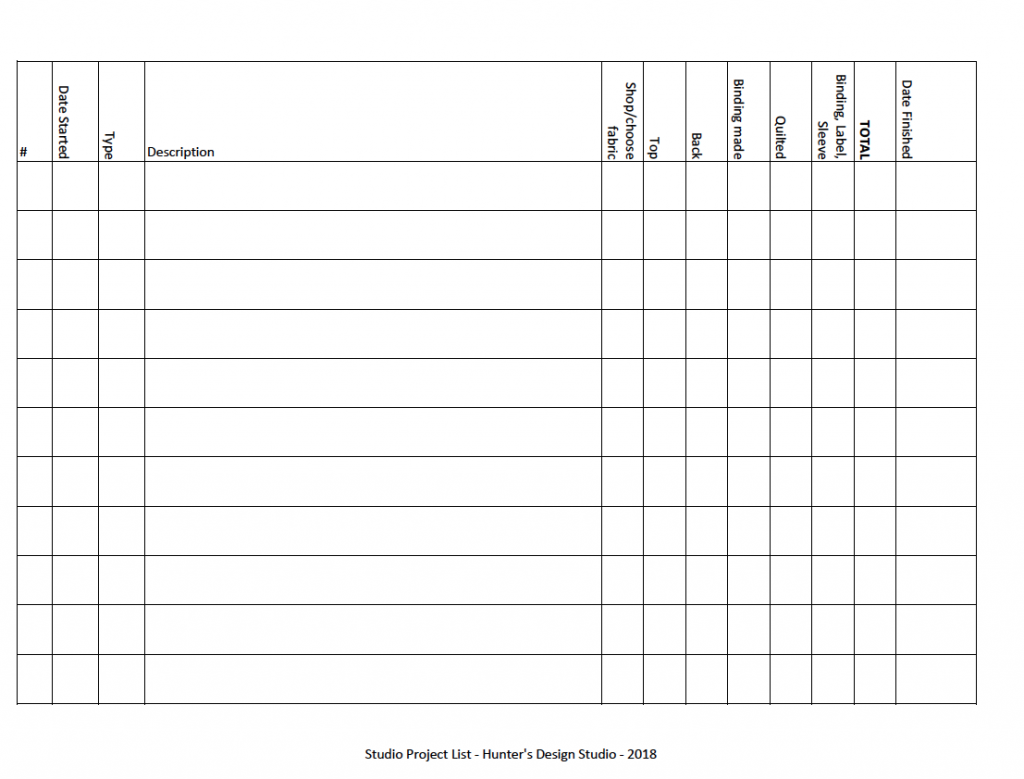 Every time I work on a project, at the end of the day, I write down what I was working on and how much time I spent on the various stages of it. I break it into stages because I'm one of the weirdos who loves checking off small steps of larger projects.
I also use this to track the number of things I work on. Sometimes I get to the end of a year and feel like I didn't accomplish enough, and this list usually sets me straight on that. We often forget the hours we put into making blocks here and there for various things, or don't count the time we spend sewing things that are not quilts. For instance, I made 26 Chunky Wee Zippy Pouches, 2 Chunky Wee Bags, and a couple dozen blocks, pincushions, etc. in 2017, beyond the 47 quilts I finished!*
Lastly, by tracking these broad numbers as I work I'm better able to estimate the price of custom work, should someone ask me to make them a quilt. Estimating the cost of materials isn't hard, but we usually have a tough time estimating the amount of labor we might put into something. Because I have this historical data, I can go back as see how many hours I put into any given quilt, which allows me to make a more accurate proposal. Even if you never plan to sell a quilt, knowing this number allows you to see if you actually have the time to make that last minute gift you though of!
Feel free to use this document as a starting point for creating your own list using the categories that are important to YOUR practice.
And for a New Year's blast from the past, I wrote this a couple of years ago – and I still wish all these things for you!
For more on tracking the value of what you make, go here.
* With MUCH help from Nancy and Kazumi, my trusty long-arm artists!