If you enjoy this post, I write more posts like this on my Substack, How to Own a Revolutionary Craft Biz.  Check it out!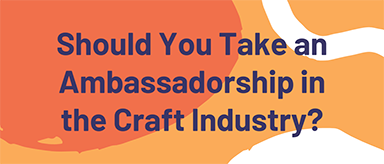 Note: I often write for my industry, and this is one of those such times.  The start of a year means the announcement of new brand ambassadorships! If you've ever thought of applying for one, please give these thoughts a read to see if that bright shiny opportunity really IS in your best interests.
Please note that I'm NOT saying you shouldn't do it.  I am saying you should give ambassadorships very careful thought and evaluation, especially if your time is precious!
The Company You Keep
First of all, let's take a look at the company: if you're chosen, you'll be publicly associated with them, and perhaps their other ambassadors – sort of like dating a celebrity. So it's important to know if their values align with yours, should either of you decide to take a public stand about something.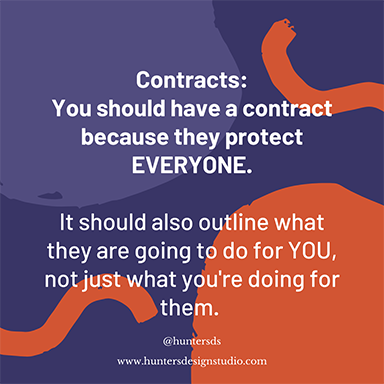 Contracts: yes, this arrangement should have a contract, because contracts protect EVERYONE. If the company won't offer or agree to a contract, then you can't guarantee the terms, and you, being the littlest player in the partnership, are the one that's most likely to lose if issues arise.
More contracts: the contract should ALSO outline what they are going to do for you, not just what you're doing for them. Look… it's exciting to be offered an opportunity, but don't let the excitement make you ignore what YOU need from the arrangement.
Show Me The Money!
Usually, you will not be paid for ambassadorships in the kind of currency you can use at a grocery store.
Usually, you will receive exposure on their site and/or social media. In fact, you will probably be chosen based on your social media numbers to boost theirs, not just your design skills.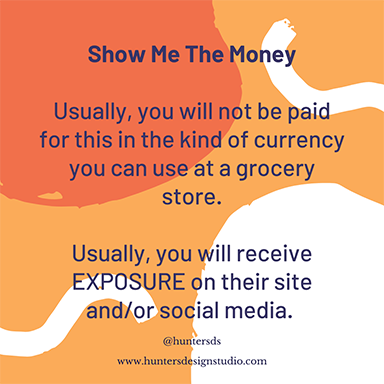 So let's talk about the product you might get (and note that I'm in the quilt industry so this is thru the lens of quilt related products): sometimes ambassadorships don't get the coveted fabrics… you get the stuff that's not selling well (in the hopes that this promo effort will boost it). It's painful to try to pull something nice out of a ho-hum line of fabric, and the success of that will reflect on your design skills, not on a fabric line that has issues.
OR you might have access to their entire fabric or product line, but have the limitation to using only that company's products publicly for the duration of the ambassadorship. One colleague noted that this meant she couldn't help promote a friend's new fabric for a different company.
Also, let's talk about the cost of that fabric… to you, at retail, it might be $13/yard, but to the company supplying it at cost, it's about $3 or $4/yd. So they're giving you about $30-40 in fabric for a lap quilt (and you still need to supply everything needed to finish it).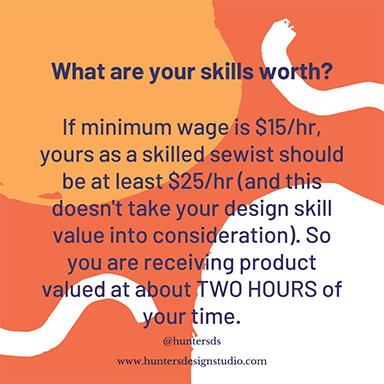 What are your skills worth? With a consensus that minimum wage should be $15/hr, let's just say your hourly rate as a skilled sewist should be at least $25/hr (and this doesn't take your design skill value into consideration). So you are receiving product valued at about two hours of your time, and the rest of the time you put into it is your "donation" to the project.
If you're receiving an expensive tool or a machine, you'll probably have to return it once you leave the ambassadorship
Time: the Non-Renewable Resource
You'll be need to make things with the products supplied, often on a specific schedule. Do you have the time to dedicate to this? How does it fit with your personal/family schedule?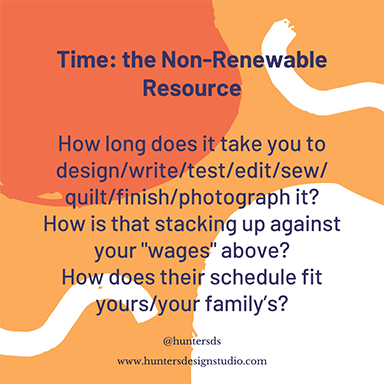 How long does it take you to design something? Write it up?  Test and edit it? Sew it/quilt it/finish it? How is that stacking up against your "wages" above?
And are you being realistic about your time estimates? Pssst… multiply it by three for a better estimate – trust me.
Social Media and Exposure
The company will expect you to promote them on your social media and blog.
They'll tell you how to promote their product. But often, your arrangement will not specify what they will do for YOU. How many posts you'll feature in.  Whether or not they are IG stories (that disappear), or if you could be the last slide in an IG carousel, etc. This is the exposure you're working for, so it's important to understand exactly what they're promising.
How much time does it take you to photo your work? Write and schedule and interact with your blog and social media posts? Make and edit videos?
Research: Go look at their posts that promote other artists. What percentage of their following are interacting with those posts? Look at your own stats: do your promo posts get good traction, or does your following prefer something else? There's nothing more frustrating that working hard on content that isn't seen.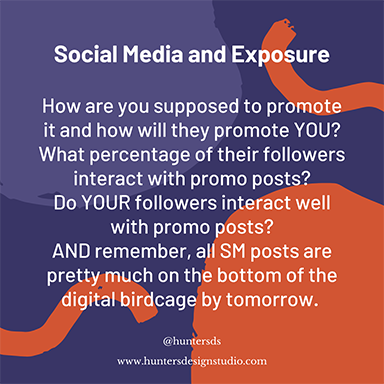 AND remember that all social media posts are at the whim of the ever-changing algorithms.  Everything we post is becomes the equivalent of the newspaper on the bottom of the digital birdcage pretty quickly.
Adding It Up
Based on your math, the cost of your time versus the value of the exposure,  are ambassadorship a good deal for you? Would it be better to buy the yardage/product/tool you like, and make things, on your own timeline, that excite you?
And if you add up those hours for a year, is there a bigger, better project you could take on that will move your business further?