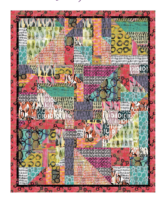 Interested in hearing this post as audio?  You can do so here!
I love a good quilt kit. In this too-busy life, a well-designed kit can give you fast success with a minimum amount of fuss.
I realize some people think quilt kits are "cheating." So unless your quilting experience is being governed by a state board with graded exams, I can't see where this is a cheat! And again, why are we making arbitrary "rules" that make people feel excluded from our lovely, vast community?
YOU get to do your quilting practice YOUR way 🙂
In my opinion, anything that helps you have fun making your next project gets top marks.
Seven reasons why I love quilt kits:
It's an all-in-one package: A quilt kit usually includes all the necessary materials needed to complete a project. This makes it easier for those new to quilting to get started in a snap.
They're usually made with high-quality materials: A kit often includes high-quality fabric, which means your finished project will look great and last a long time. Thus, if we're going to use our precious time, let's make sure the quilt lasts.
You already like the finished quilt: If you worry about wasting time or money, a kit is a great way to guarantee you'll like what you make. You've already seen the finished result and liked it enough to be interested in replicating it!
Kits help you with fabric choices: if you're new to choosing your own fabrics, or nervous about getting it just right, or just can't make one more decision right now, a kit solves that problem for you. So just buy one and get sewing!
Kits are time-saving: With a quilt kit, you don't have to spend hours searching for the perfect fabrics. Everything you need is included, usually down to the binding.
Quilt kits are inspiring: Kits often come with patterns that can introduce you to new designers. So your next project can be inspired by this one!
Kits are convenient: You only need to go to one shop for everything. Also, if you buy it online, it will magically appear at your door!
Image above: Faster Fourteen quilt pattern by Hunter's Design Studio, Kit featuring e bond Root fabric from Free Spirit at Crimson Tate (Spring 2023)