If you enjoy this post, I write more posts like this on my Substack, How to Own a Revolutionary Craft Biz.  Check it out!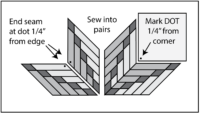 Note: I often write for my industry, and this is one of those such times.
Interested in hearing this post as audio?  You can do so here!
This question came up recently in a conversation with a colleague: does learning Adobe Illustrator make you a professional quilt pattern designer?*
The TL;DR answer from my chair is NOPE.
But let me dig into this a bit, because once we start digging under the hood of such deceptively simple questions, it becomes obvious that there are nuances to consider.
The Adobe Creative Suite is considered the industry standard for graphic design, and a written and illustrated quilt pattern is definitely a form of graphic design. It's also widely acknowledged that Adobe products are powerful and thus complex, requiring a steep learning curve to gain some skill.
I lucked out on learning Illustrator. I had to do it as part of the Foundations requirements for my BA in Art, and despite a semester-long class and a fabulous professor, there were many weekends of steaming frustration until I got the hang of the little bit I know.
Emphasis on the little bit I know.
I bet I know barely a tablespoon of what Illustrator can do, but the part I need to know to design patterns, I know well, and well enough to help out my friends and colleagues at times. The rest happily remains a mystery to me.
When I first started designing quilt patterns, there were often conversations in the community about just drawing a shape in PowerPoint, exporting it to Word, patting your head, rubbing your belly, and turning around three times while hoping it would stay correctly scaled through exporting it to a PDF. And my contribution to those conversations was usually, "For the love of all things, just learn the industry standard tool because that's gotta be easier than all these other contortions."
Incidentally, I still advocate for learning Illustrator from the start rather than learning three other things on the way to it because burning the time to re-learn software is expensive, and you'll never outgrow Illustrator.
But one of the things I'm aware of, after 30-plus years in this industry as both a consumer and a professional, is that for some tedious reason, people like to define irrelevant criteria by which they can justify their superiority and then use said criteria to create exclusion and bias. Using this situation as an example, it comes off like "I'm better than you because I use Illustrator and you don't, and therefore you don't belong."
OUCH.
Thirty-five years ago, a different group of people argued that quilts were only "real" if they were hand-quilted. Or hand-pieced like grandma did it. To the people who still argue such points, I say to you: hand over your cell phone, your air-fryer, and the keys to your hybrid car.
Look, everything that still matters is going to evolve, so of course pattern writing is evolving, too. In my early quilting days, I remember buying patterns that were obviously library-produced photocopies with hand-drawn illustrations, and glossy photographs hand-glued to the pattern covers because that's what was possible in 1989 when you were boot-strapping your biz.
Today's evolution now includes several different software programs that can get you to a lovely pattern that downloads digitally on just about any device (including your phone!) or a gorgeous, commercially-produced, full-color booklet.
Skill-wise, if you hit a wall either in your capabilities or the limitations of your software, you'll either level up your skills, your software, or your budget to pay people to make the tricky stuff for you. This is the way the human knowledge has always worked… "I don't know something, I want/need to know it, so where can I find it, or who can I pay to deal with it?" I mean, it's Google in a nutshell, without the creepy data mining practices.
So by all means, use EQ, Affinity, Inkscape, or Canva.
Or keep on patting your head while you wrangle with PowerPoint. If you hit a point one day where your ambitions or income are being held up by not learning Illustrator, I'm sure you'll figure out what to do, or who to hire.
*BTW, the definition of professional is "one who follows an occupation as means of livelihood or for gain."
To me, you are a professional pattern designer if your intent is to run a profitable business that designs and sells patterns.
The software you use to write them is irrelevant.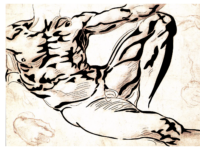 One of the assignments I conquered while learning Illustrator in college: Draw over a Michelangelo drawing. Took me allllllll weekend!