My son's squilt (special quilt) wasn't the only quilt that came home with me last summer, looking for a little help. It was joined by a squilt made for his wife, Jessica, by her Great Grandma Bethel some years ago.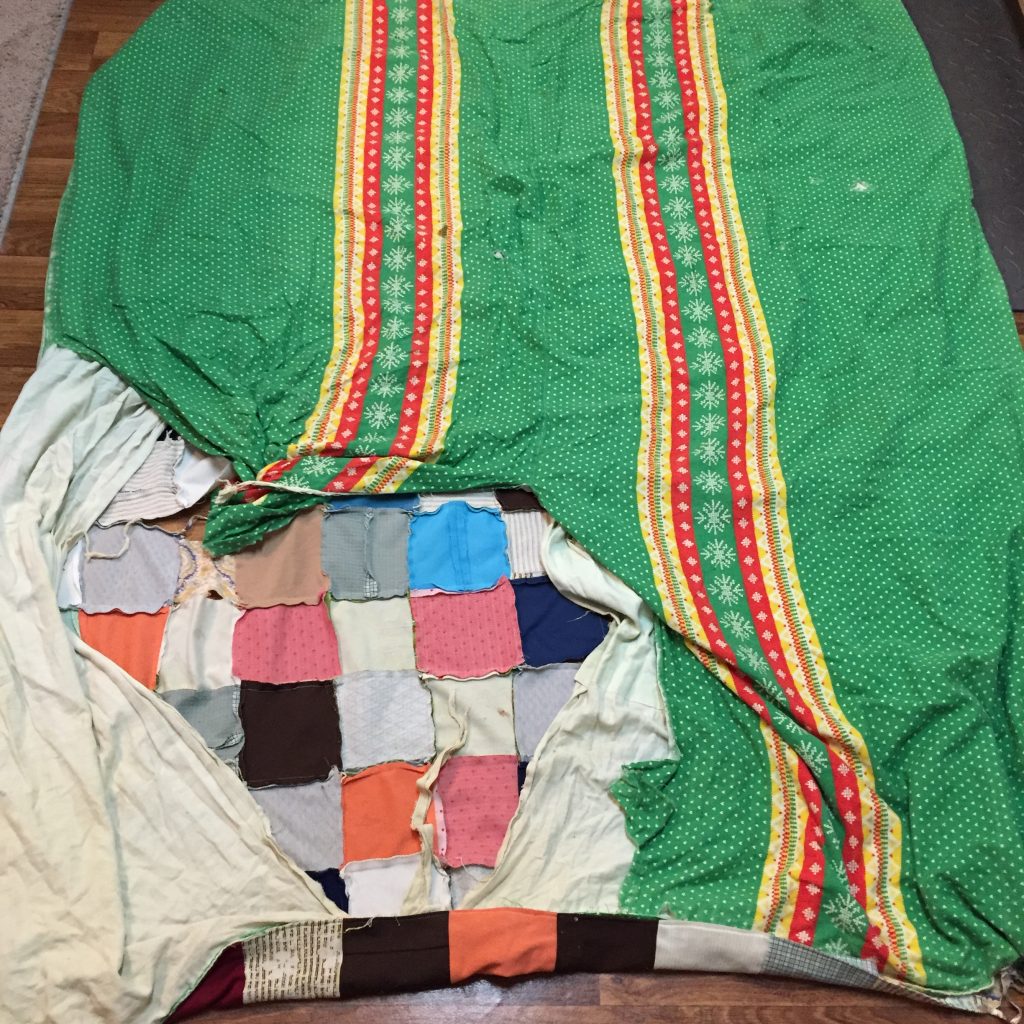 The poor thing was loved to pieces, and Jessica asked me if I could rescue it for a few more years of cuddles. Challenge accepted!
As before, a disclosure: I know little about professionally restoring and conserving quilts, so please don't look to me for authority. I just try to solve the problem with the resources I have, and we're not trying to keep these things in museum display condition! We're just trying to love them a little longer 🙂
The first thing I did was to separate the layers. It had a thin flannel sheet in the middle as batting (that had mostly turned into shaggy handfuls of lint) and the backing flannel had long since given up most of its fuzz. It was once tied through with something akin to perle cotton, but most of the ties had torn through or come unknotted.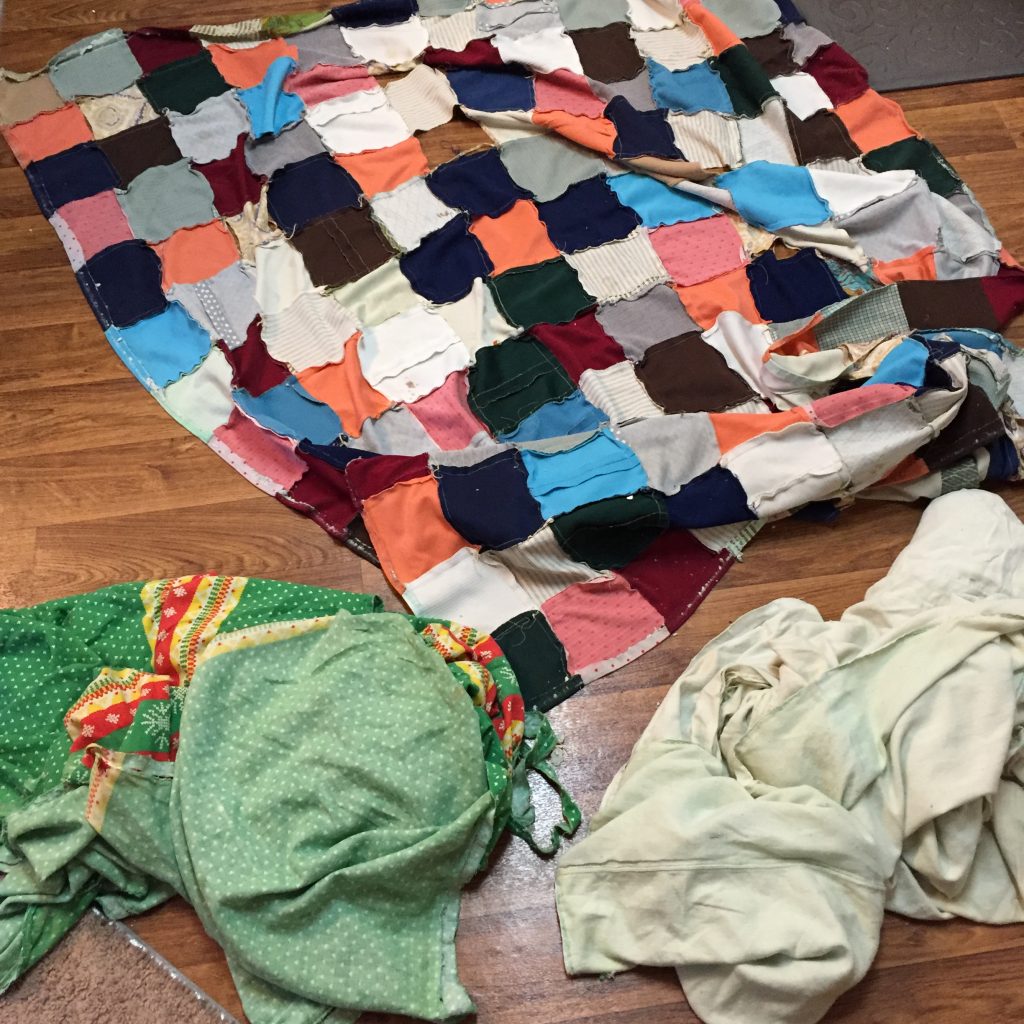 The front was mostly polyester (you can see that some pieces were once garments – they had seams in them!) and a few squares of velour, now shredded to pieces.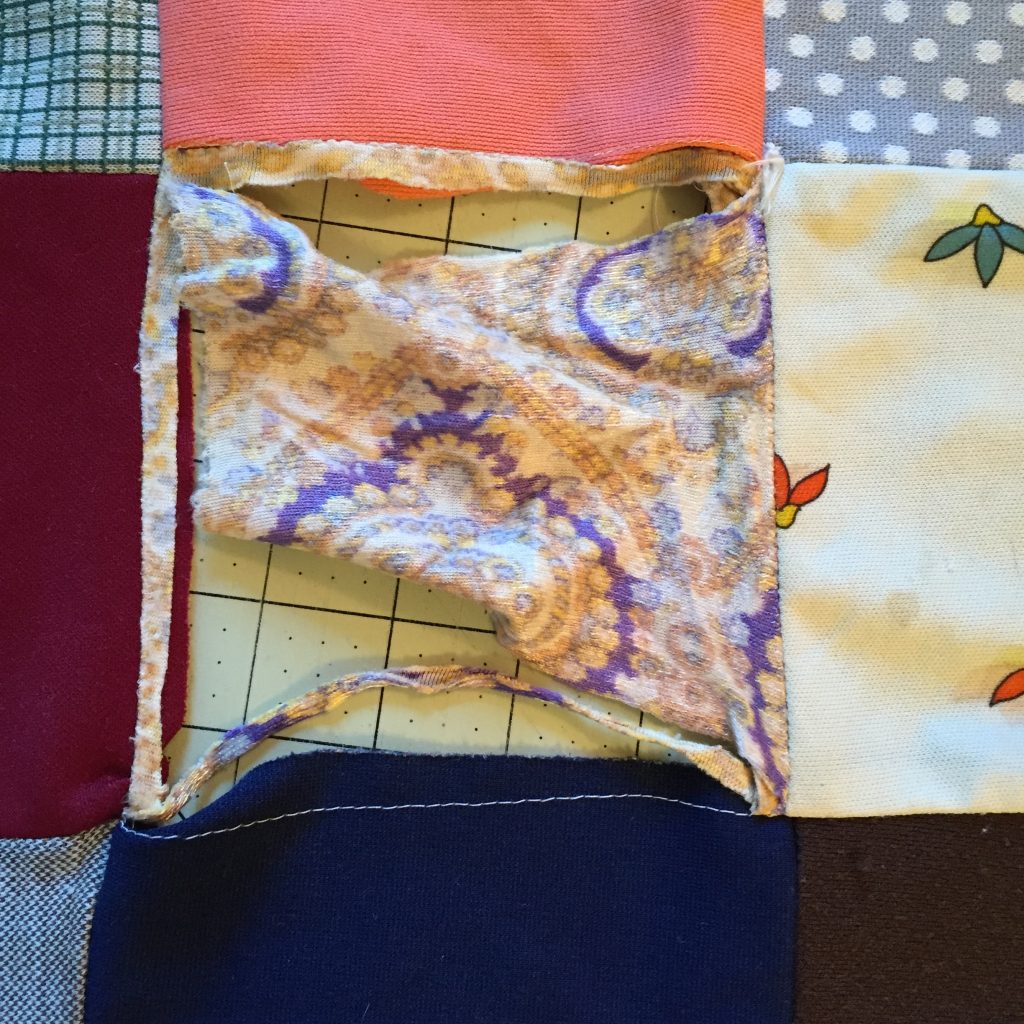 I tossed the middle, and put the back and front through the wash. That polyester is bulletproof… when the apocalypse comes this quilt, the cockroaches, and Keith Richards will be the only things left standing!
I found some vintage polyester on Etsy (a trendy Kelly green with white polka-dots), and replaced all the velour squares with it.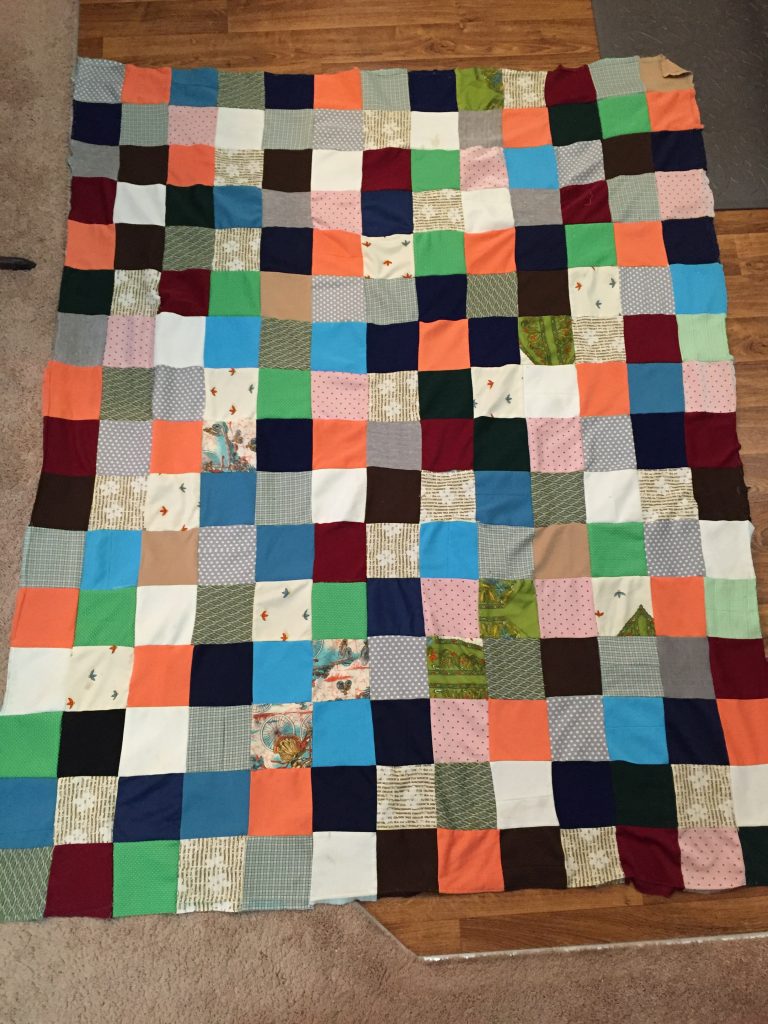 Preserving the alpine print flannel on the back was important to Jessica. It was terribly threadbare and full of holes, so I culled the best chunk of it, and appliquéd it over some new green flannel.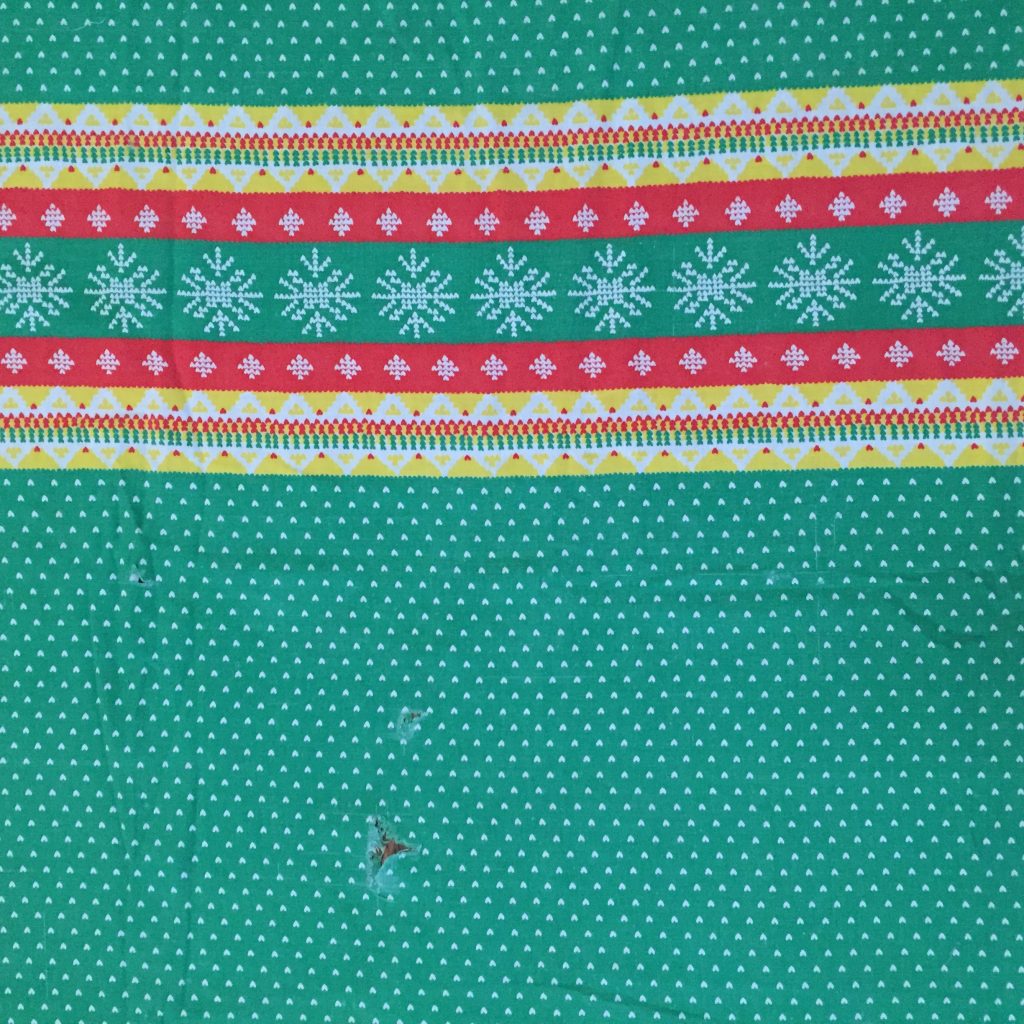 And then added another flannel layer to it for batting, and sent it off for a quilt spa day with Nancy Stovall.
The quilt was originally envelope (or pillowcase) bound – no binding, and tied. Denser quilting makes the fabric in quilts last longer, but there's no way to long-arm something AND envelope it. So we went with traditional layering, and I went shopping for polyester to make a binding.
The quilting proved challenging… all those chunky poly seams and intersections did not want to glide under the machine foot unattended, so Nancy ended up hand guiding it into swirls that artfully missed the problem spots.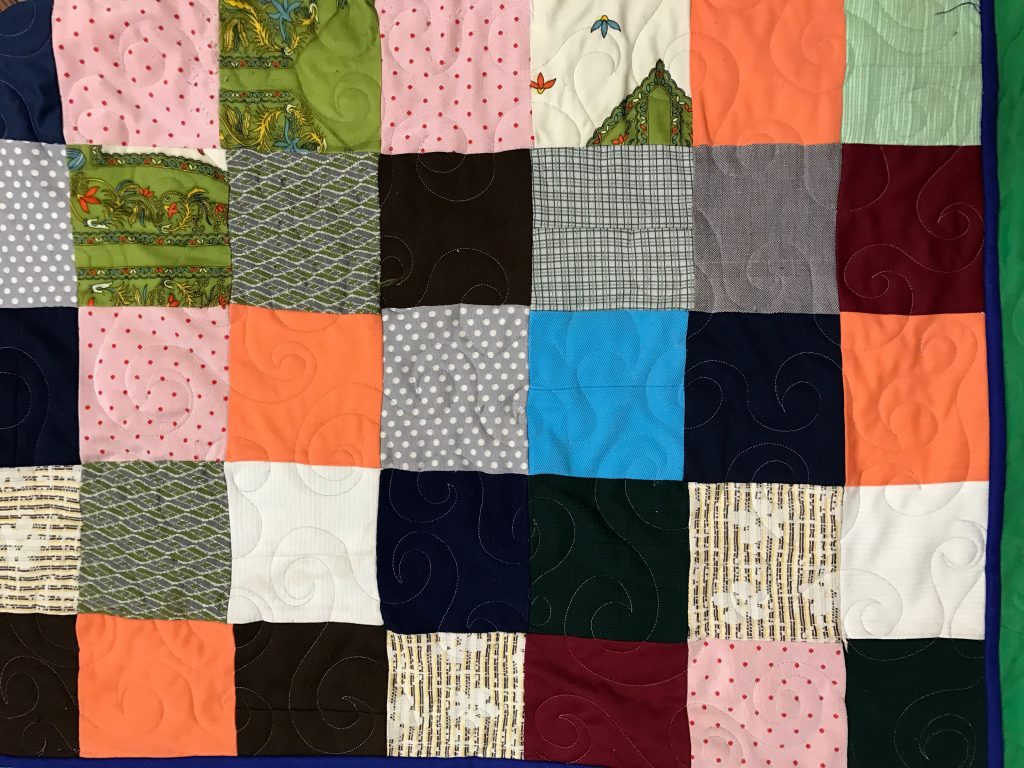 I found a navy poly, and cut a 3" binding from it. What an adventure… it didn't want to press in half, nor turn nice corners.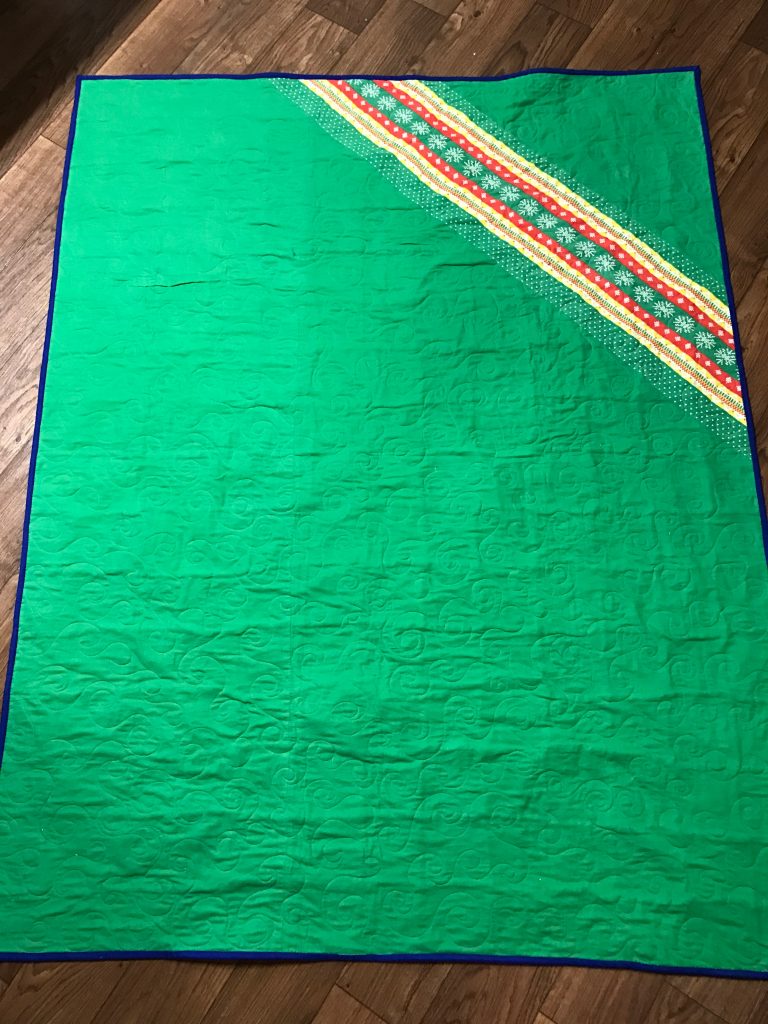 It's back home with Jessica and Steve now. And I hear their pup is thrilled to have it on the bed!