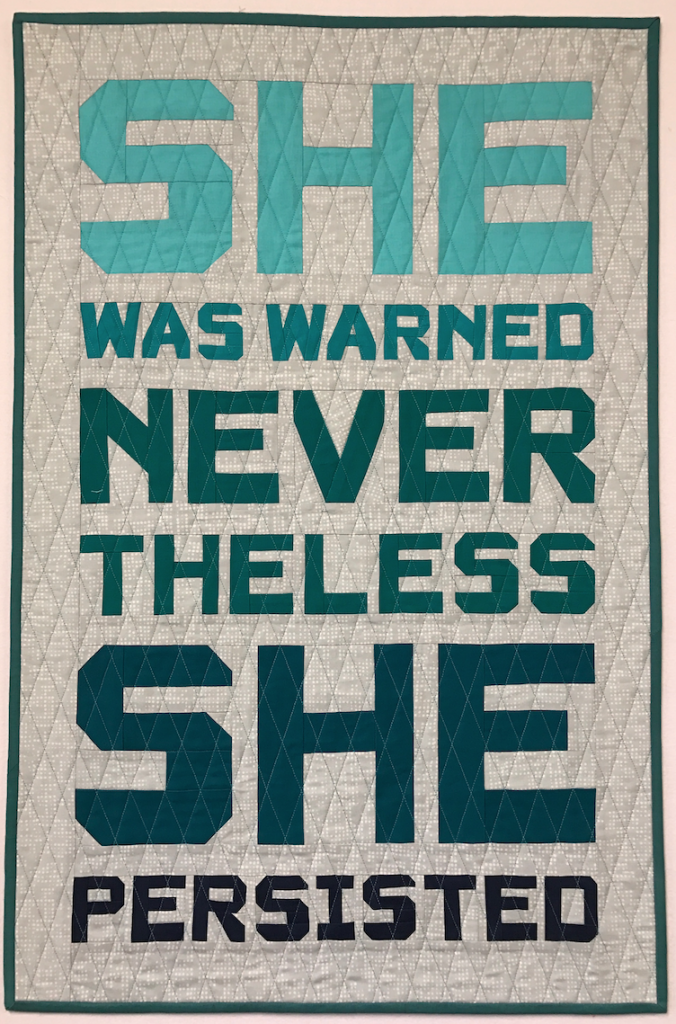 I made this quilt recently, and when I posted it on Instagram (follow me here) a few people asked for a pattern. This isn't exactly a pattern per se, but close! You'll need my book Quilt Talk® for the letter patterns, but I've done the rest of the math for you: measurements and construction notes are below!
Begin by choosing the colors for your words. If you have a fat quarter of each you'll have plenty. You might squeak by with a fat quarter of background, but I'd recommend having a half-yard on hand in case you decide to get fancy with how much background you put around the word block.
I chose my colors in a gradient, light to dark. I chose to make NEVER and THELESS in the same color to bring that word together, despite it being split across two lines. I don't have KONA recommendations for you as I used a mixed bag of fabrics from my stash, and there are at least three different companies' solids in my house! Make it your own – you'll love it more!
If you haven't already switched over to newsprint for your paper-piecing, this would be an excellent time to start as you'll appreciate it on the smallest letters. It's more see-through than regular copy paper, and tears off with far more ease. I use the Carol Doak Foundation Newsprint by C&T, but any newsprint that will go through your home printer will do.
The words are 17" wide (finished) and the interior word panel is 28" long (finished). I added a 2" border all round to make it 21" x 32".
All the letters are CAPITALS.
The kerning/K-space (space between the letters) is a bit fussy, but happily, these things are easy to stretch a little with a hot iron, or ease, as needed.
Start by copying the letters:
SHE x 2 – copy at 170% for 6.4" tall (just a hair bigger than 6 3/8")
WAS WARNED – copy at 50% for 1 7/8" tall
NEVER – copy at 100% for 3 3/4" tall
THELESS – copy at 70% for 2 5/8" tall
PERSISTED – copy at 57% for 2.14" tall (just a hair bigger than 2 1/8")
Measure your letters as you print them to make sure you maintain size, and adjust accordingly if they're off. See Quilt Talk® p12 and 13 for printing and sizing tips.
Paper-piece away… I recommend looking at Quilt Talk® for the section on pre-cutting (p13) for letters as it will speed things up for you, and save you fabric.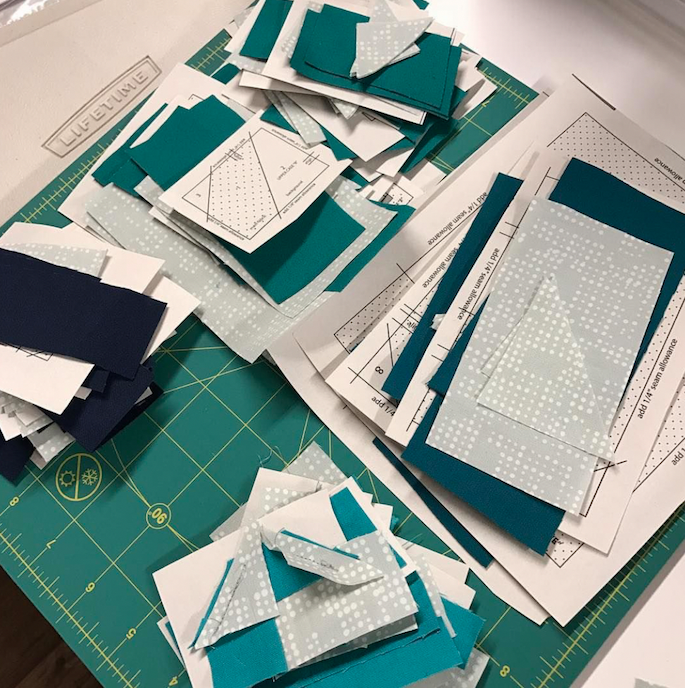 How I paper- piece begins on p15 if you need a refresher. I like to peel the paper from my letters before I set them – if yours feel wobbly give them a spritz of starch or sizing.
Kerning/K-space (listed in descending order of size):
SHE x 2: cut 4 @ 6 7/8" x 1 5/16"
NEVER: cut 4 @ 4 1/4" x 1"
THELESS: cut 6 @ 3 1/8" x 7/8"
WAS WARNED: cut 5 @ 2 3/8" x 3 /4" and 1 @ 2 3/8" x 1 5/16" for between WAS and WARNED
NOTE: There is no K-space between W and A in WAS or WARNED (this tucks the A next to the W more gracefully)
PERSISTED: cut 8 @ 2 5/8" x 3/4"
Put the K-spaces between their letters, and give each word a hearty press, with steam as needed, to make it 17 1/2" long (including the seam allowances).
Cut 5 @ 1 1/2" x 17 1/2" to put between the rows of words. You could experiment with reducing the word space between NEVER and THELESS for more impact.
Border, quilt, and bind as desired. I recommend something simple on the quilting so as not to dilute the words. I find a simple cross hatch to usually be quite effective – I did a diagonal diamond cross-hatch on this one, one inch apart, basing the diagonal on the interior angle of the V in NEVER. If you choose to make a wallhanging remember that, because a wallhanging doesn't get the wear of a quilt that gets cuddled a lot, you can afford to be simpler/less dense about your quilting.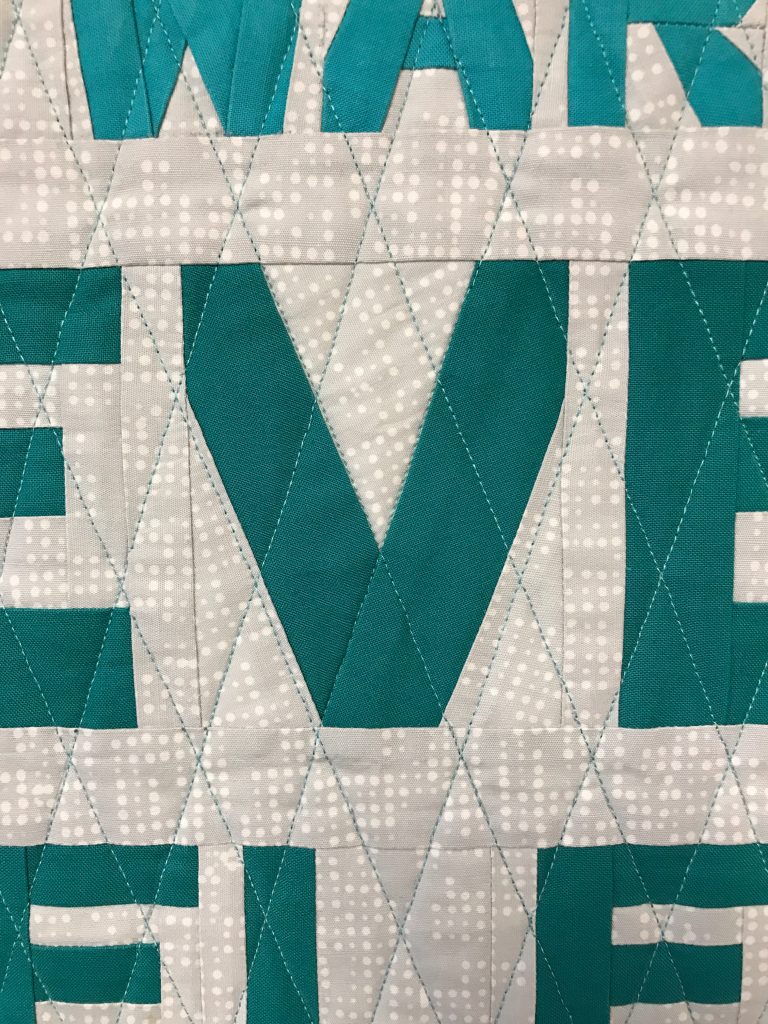 This is for personal use only – please don't sell what you make.
Please post yours on IG – and tag me @huntersds and #neverthelessquilt so I can see it!