Last week, I made an adapted version of my new pattern, Big Hearted, for #QuiltsForPulse, a project spearheaded by the Orlando Modern Quilt Guild to get quilts of rainbow hearts into the hands of those closest to the Orlando shooting tragedy – the survivors, the family members of those killed, and the first responders to the scene. Please read more here if you're interested in helping out.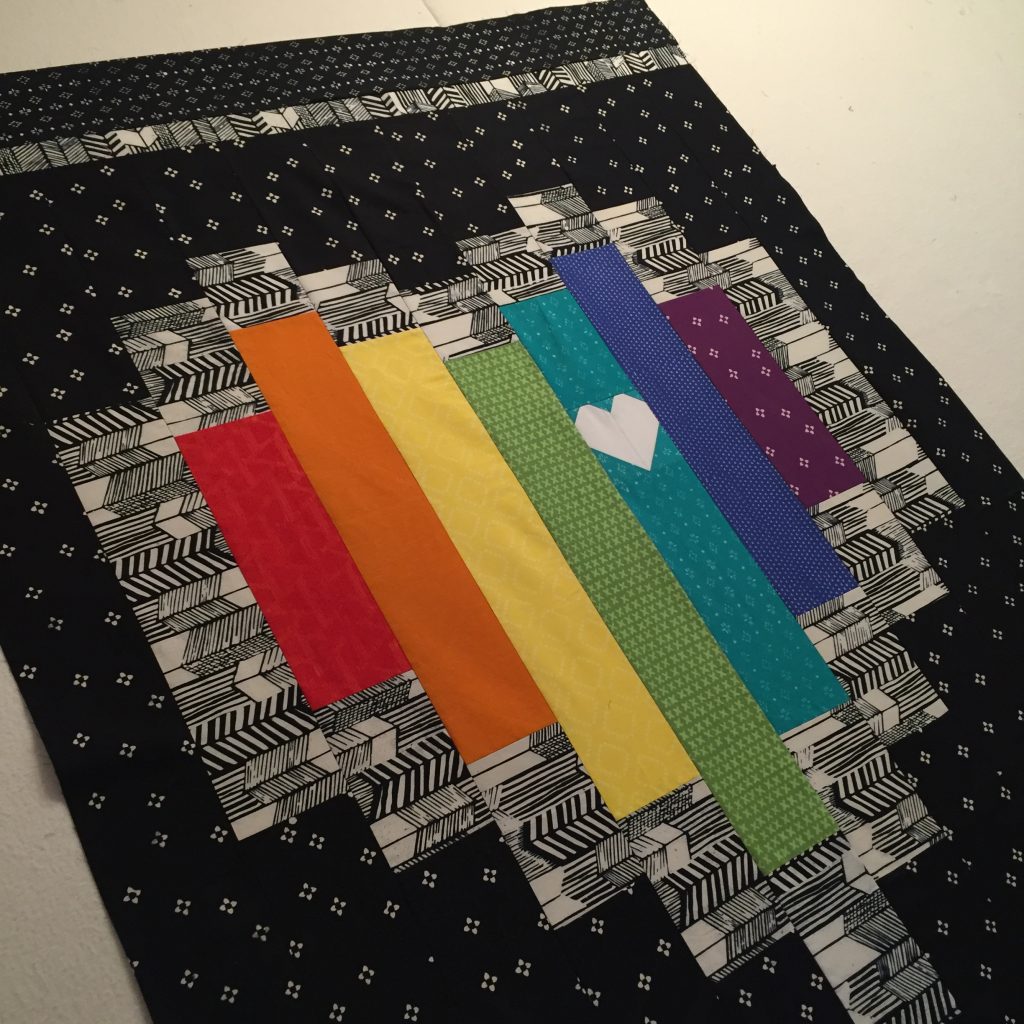 When I posted it to social media over the weekend, I had a few requests for details on how to make this quilt, so here they are!
First, you'll need the pattern for Big Hearted. The pattern has three sizes – this is the middle of the three, the LAP sized quilt, which finishes at 44" x 63" (Orlando MQG is asking for a minimum of 40" x 60").
This quilt is really fast to make… I've made it five times now, and once I'm done choosing fabrics, the top takes me about 3 or 4 hours #sewingatthespeedofsam 🙂
INSTRUCTIONS
On Page 4, modify the cutting instructions as follows (my color choices in parens for reference):
Background fabric (black print): follow as written (note, if your fabric is 44" wide, start with 8 strips and cut the ninth if needed)
Heart fabric (black and white print): follow as written
Inner Heart fabric: skip and follow colors below
Center Heart fabric: skip and follow colors below
Accent Heart (white): follow as written
Inner Border (black and white print): follow as written
Outer Border (black print): follow as written
COLORS
You need 7 colors to render your rainbow. I used Red, Orange, Yellow, Green, Teal (blue/green), Blue, and Purple.
Cut 1 strip of each color, the same width as the background fabrics x WOF
Red: Cut 12 1/2"
Orange: Cut 20 1/2"
Yellow: Cut 22 1/2"
Green: Cut 24 1/2"
Teal: Cut 6 1/2" and 12 1/2", plus 2 squares 2 1/2" x 2 1/2" and 4 squares 1 1/4" x 1 1/4" for the snowballs needed to make the Accent Heart
Blue: Cut 20 1/2"
Purple: Cut 12 1/2"
ASSEMBLY
Make the Accent Heart per the instructions at on p5 (step 3).
Lay out the parts of the quilt top per the drawing on p6, making the changes below (step 4).
Omit all P, Q, R, S, T and U pieces.
Replace with the cut colors from above. On the Teal column, place the smaller Teal piece on top, then the Accent Heart, then the larger Teal piece.
Follow the assembly instructions in the pattern to complete the top.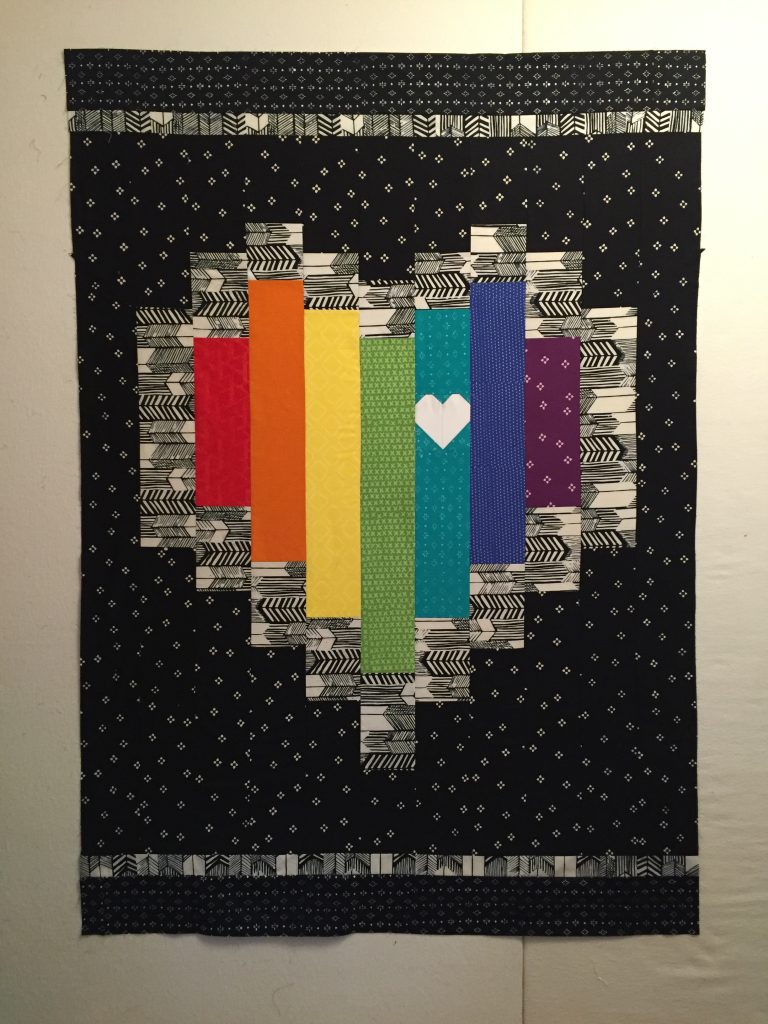 If you want to see what people are making for this project, hop over to Instagram and search for #stitchedwithlove, #quiltsforpulse, #orlandolove, #orlandomqg. I'm so proud and humbled to be part of a community that makes such wonderful things.
This quilt is in the capable hands of Nancy Stovall at Just Quilting PDX for some long-arm artistry. I would also like to note that the fabric and quilting were donated by Me+You/Hoffman California Fabrics, and the batting was donated by The Warm Company. I'm more than thrilled to have their support to make such projects. There are many, many companies in the quilting industry donating the materials necessary to making and finishing these quilts, and I thought it important that you should know about them so you can support their products if you so choose.