Last week, I visited my son and daughter-in-law in Michigan for their wedding. We had a lovely, too-short time, and I was sent home with three quilt projects to work on!
The first quilt is one I made about 20 years ago: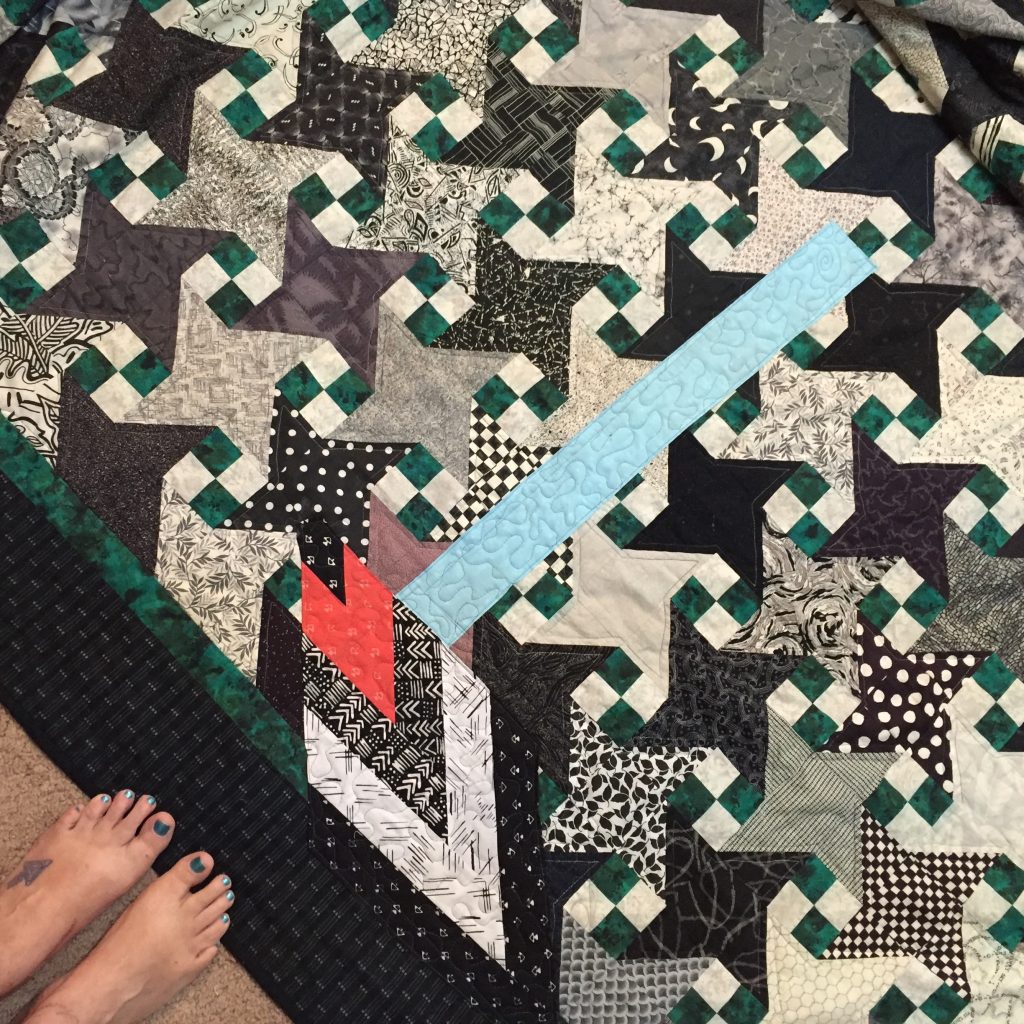 This quilt is known in my family as "The Black and White Quilt That Wasn't Supposed To Be Green" and has been a "working quilt" for quite some time. The pattern is called Milky Way, from Rotary Roundup by Judy Hopkins and Nancy J Martin. This book and its sister, Rotary Riot are still great books for block-based stash-busting ideas. I remember collecting black and white fabrics for ages to make it. When it came to the 4-patches, I tried dark red (went brown), navy (disappeared), turquoise (screamed too brightly), and finally the green. I ended up making several other quilts from all those rejected 4-patches!
The quilt was mostly employed as a cover for my white couch, especially if we were slouching on it with our dinners. When my son moved away 9 years ago, it went with him. Somewhere along the line, an ex-girlfriend grabbed it to put between her car (that was stuck in snow) and the car that was pushing her out. The quilt came back from that experience with a huge L-shaped tear in it, all the way through to the back side.
We decided that, although the quilt has plenty of years left in it as a beach/car blanket, restoring it to its former glory wasn't necessary. Whew! I no longer have any of those fabrics in my stash. So I went through my scrap and test block piles, and dug out some funky stuff. I stabilized the tear on both sides using Heat Press Batting Together Tape,  glue basted the edges of some scraps/blocks down, straight stitched the edges, and then stippled through it heartily.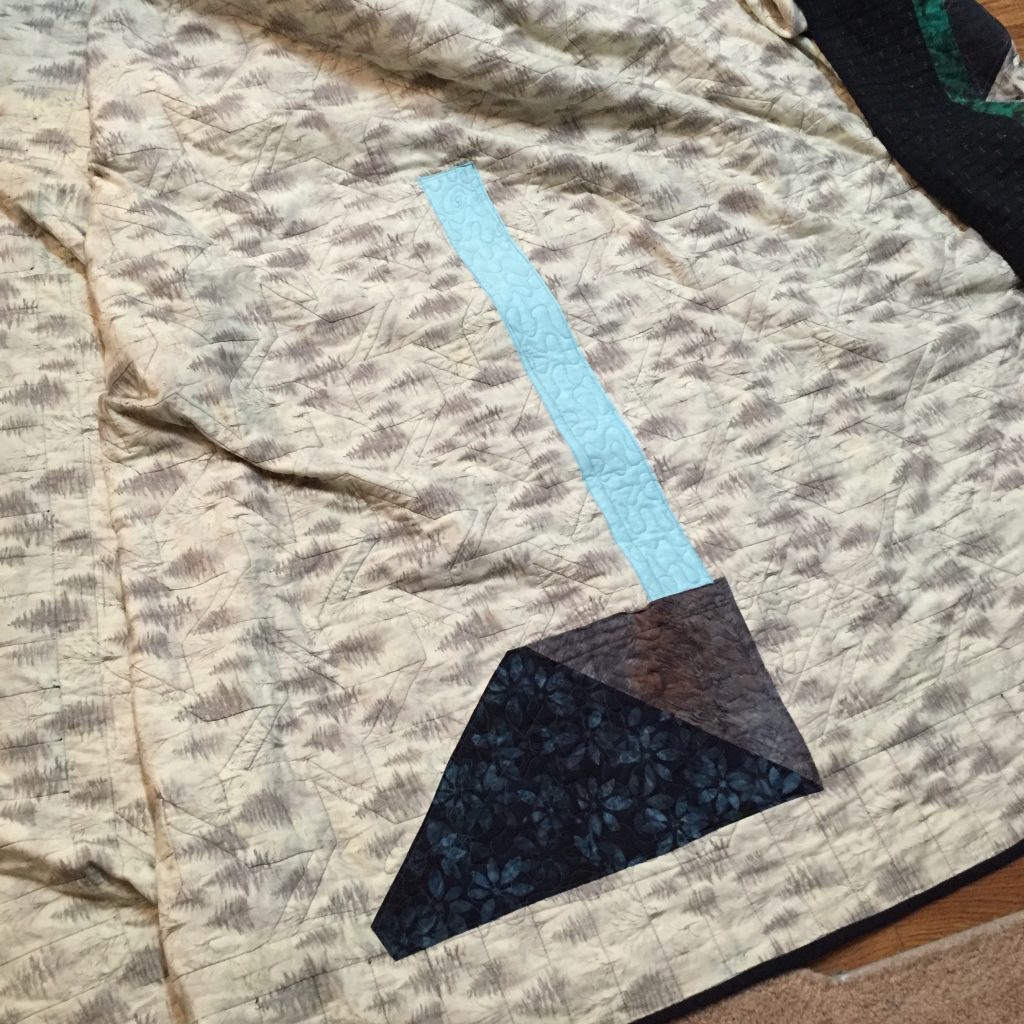 It's not a terribly elegant solution, but it's okay. Function matters more than form here, and we've decided to just keep patching this one, like the Japanese technique called boro. I think it might become an interesting document of my fabric history at some point, and if nothing else, I hope my son and his wife have some great picnics on it!
Next up is this one: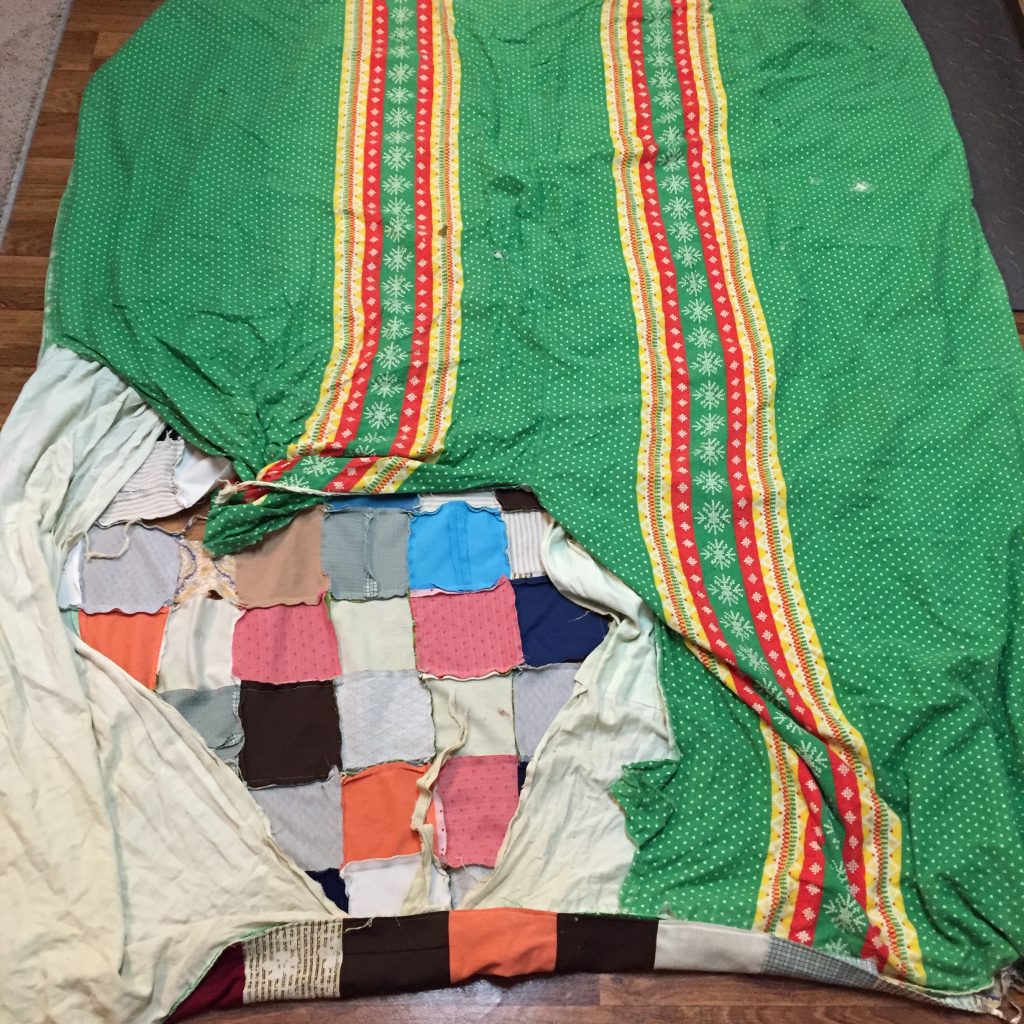 It's mostly polyester double-knits! It was made by my daughter-in-law's grandmother, and has great sentimental value to her. She asked if I could do something to make it last a bit longer, and I'm honored to be trusted with it. So this is the next one under the needle, and I've already ordered some vintage double knit from Etsy to replace some velour squares that are in shreds. I've never sewn this type of thing before, so I anticipate quite an adventure.
Stay tuned!