This post is the first in the 2019 Back to School Blog Hop, and also a tutorial for the Colorblock LOVE QAL!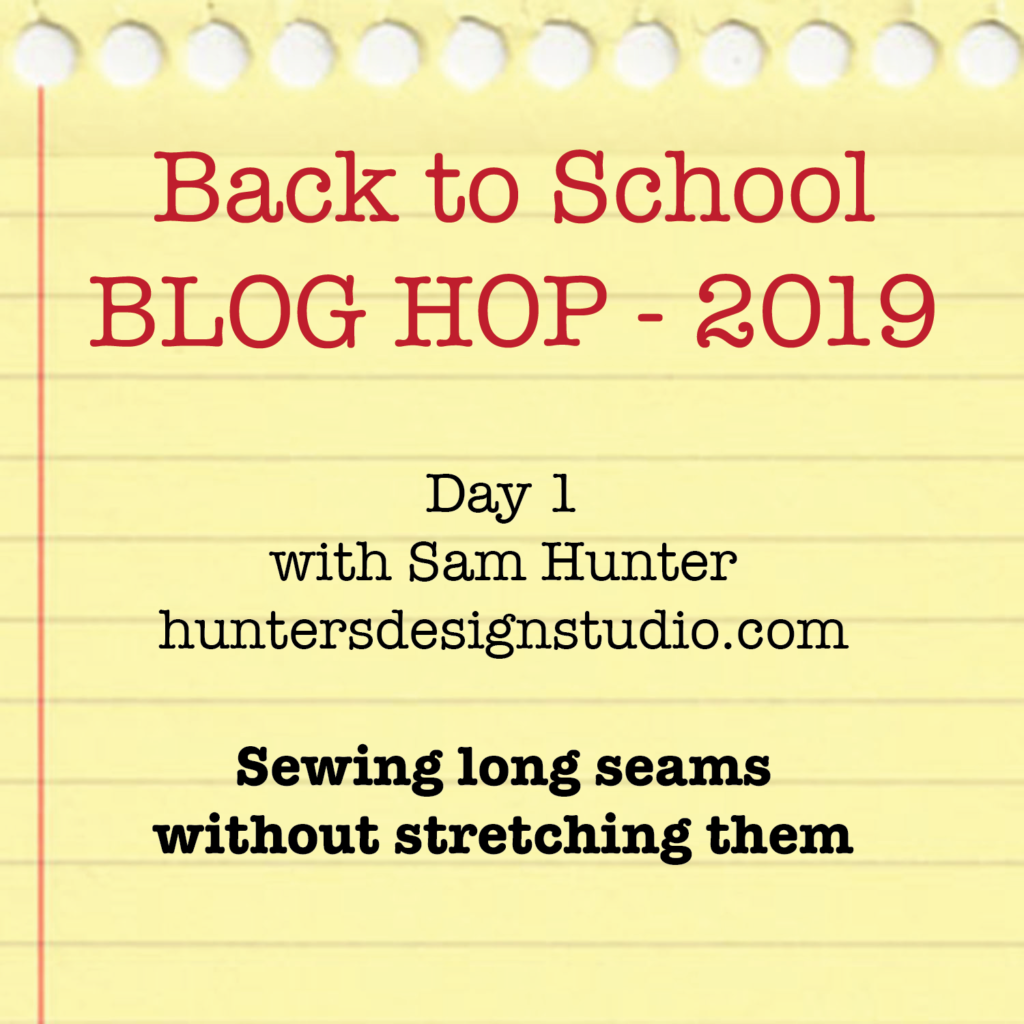 This is a tutorial for sewing long seams on any quilt.
What's a long seam? Anything that's longer than the space you have between the front edge of your machine or table and your needle.
Long seams present an opportunity to introduce stretch into a quilt, and too much stretch is never a good thing. So let's look a few tips for keeping stretch at bay.
Here's a quick 10 minute video, and in it I've covered all the points below – so you can either read about it, or watch it!
Sewing machine set up
One of the best things you can do to increase your accuracy in general is to expand the bed of your machine. This means get some surface in front of your needle at the same height as the machine bed. You can do this by having the machine in a drop-in sewing table or cabinet, or by adding a supporting table around it. Some machines come with a portable table, and there are some after-market companies like Sew Steady that make them for any machine (in several sizes). Your local sewing machine store will have solutions so pop in and talk to them about it. It's a solid investment in your accuracy, as I'll show you a bit further down this post!
Pins
Pinning is ALWAYS a good practice. And by pinning, I don't mean using clips. Clips are a great solution for really thick things (like the top of a bag or tote with additional layers of batting), but pins are the best solution for precision piecework. Once a pin is in place, it's very difficult to pull one of the layers out of alignment.
Where should you pin? In all the places that matter: at a minimum, pin each end, and pin the middle. To find the middle, fold the edge where the seam will be in half, and pin or pinch a crease into the middle. Do this on both pieces that make up the seam, and then align and pin the middles once you have pinned the ends.
After that, pin all the places that have to match up, like the points and intersections of blocks.
And then after that, add more pins until you have one every 4 to 6 inches, or about the width of your hand. Yes, this seems like a lot of pins to fuss with, but fussing with pins usually keeps you from fussing with the seam ripper. If you slow down to pin, you seldom need to slow down to rip!
How you hold the fabric
No, this isn't some secret handshake thingy, it just about having a soft hand with the fabric as it approaches the needle. We often put tension on the fabric as it feeds into the needle – pulling away a bit – but this makes the machine try to grab the fabric while we tug in the opposite direction. And this stretches the fabric.
Instead, line up your work in front of the needle, and hold the layers together in just the space between the edge of your table and the needle, and rather than tugging them away from the needle, hold them down on the table gently as you sew up to your hand. UP TO your hand… not OVER it! And if you didn't watch the video yet, go do that and this will make more sense!
It's really frustrating to invest your time and money into making a quilt to have it come out stretched and fitting together poorly. It's worth taking a few moments to set yourself up for better accuracy because sewing is always more fun when things come together well, and without too much struggle, or seam ripping. Having fun while making things is so important!
Please follow the rest of the 2019 Back To School Blog Hop! Note that these industry peeps are all over the country and world, so be patient if you don't see their post first thing in *your* morning!
Day 1 – September 1 – Sam Hunter: Sewing Long Seams Without Stretching – huntersdesignstudio.com <<—- you are here!
Day 2 – September 2 – Susan Arnold – Joining Binding the Easy Way – quiltfabrication.com
Day 3 – September 3 – Angie Wilson – Fussy cutting tips and techniques – www.gnomeangel.com
Day 4 – September 4 – Andi Stanfield – No-Mark HST: Let your machine be your guide – truebluequilts.com/blog/
Day 5 – September 5 – Bobbie Gentili – Say YES to Y-seams – geekybobbin.com
Day 6 – September 6 – Mel Beach – 5 Reasons to Say Woo Hoo! to School Glue – pieceloveandhappiness.blogspot.com
Day 7 – September 7 – Laura Piland – 7 Ways to Use a Laser on Your Sewing Machine – www.sliceofpiquilts.com
Day 8 – September 8 – Suzy Webster – How to solve loops in free motion quilting – www.websterquilt.com
Day 9 – September 9 – Tara Miller – Accurate Stitch-and-Flip Corners – quiltdistrict.com
Day 10 – September 10 – Latifah Saafir – Accurate Seams Using Masking Tape! – latifahsaafirstudios.com
Day 11 – September 11 – Sarah Ruiz – The Magic of Glue Basting – saroy.net
Day 12 – September 12 – Jen Shaffer – Ways to stop your ruler from slipping while cutting – patternsbyjen.blogspot.com
Day 13 – September 13 – Cheryl Sleboda – Basics of ruching (a vintage fabric manipulation technique) – muppin.com
Day 14 – September 14 – Raylee Bielenberg – Choosing quilting designs for your quilt – www.sunflowerstitcheries.com
Day 15 – September 15 – Jen Strauser – Accurate and Attractive Machine binding – dizzyquilter.com
Day 16 – September 16 – Jane Davidson – Matching points for all types of intersections – quiltjane.com
Day 17 – September 17 – Teresa Coates – Starch and starch alternatives – teresacoates.com
Day 18 – September 18 – Jen Frost – Benefits of spray basting – faithandfabricdesign.com
Day 19 – September 19 – Sandra Starley – Getting started with Hand Quilting – utahquiltappraiser.blogspot.com
Day 20 – September 20 – Karen Platt – Drunkard's Path Made Easy – karenplatt.co.uk/blog/
Day 21 – September 21 – Kris Driessen – All Kinds of Square (in a Square) – scrapdash.com
Day 22 – September 22 – Sarah Goer – Planned Improv Piecing – sarahgoerquilts.com
Day 23 – September 23 – Kathy Bruckman – Organizing kits for on-the-go sewing – kathyskwiltsandmore.blogspot.com
Day 24 – September 24 – Cheryl Daines Brown – The Secret to Flat Quilt Tops: Borders – quilterchic.com
Day 25 – September 25 – Cherry Guidry – Pre-assembling fusible applique – cherryblossomsquilting.com
Day 26 – September 26 – Laura Chaney – Getting started with English Paper Piecing – prairiesewnstudios.com
Day 27 – September 27 – Ebony Love – Cutting Bias Strips from a Rectangle – lovebugstudios.com
Day 28 – September 28 – Tammy Silvers – Working with heavier weight threads in your machine – tamarinis.typepad.com
Day 29 – September 29 – Kathy Nutley – Create a perfect facing or frame with 90 degree angles – quiltingsbykathy.com
Day 30 – September 3 – Joanne Harris – Using Leaders and Enders – quiltsbyjoanne.blogspot.com