No, that's not a misspelling.
SQUILT is a valid word in my family – it means Special Quilt, and is reserved for the most honored quilts: the "loveys," the "woobies," the ones that achieve Velveteen Rabbit-like wearing out because they've been blankie-dragged through good times and bad. They're not competition-worthy specimens, but they are fiercely fought over when it's time to veg on the couch.
Squilts are the ones we'll run to save in a disaster.
The word was first coined for this quilt, whose official title at the time of making (20 years ago!) was Spaceman Spud's Squilt.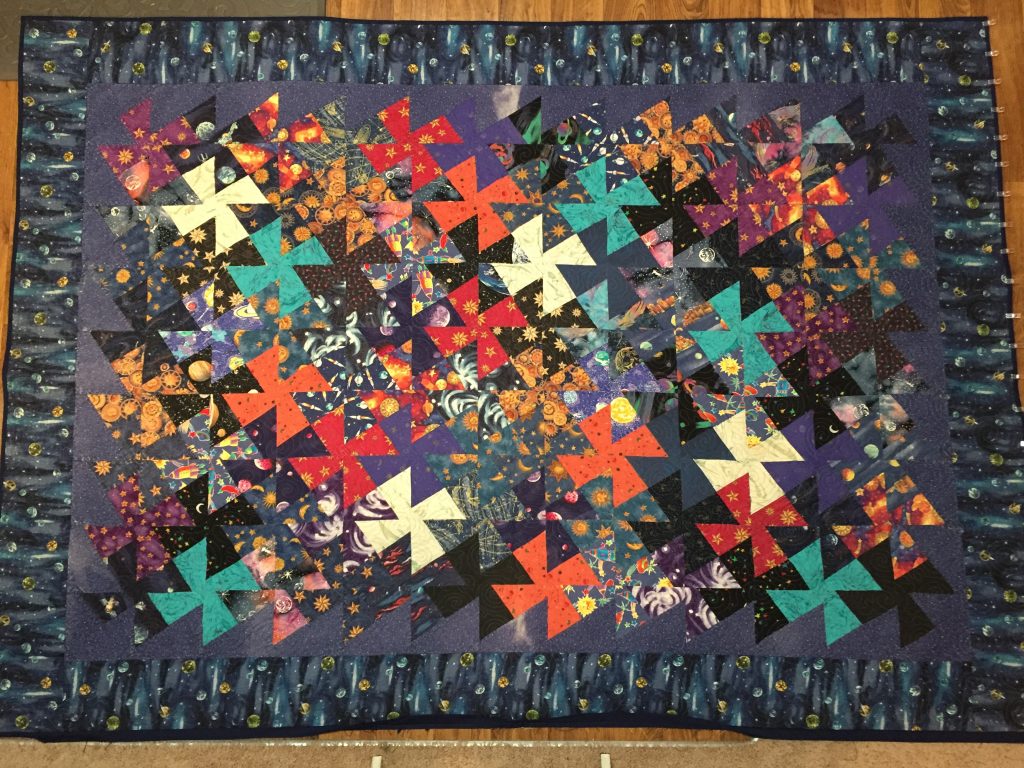 My son, Steve, and I are both big fans of the comic strip Calvin and Hobbes, and the adventures of Calvin's alter ego, the alliteration-loving Spaceman Spiff. Steve (sometimes called Spud), like many young boys, had a healthy interest in space adventures which was supported by a trip to Space Camp in Florida when he was 10, and endless sets of early Space LEGOS®. We came up with the idea that I would make him a space-themed quilt, and I began to collect fabrics for it.
Sometimes the things you're looking for just aren't out there, but it was a time rich in fabrics that would work: stars, suns, moons, planets and galaxies, celestial prints, zodiac constellations, spaceships, and whatnot.  A year later I began the quilt, using the book Square Dance, by Martha Thompson*. It was all the rage at the time 🙂
I finished it right in time for Steve to have a bad bout of pneumonia. He spent a couple of weeks on the couch with it, breaking it in. It quickly became his favorite Squilt, and despite owning many others**, it still is.
When I went to visit him this summer, it came home with me in the hopes that I could shore it up for another 20 years of love.
The inexpensive flannel on the back had become very threadbare, and was worn through in lots of places.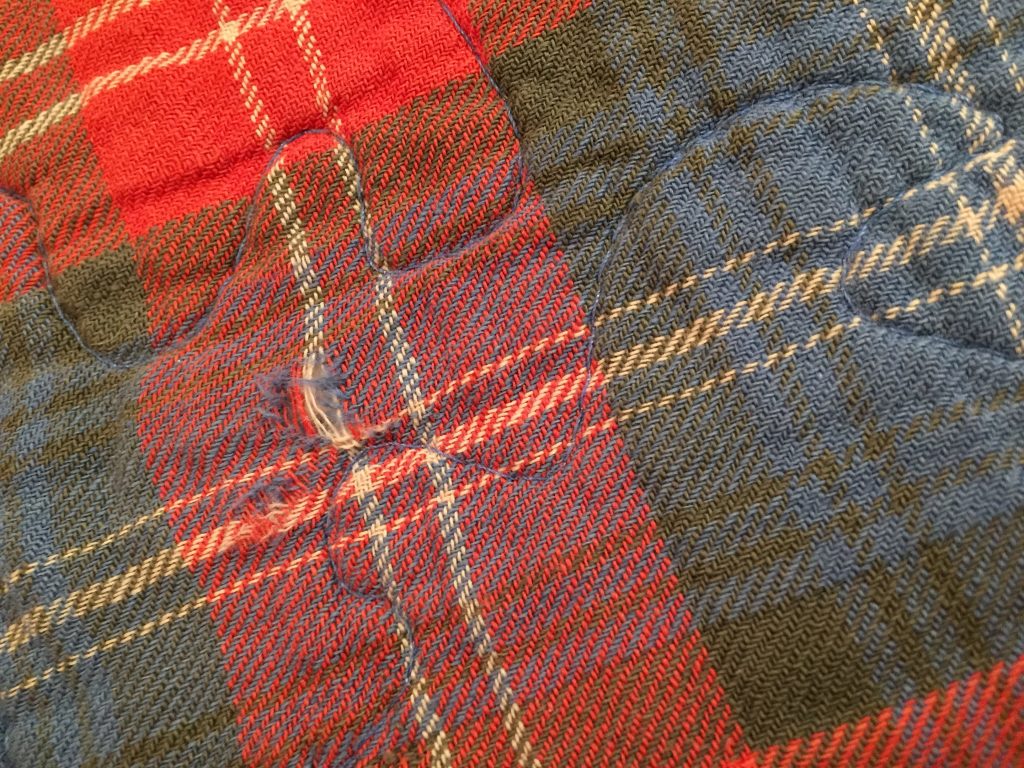 The binding was completely shredded.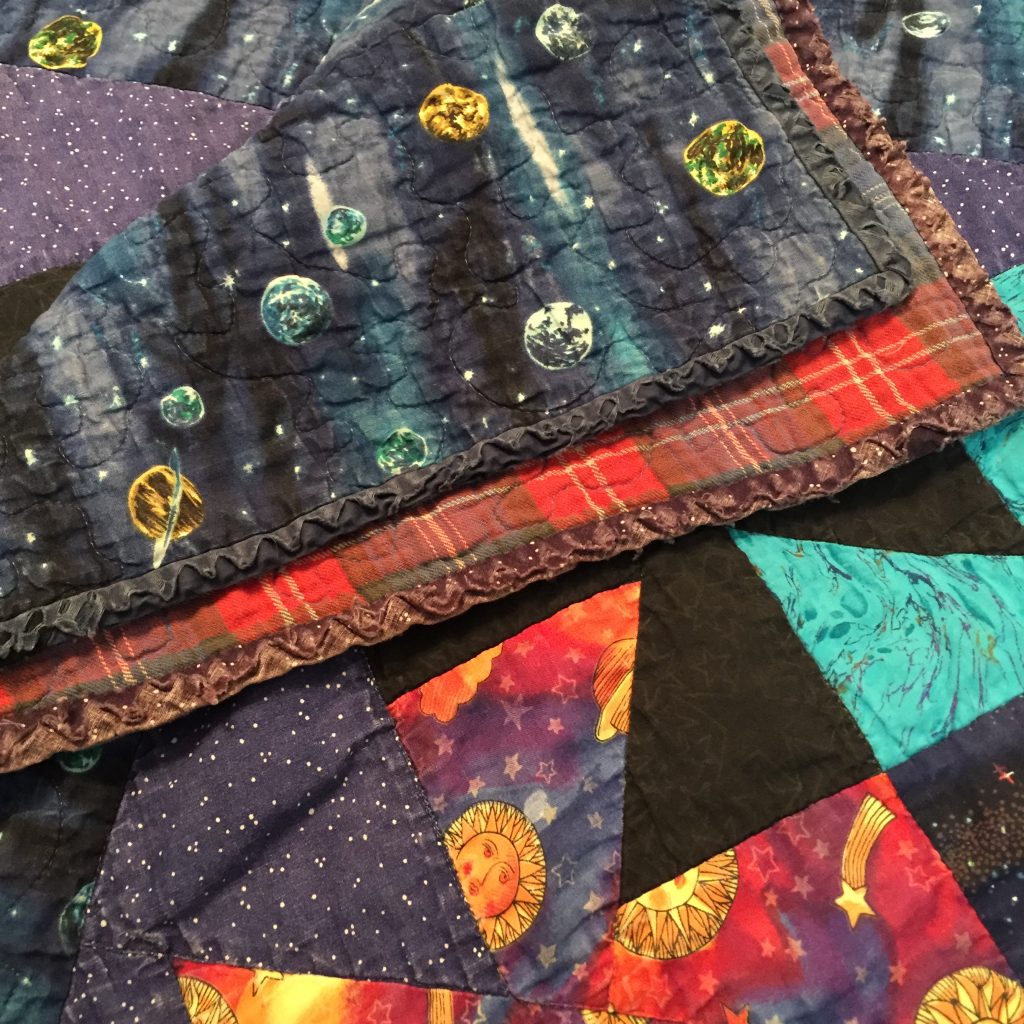 Several spots on the front were worn and sun damaged. The cheapest of the fabrics (I wasn't as discerning 20 years ago as I am now) were faded and showing a lot of wear from the quilt not being quilted densely.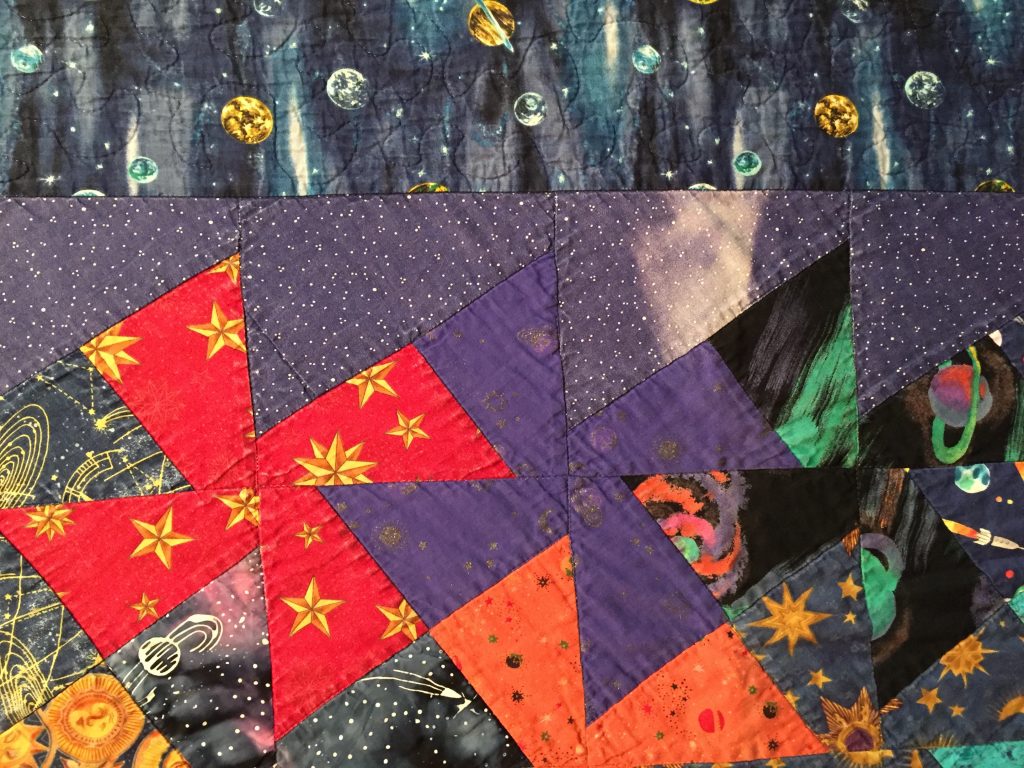 We decided not to replace any of the front fabrics – frankly, I would almost need to re-make it. In the end, we opted to put on a new back (right over the original), re-quilt it with a denser, long-arm, edge-to-edge pattern, and re-bind it. I should stress here that I know very little about quilt restoration and conservation, so please don't look to me for professional advice for that! Steve just wanted to love this squilt for a few more years without substantially changing it, so this was the best we came up with.
I enlisted my friend Nancy Stovall to do the quilting. She chose a great space-y, swirly design that added a lot of stabilization to the shifting fabrics (I had just quilted it in the ditch 20 years ago), but still left the quilt with its comforting suppleness. Let me tell you, Warm & Natural batting that has been loved for 20 years is a wonderful thing. It still has all its integrity (no balling up or migration), and yet softens up to drape like buttah. We didn't want to lose that as it was one of the best things about snuggling up with this quilt.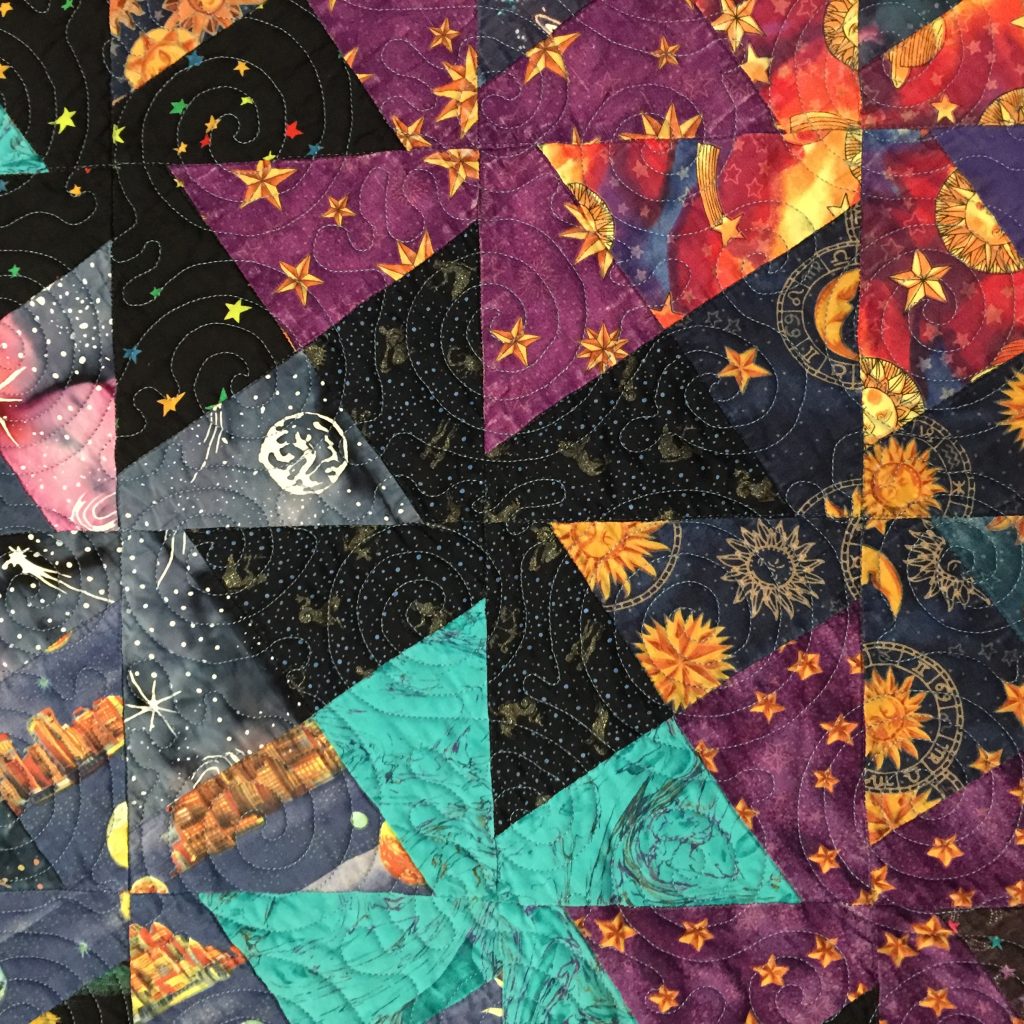 On the back went heavy, high-end, woven Mammoth Flannel from Kaufman Fabrics. Hopefully it will wear a lot longer than the original chain store flannel. This quilt is proof positive that quality materials will last longer. Every cheap fabric in it is suffering, while all the Hoffman celestial prints are still going strong.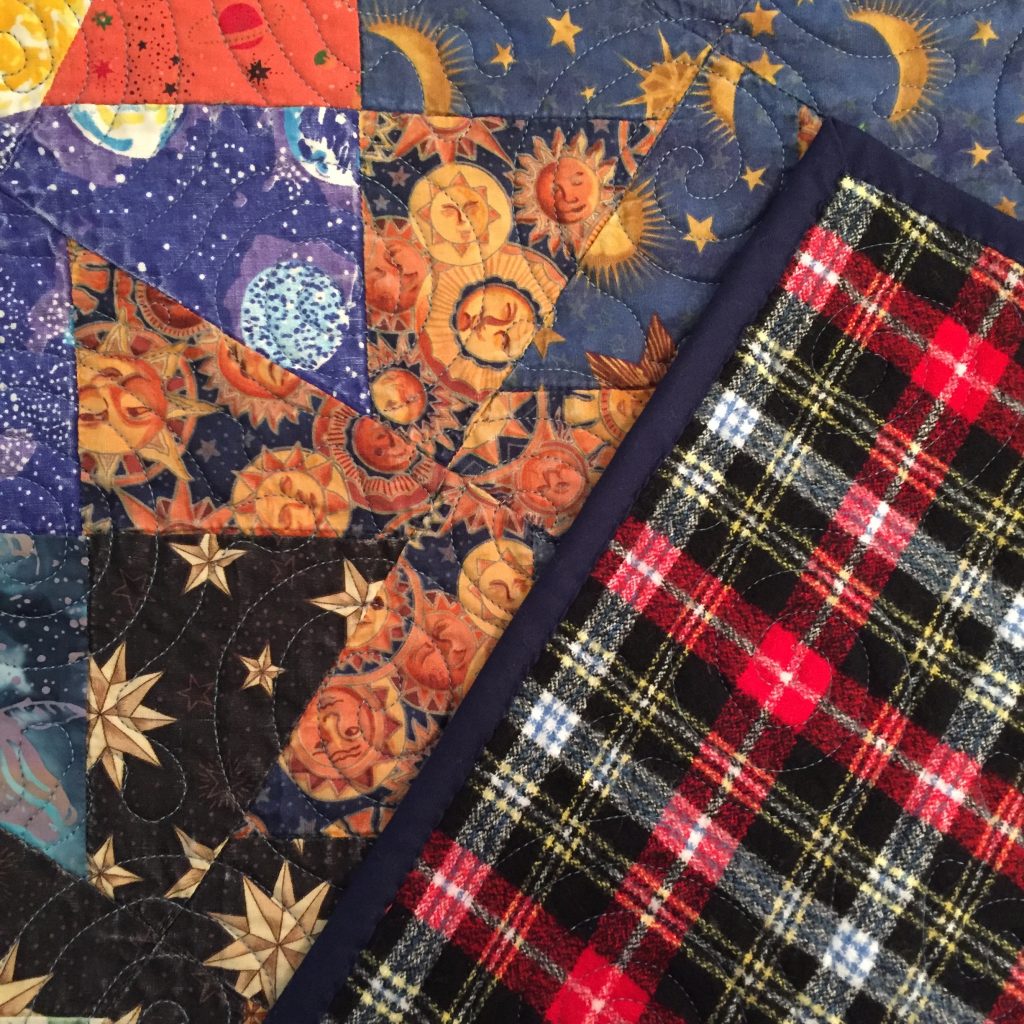 Finally, a new binding. I usually do double bias binding on all my quilts, with a hand finish. Bias lasts longer, and while it still wears out, it doesn't split as easily as straight binding. And I'm proud to say I unpicked every stitch of the original hand binding finish, so I think I can say my handwork is good enough to hold up!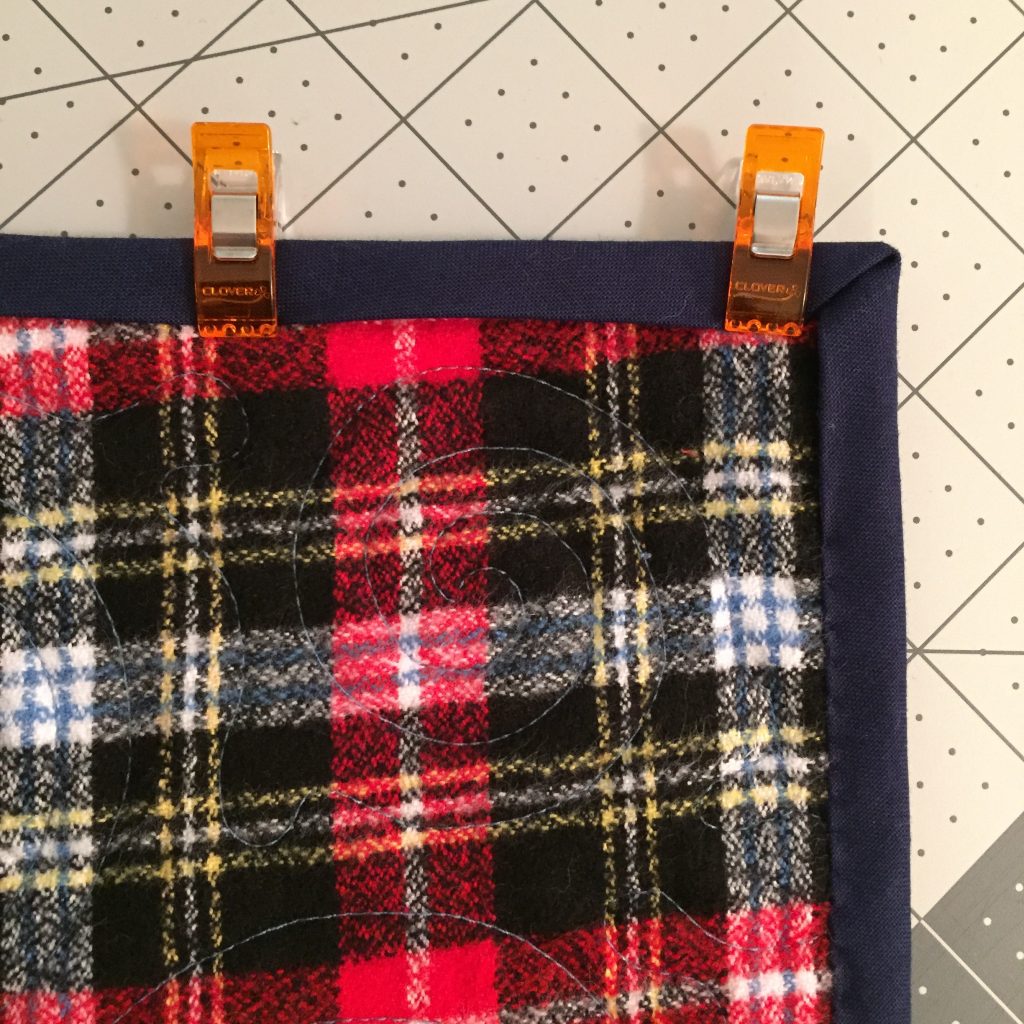 I have half the binding left to finish (yes, I have lots of ORANGE clips!) so it will be going home to Steve soon. It's never been away from him so he's anxious to get it back!
** Steve's Rule for Mom's Quilting: For every quilt made for any purpose, there will be one quilt made for Steve. He has informed me that I am woefully behind in my obligations since beginning Hunter's Design Studio!
* NOT an affiliate link 🙂