I have another Star Wars quilt for you! This one is the General Organa quilt, and is my homage to the late Carrie Fisher.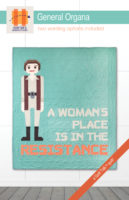 The original Star Wars movie's Princess Leia Organa was one of the few movie heroines of my youth.
She wasn't just "the girlfriend" and she didn't fit the "helpless damsel in distress" model of the cartoons I grew up on. She held her own against the bad guys, and gave the good guys a solid run for their money. I loved that she was sassy and resiliant, and could tongue-tie the ever-so-cool Han Solo.
When she came back in the most recent movie, she was now General Organa, and like many women of my generation, I took pride in her rise to that rank. Luke ran off to hide and sulk; Han ran off to continue being a scoundrel; but Leia stayed and kept fighting.
I also respect Carrie Fisher, the actress who brought Princess Leia to life. I liked that she just told it like it is with easy, yet pointed, humor, especially in the PR frenzy before The Force Awakens. I admired how she pointed out that we, as women of any age, are held to impossible standards of youth and beauty, as if they are the only things that matter.
She was so much more. As are we.
The General Organa Quilt has paper-piecing patterns for two versions of the words: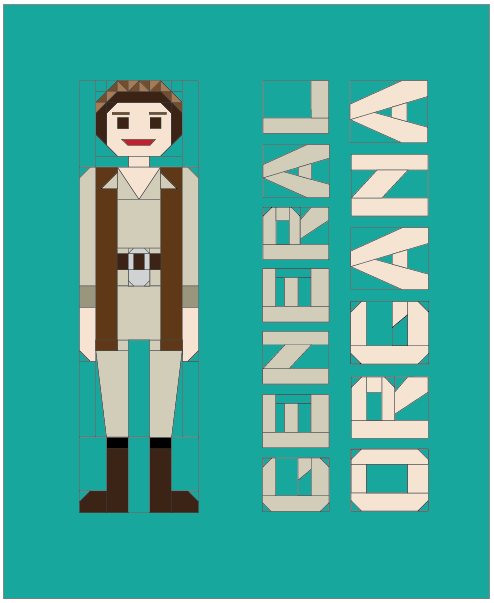 It also includes both paper-piecing patterns and templates for the parts General Organa herself that have odd angles. The printed pattern is lengthy (all those letters!) so be sure to read it through before you print or you'll be wasting paper 🙂
The General Organa quilt pattern is available here in my shop. I will be donating all proceeds from both this pattern and The Droid is Not for Sale (Rey & BB-8) to Chick Tech, a nationwide non-profit organization dedicated to retaining women in the technology workforce, and increasing the number of women and girls pursuing technology-based careers.
And may the Force be with you!