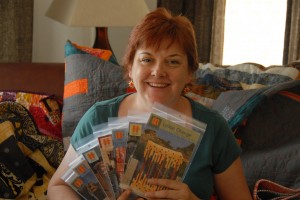 A friend of mine is working on one of my patterns as a gift for her son. Sweet friend, sweet and lucky lad to have a mama that quilts for him.
And a friend of hers stopped by. For the sake of keeping these people straight, let's call my friend Mary, and her friend Jane. Names changed to protect privacy, innocence and all that – and with huge apologies to the Janes and Marys I know and love.
Jane geeks out over the pattern (yay!) and decides to make one. She swipes Mary's copy of the pattern, saying "You can just print another." (Mary had the PDF version of it). Mary let it go because, hey, we're women, and we're NICE, right?
But it weighed on Mary. She respects what I do for a living – heck, she's pitched in at my kitchen table on more than one occasion. Yes, this is my LIVING – I have no inheritance, no trust fund, and no partner with a salary behind me. It's just me and my customers.
So she tackles Jane about it. Explains to her that she's not happy with having facilitated giving my pattern away. Tells her where she can buy her own copy. But Jane pushes back. And here's the interesting part… this isn't a pattern that is languishing in Jane's sewing room in the "I'll get to it someday" pile – nope, she's actually making it. She bought the fabric. And she tells my friend that the fabric was pricy and she "can't afford another $10 for the pattern."
Jane, Jane, Jane.
It's not the paper the pattern is printed on, it's the intellectual property.
I designed a thing you thought was cool, and you want to make it. And that's great – I'm always flattered when someone likes the things I create. But that has WORTH. Without the pattern, you'd be just holding a pile of fabric (beautiful fabric that someone designed). Unless you feel like designing your own, you NEED the pattern as much as you needed the fabric you paid for. So yes, I should get paid for it.
Jane – when you did your Thanksgiving dinner shopping, did you buy all the trimmings but steal the turkey because you thought it was expensive? My guess is NO.
So pay me for the pattern, OK?
( And yes… I used to copy patterns when I first started out. But I don't do that anymore, and I'm working on putting my karma back in balance by fighting for us all.)