We're back again with this year's edition of the Spring Clean Your Studio Blog Hop, put together by my friend Cheryl Sleboda of muppin.com and sewmuchcosplay.com. Cheryl chose me to lead off the group this year, on April Fools Day, because I'm usually the person who seldom has a messy studio!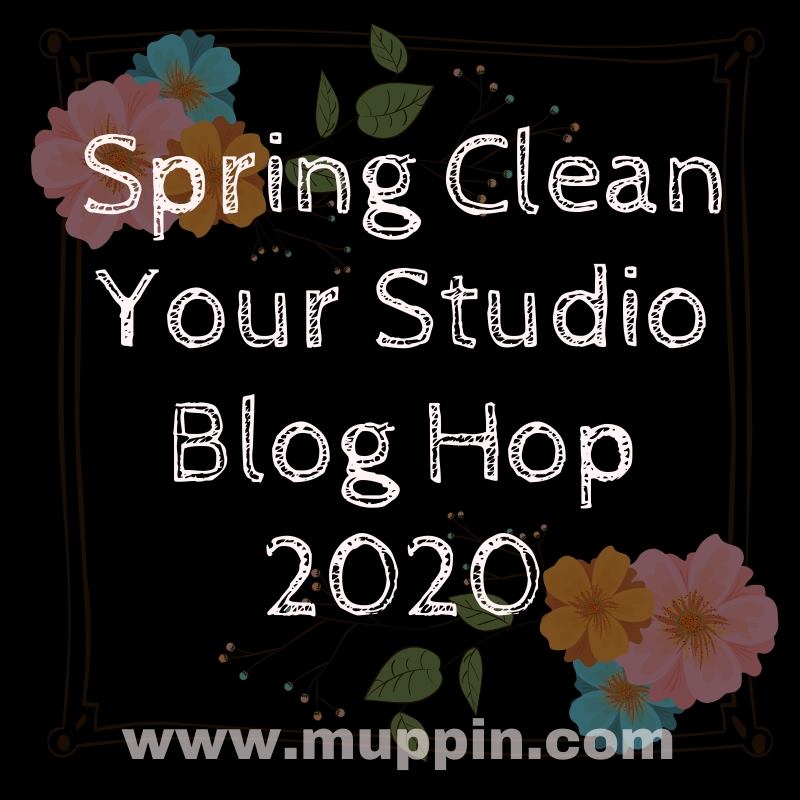 This is my sixth year joining in the Spring Clean and usually I show off something that I needed to sort out, along with lots of organizational tips. If you plan to use some of your safe shelter time doing a little spring cleaning, check out the prior years posts (go here for 2015, 2016, 2017, 2018, and 2019) as I cover organizing lots of different stuff!
And so to this year! This is how my studio looked last time I showed it to you – take note of the fabric storage drawers on the left: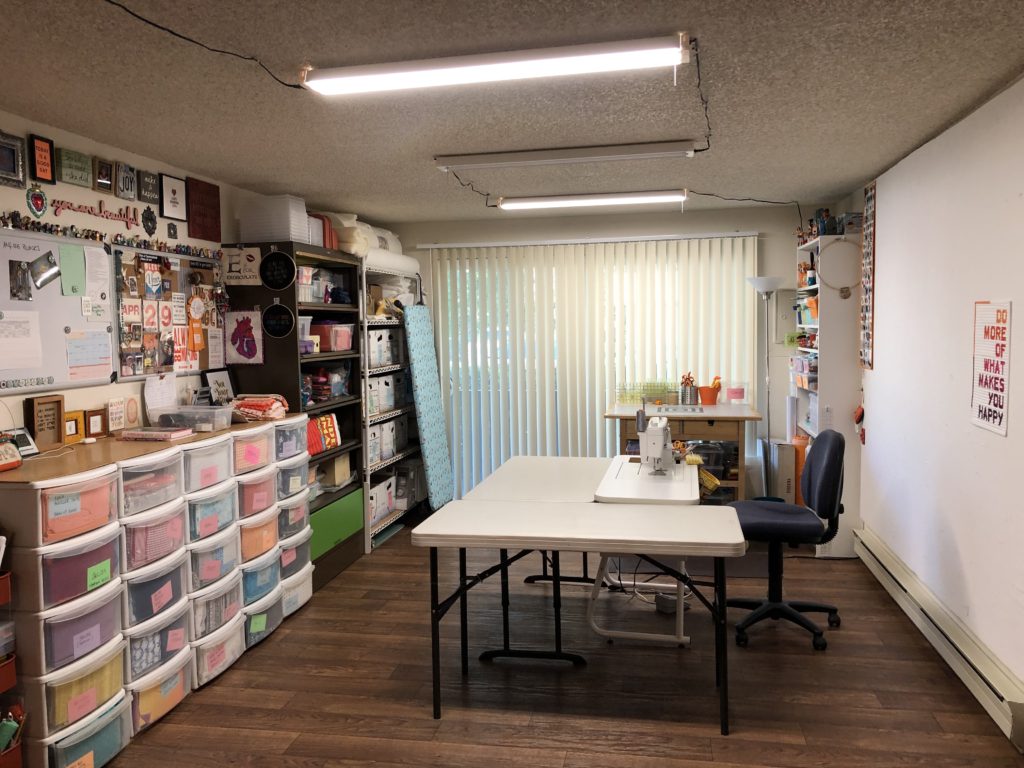 I've had those drawers for about 20 years! They've made a couple of cross country moves with me, and have lived in SIX different studios. I like them, but the bottom drawers have always been really hard to pull out because of the weight of the units on top. So last October I decided to change it up for something where the bottom drawer would be easily accessible, and I bought this system from IKEA: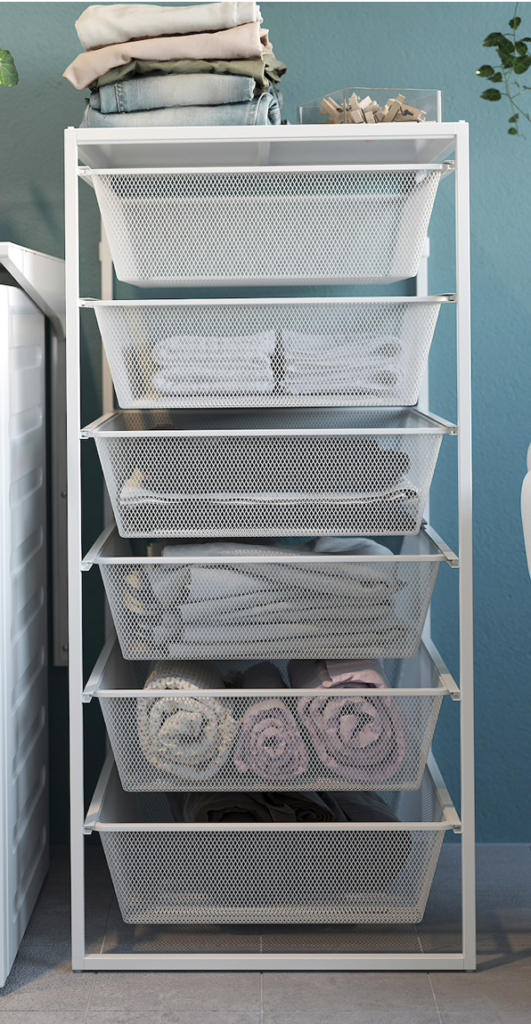 As it happens, the fabric moved from one system to the other pretty much one drawer to one drawer. However, the old drawers were taller, and thus the fabric was sticking up in the new baskets. This made it catch on the basket above, and made pulling the drawers out hard. Again! SHEESH.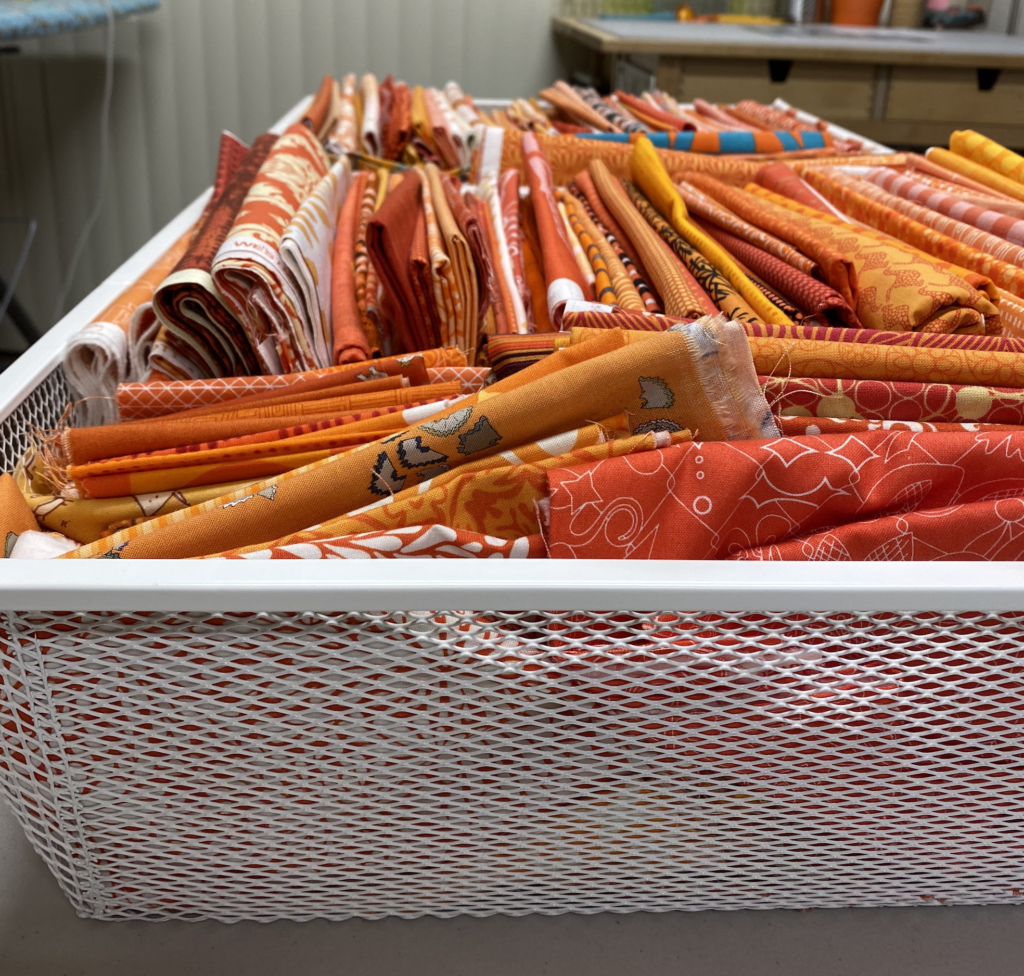 So I decided to take each drawer and refold the contents, and also do a cull while I was at it. In my studio, have a rule that if I have more fabric than I do space, I let go of fabric – I don't add more drawers or baskets! I find that well organized fabric generally needs less space, so I also did a bit of color organizing too.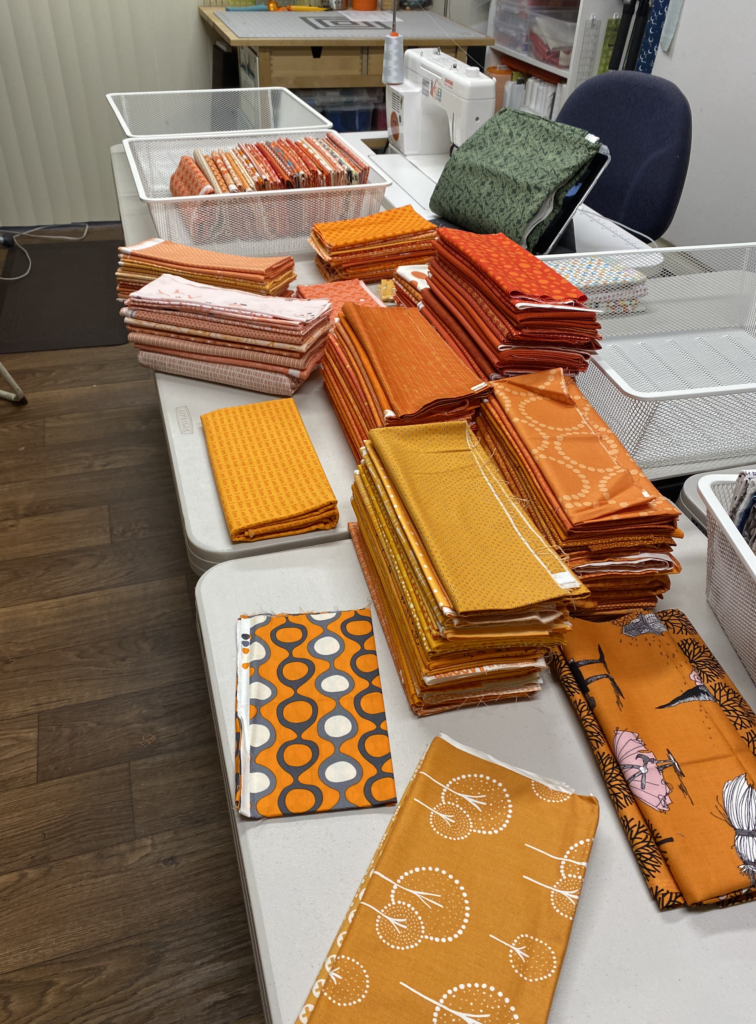 This was the end result in the ORANGE drawers: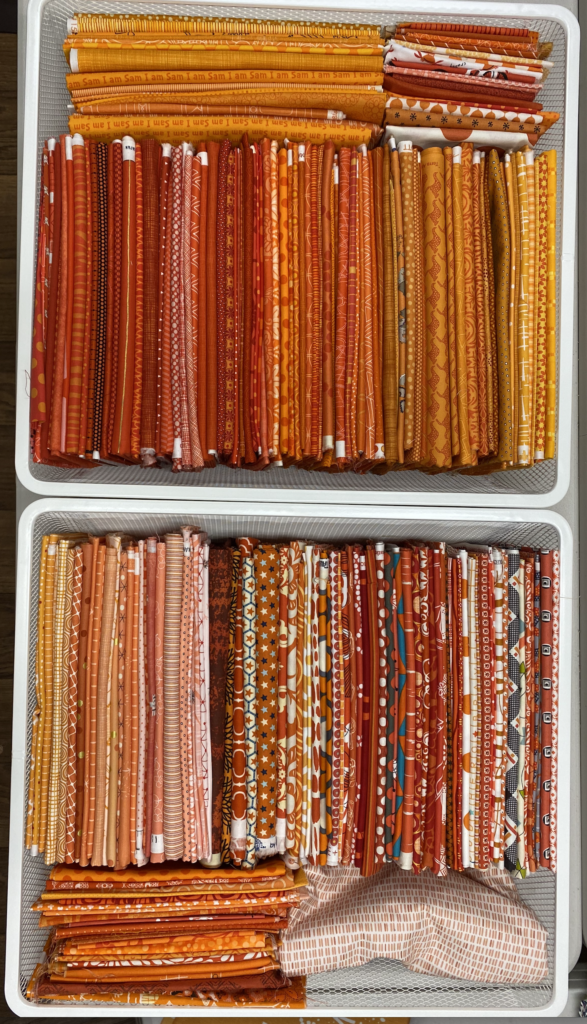 And now all the drawers are moving freely!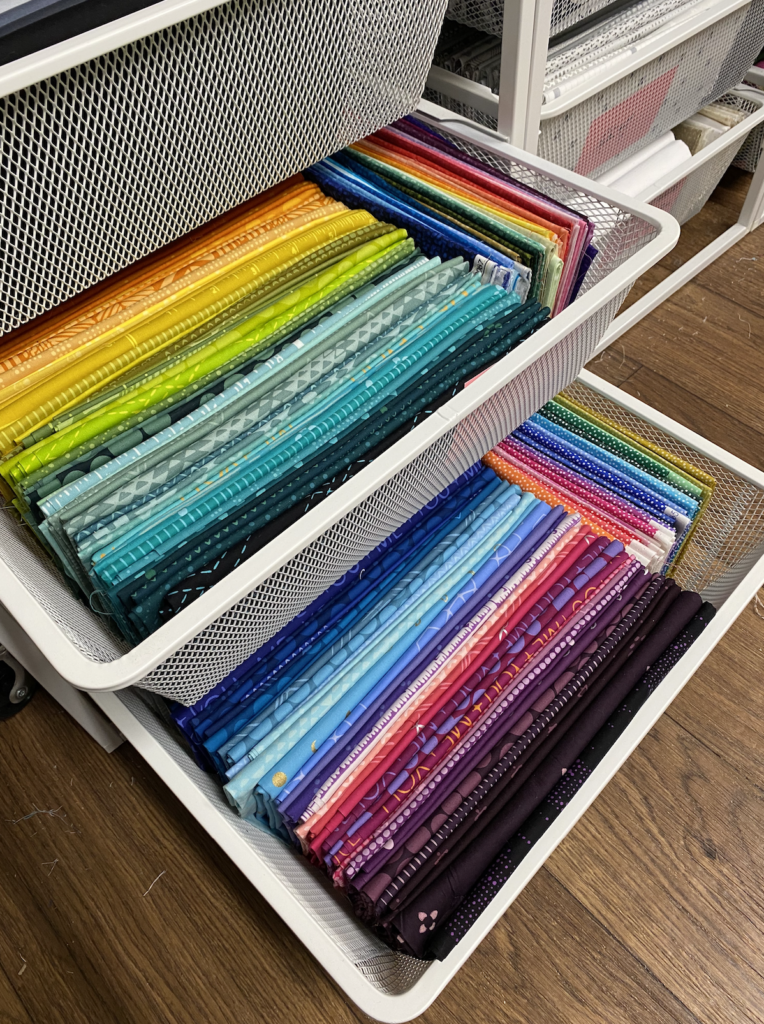 This is what the wall looks like now, and yes, I culled out all the fabric on top of the drawers. I'm selling it in my shop at de-stash prices of $5-$6 a yard – over 60 bundles so take a peek!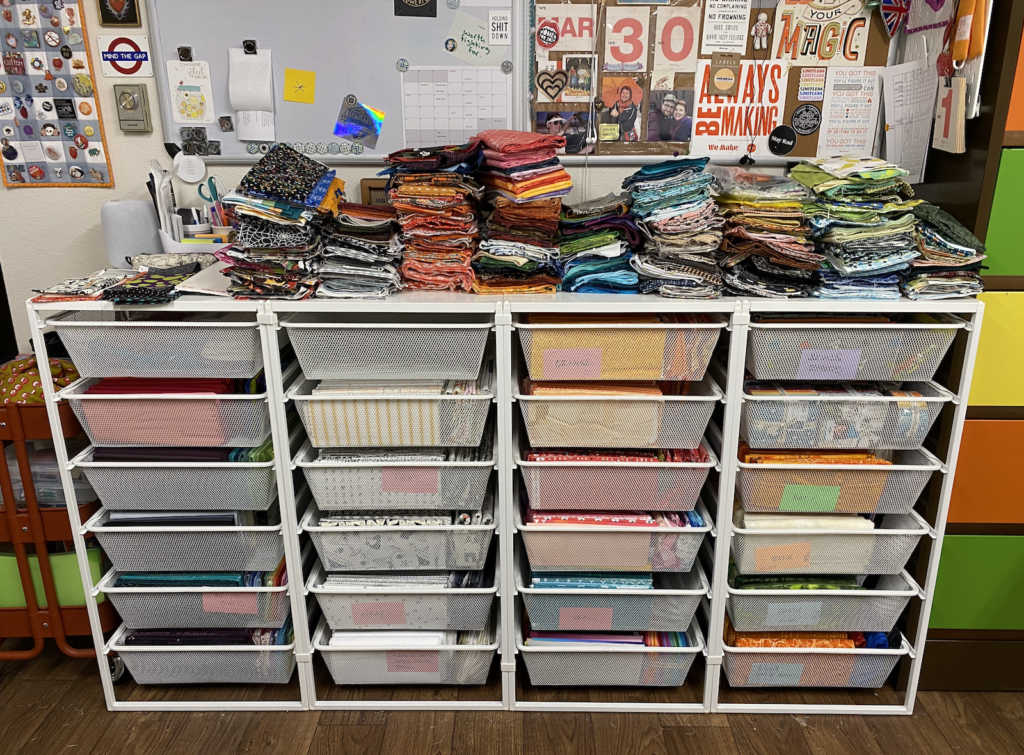 Here's the entire studio with the new storage after the spring clean – I love how much lighter it feels! It will feel even better once I have all the fabric on top sent to new homes!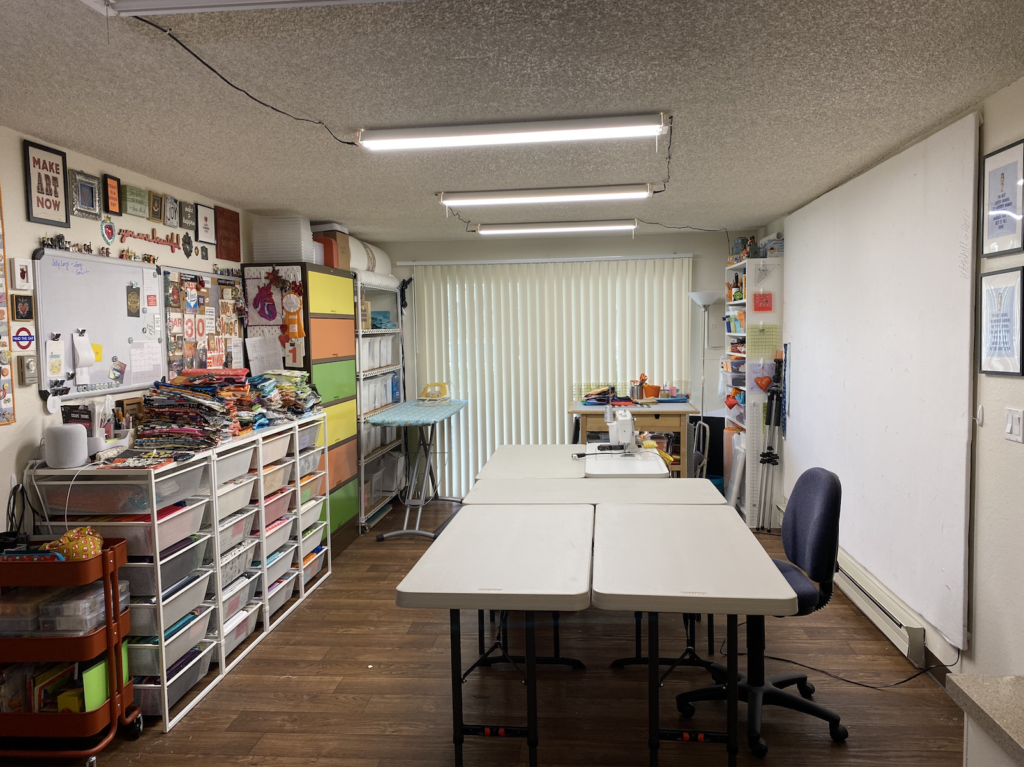 Please follow the rest of the blog hop here:
April 1 – Sam Hunter – https://huntersdesignstudio.com/blog   <<<—- YOU ARE HERE!
April 2 – Marian Pena – http://www.seamstobesew.com
April 3 – Jennifer Fulton – http://www.inquiringquilter.com/questions
April 4 – Martha Wolf – http://Www.pinwheelprodns.com
April 5 – Jennifer Strauser – http://www.dizzyquilter.com
April 6 – Steph Carton – http://www.theelimonster.com/blog
April 7 – Simone Fisher – http://www.simonequilts.com/blog
April 8 – Kate Colleran – http://www.seamslikeadream.com
April 9 – Carlina Moore – http://www.alwaysexpectmoore.com
April 10 – Jen Frost – http://www.faithandfabricdesign.com/blog
April 11 – Leanne Parsons – http://www.devotedquilter.com
April 12 – Becca Fenstermaker – http://www.prettypiney.com/blog
April 13 – Sarah Myers – http://www.quilted-diary.com
April 14 – Mitzi Redd – http://www.reddhomestead.com
April 15 – Jeanette Larson – http://www.Jenonthefarm.com
April 16 – Camille Ainsworth – http://www.stitchinthenw.com
April 17 – Becky Philips Jorgenson – http://www.patchworkposse.com
April 18 – Bobbie Gentili – http://www.geekybobbin.com/category/blog
April 19 – Janellea Macbeth – http://www.janelleamacbeth.com/blog/
April 20 – Lisa Ruble – http://lovetocolormyworld.blogspot.com
April 21 – Debra Davis – http://www.tuning-my-heart.com/blog
April 22 – Rona Herman – http://www.Ronatheribbiter.com
April 23 – Sue Griffiths – http://www.duckcreekmountainquilting.com
April 24 – Sarah Ruiz- http://www.saroy.net/
April 25 – Jessica Caldwell – http://www.desertbloomquilting.com/
April 26 – Tammy Silvers – http://tamarinis.typepad.com
April 27 – Ebony Love – http://www.lovebugstudios.com/blog
April 28 – Cheryl Sleboda – http://blog.muppin.com