We're back again with the 2019 edition of the Spring Clean Your Studio Blog Hop! My friend Cheryl Sleboda of muppin.com and sewmuchcosplay.com puts this together every year so that our readers get a peek behind the scenes of different studios.
If you've followed me on this in the previous years (2015, 2016, 2017, 2018) you know that I'm not a terribly messy person. I find a tidy studio really inspiring and welcoming. I also frequently have friends over to sew at the weekend, or run classes in this space, so I'm always changing things around to fit the work or the people, and thus mess never lingers.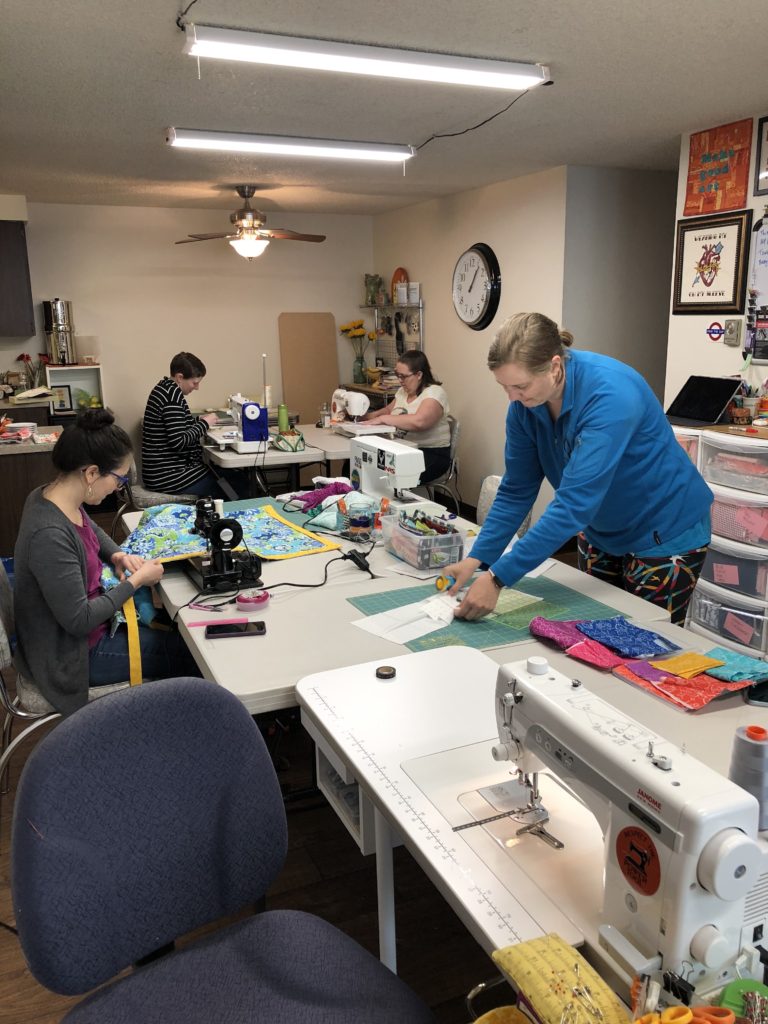 The first rule of tidying up is you have to do what WORKS FOR YOU. Please don't use my tidy studio as a way to beat yourself up! There is no perfect way to do this – for me it happens when I hit some level of critical mass, often precluded by having a pile of something fall over on me!
I know people who find a lot of inspiration in spaces that have a lot going on in them – I just don't happen to be one of them. In this world of so much perfect imagery coming at us, the most important thing is YOU DO YOU. Find out what needs to happen in your space to make you feel happy to be in it, and creatively motivated, and THAT is your perfect studio, or kitchen, or home!
Despite keeping a clean studio, I can have other stuff pile up on me, and in the last few months my books have been piled everywhere. On the kitchen table. In the living room. In the office. On the floor of my bedroom. So I decided to take care of those for this blog post – and I was happy to have a motivating deadline for getting it done!
I keep my bookshelves in my bedroom, and they were beginning to feel overloaded, and like they were looming over me.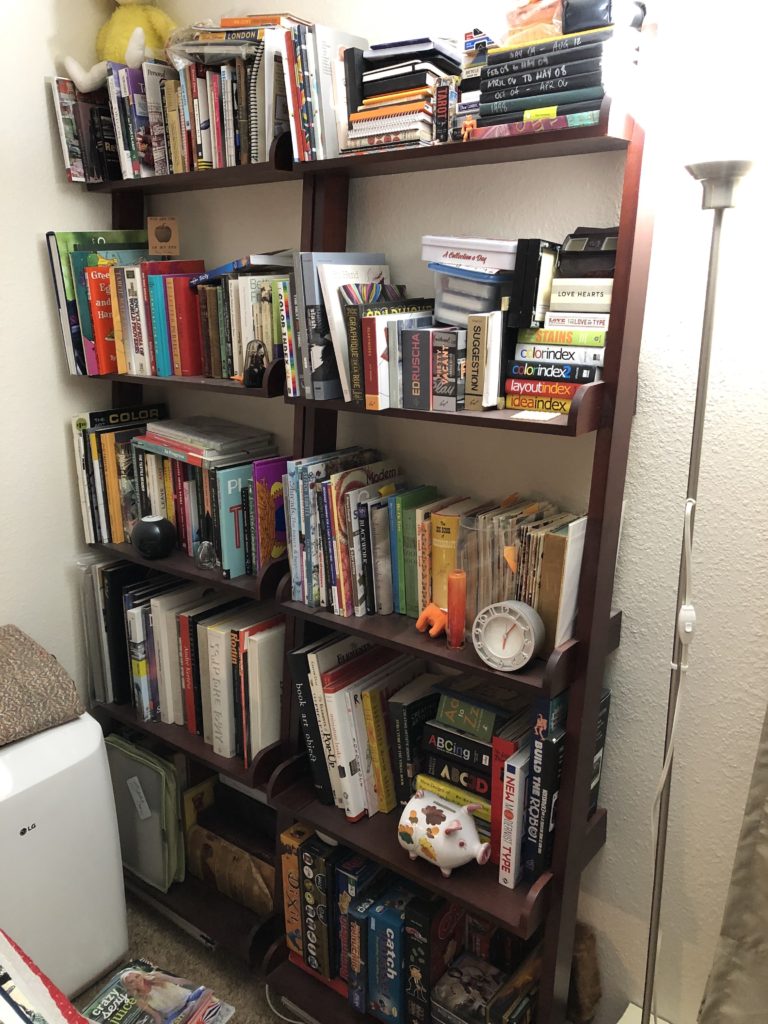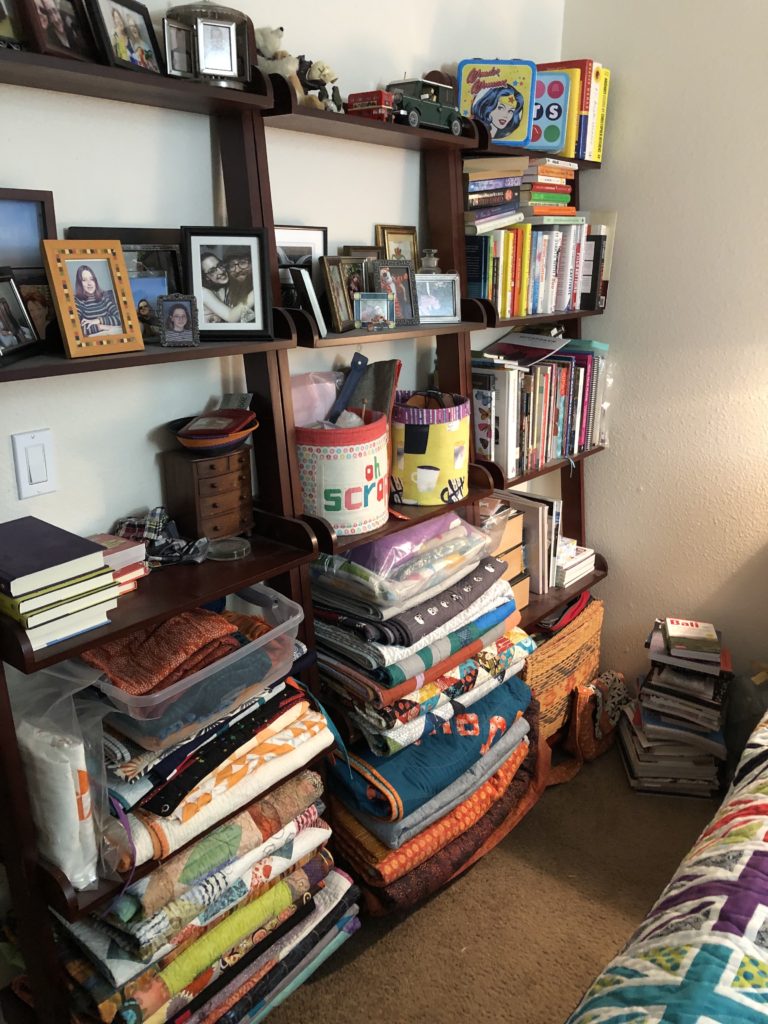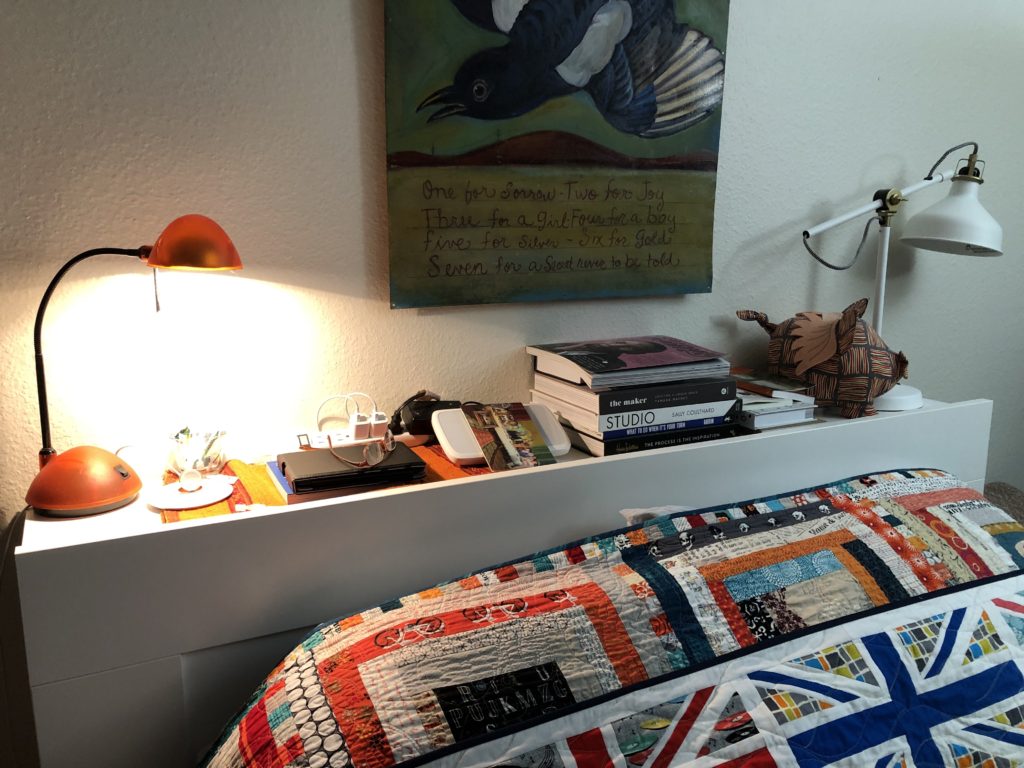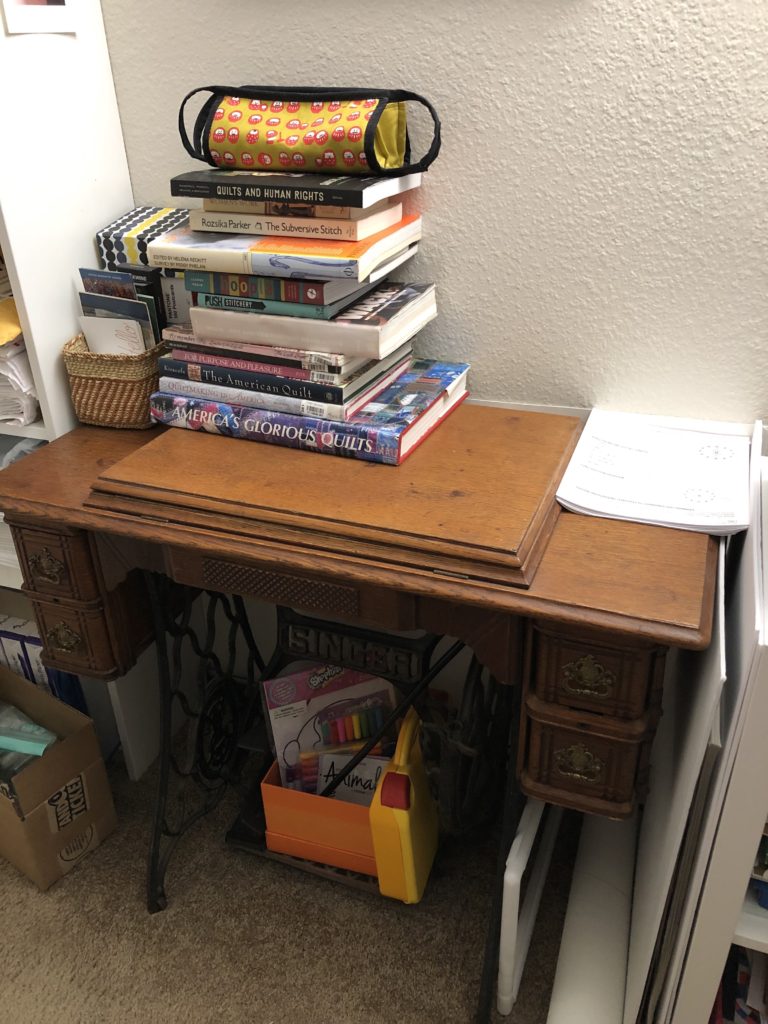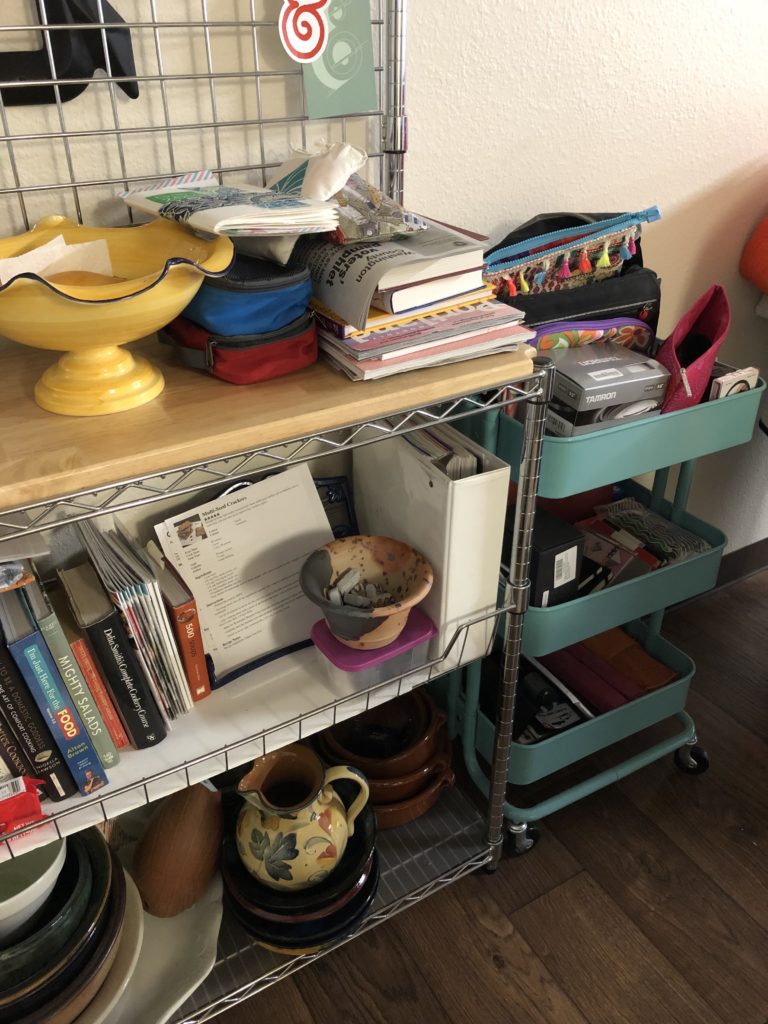 No one pile was really out of hand, but the sum of the parts was making me a bit crazy.
First I went through each section and pulled things that no longer interested me. Either I've read it and I'm done with it, or I bought it when I was interested in something I'm no longer pursuing. And let's face it, if I get interested in it again, I can always find the book again if I need it.
Quilt books – I culled those that I no longer use for reference. They'll go to my guild's book library.
Art technique books – I pulled those for art techniques I'm not working with any more. I doubt I will ever try landscape watercolor painting again!
Language reference stuff – when I bought these books, I didn't have a smartphone in my pocket, and now a lot of the information in those books can be found on the internet in seconds.
Old travel guides – if I go back to those countries I'll buy an updated version.
Old magazines are off to the doctor's office. I have a huge stack of Uppercase Magazine too… I love them, but I think I might need to gift them on as the evidence says I don't usually go back to them once I read them. I'm several issues behind, so I might need to re-evaluate buying a subscription again, although dang, I do love to support a woman-owned publication!
School books – I still had a few dusty art theory books from when I did my MFA in 2010. Trust me when I say some of these are the kind you only read when they're assigned for homework, so the chance of me reading them again is zero!
Entrepreneurial books – many of my entrepreneur friends often recommend this book or that, and I dutifully go buy them. And then they sit on my shelf for years. One wise biz friend (whose project planning methodology I use) told me instead to just look for a book to solve a problem when I was actively trying to solve the problem, and not to buy things that weren't in the "working on this NOW" category. Good advice for keeping the book budget in check, and the clutter down.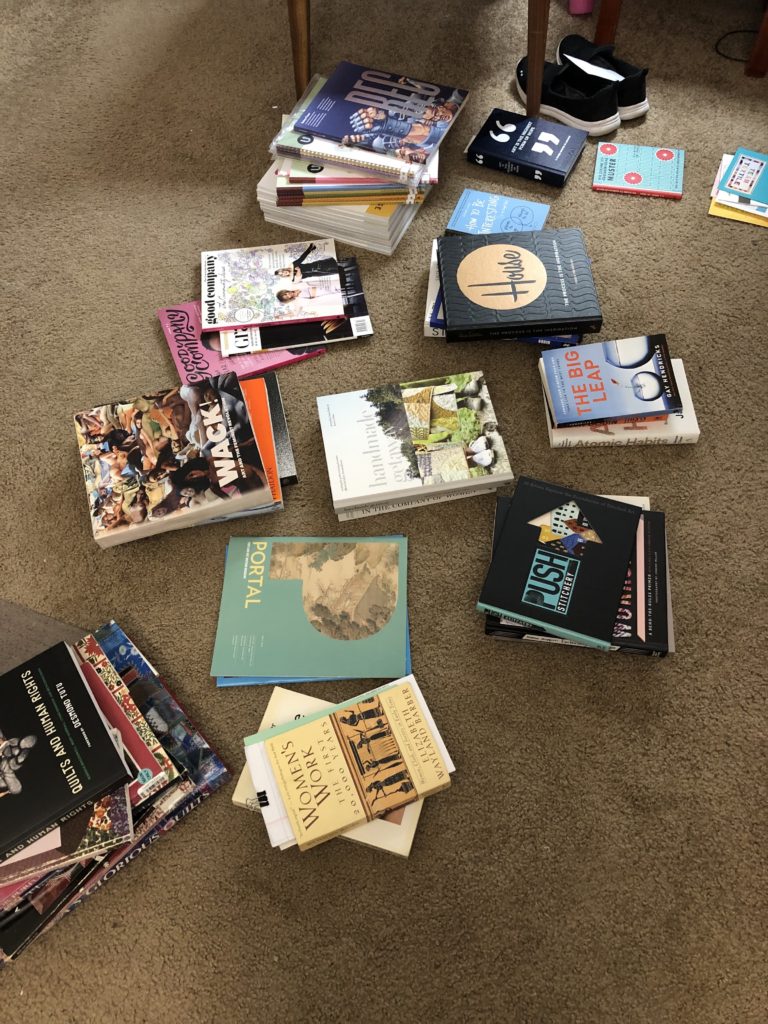 The second rule is that you shouldn't get rid of the things that make you happy, even if no one else sees the value of them!
I have more than a passing interest in mid-century pamphlet-style cookbooks. They were often published by a food manufacturer, and the books stretched to include that brand or ingredient in every single recipe. One of my favorite finds was this one, whose recipes all include salt. I know… salt?!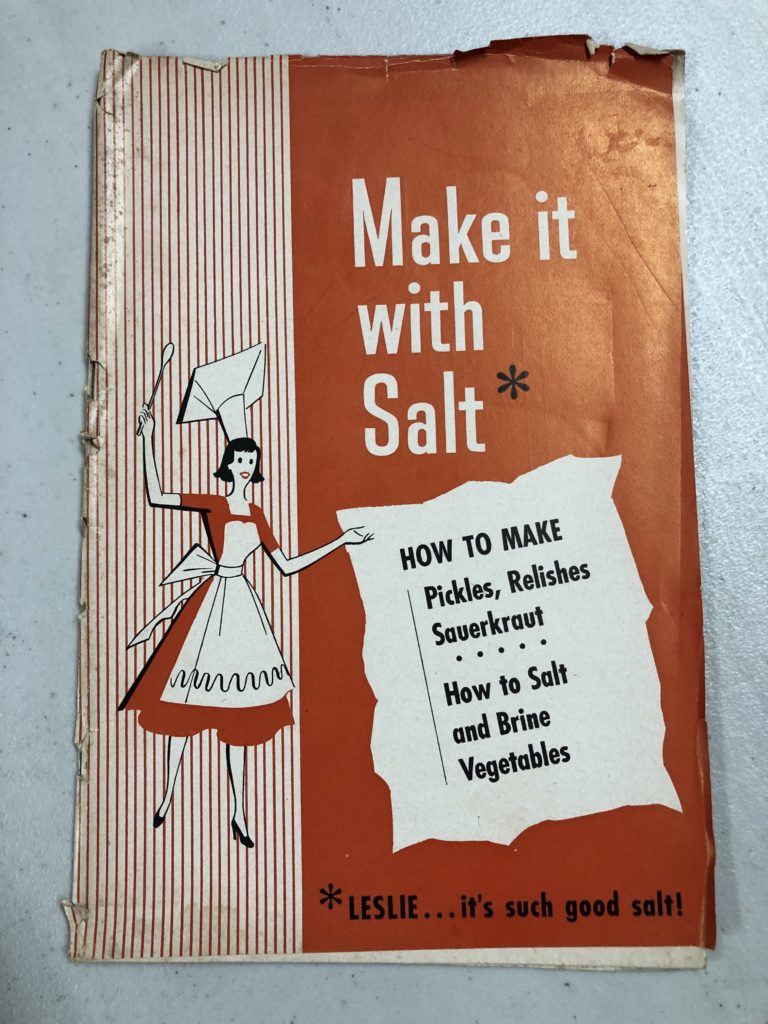 I also love the delightful mid-century illustrations: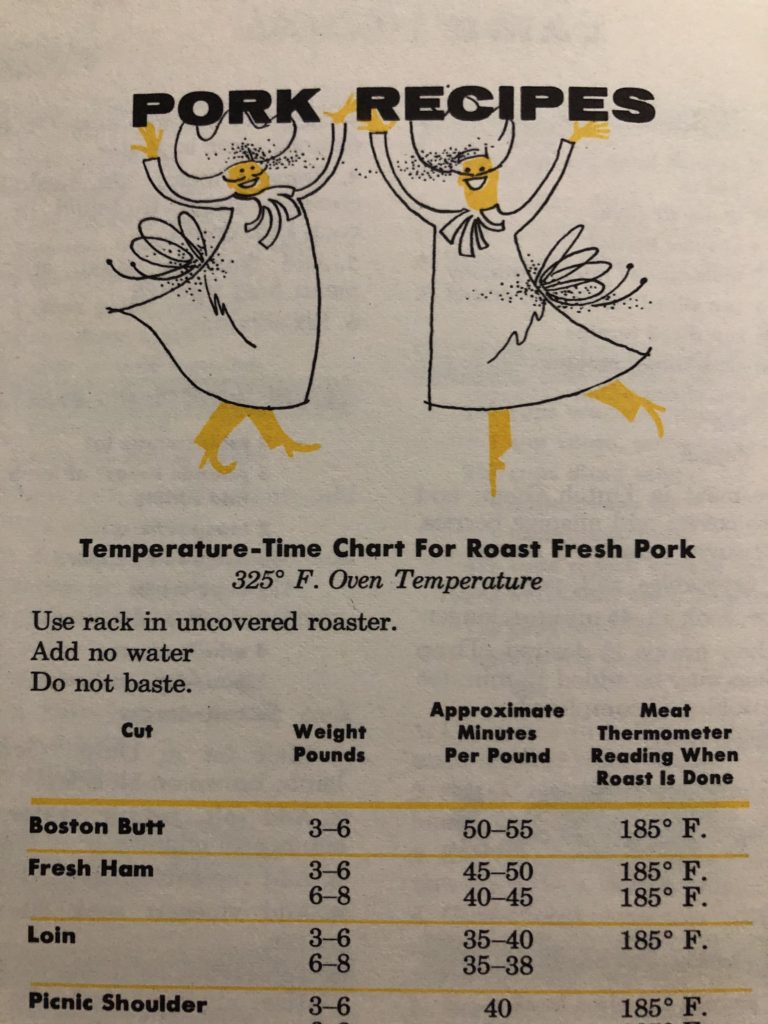 And most of all, I find such humor in the recipes that sound just dreadful: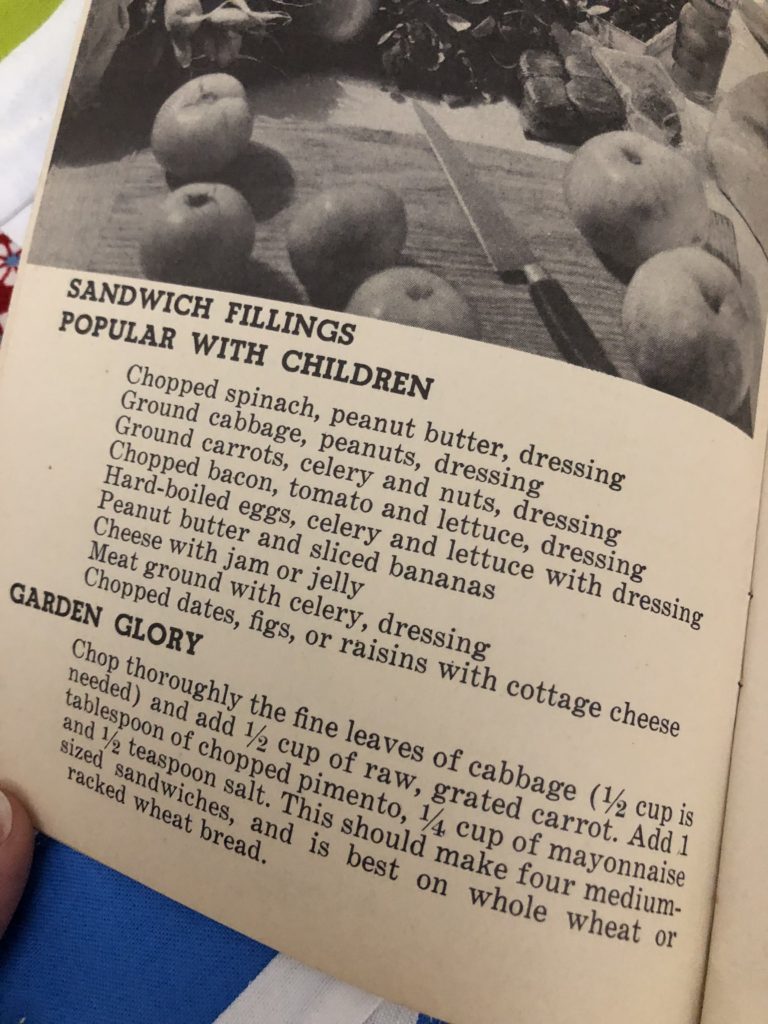 Once I had the books pared down, I re-grouped them by subject (I would LOVE to do it by color, but not having them categorized would make me itch!)
And then I shifted the placement for some of the subjects… I used to have quilting on one side of the room, and embroidery on the other. Now I feel like my categories flow a bit better, which means they can share shelves if needed. In the process, I reclaimed another shelf on which to store quilts, too.
Now it looks like this: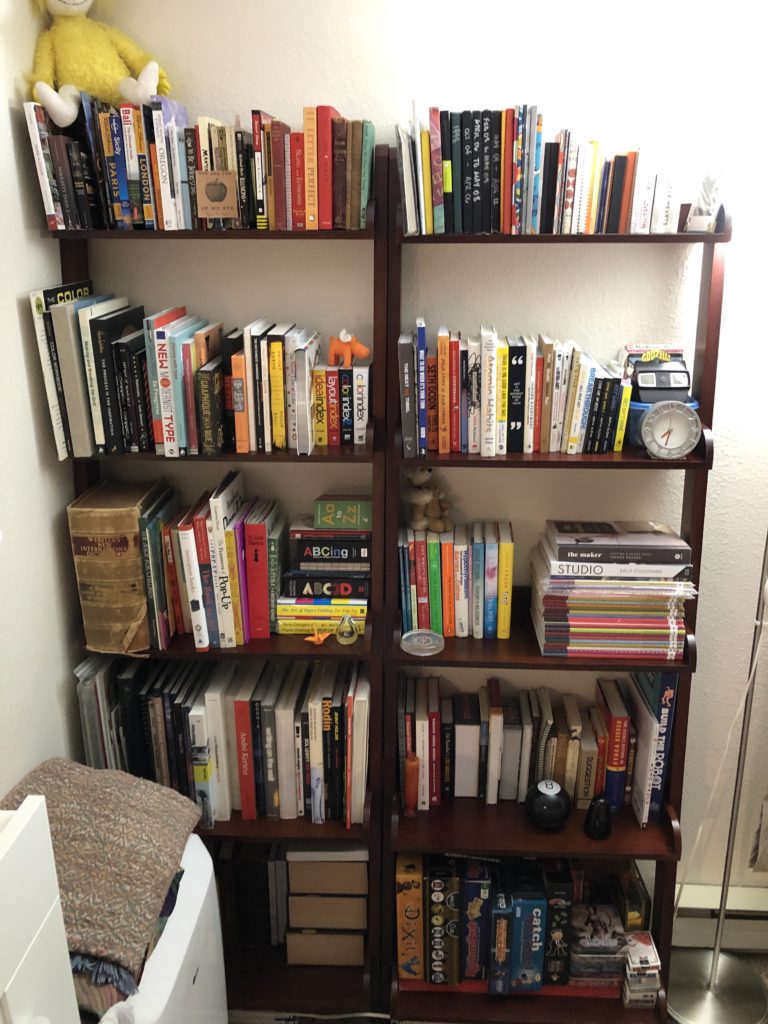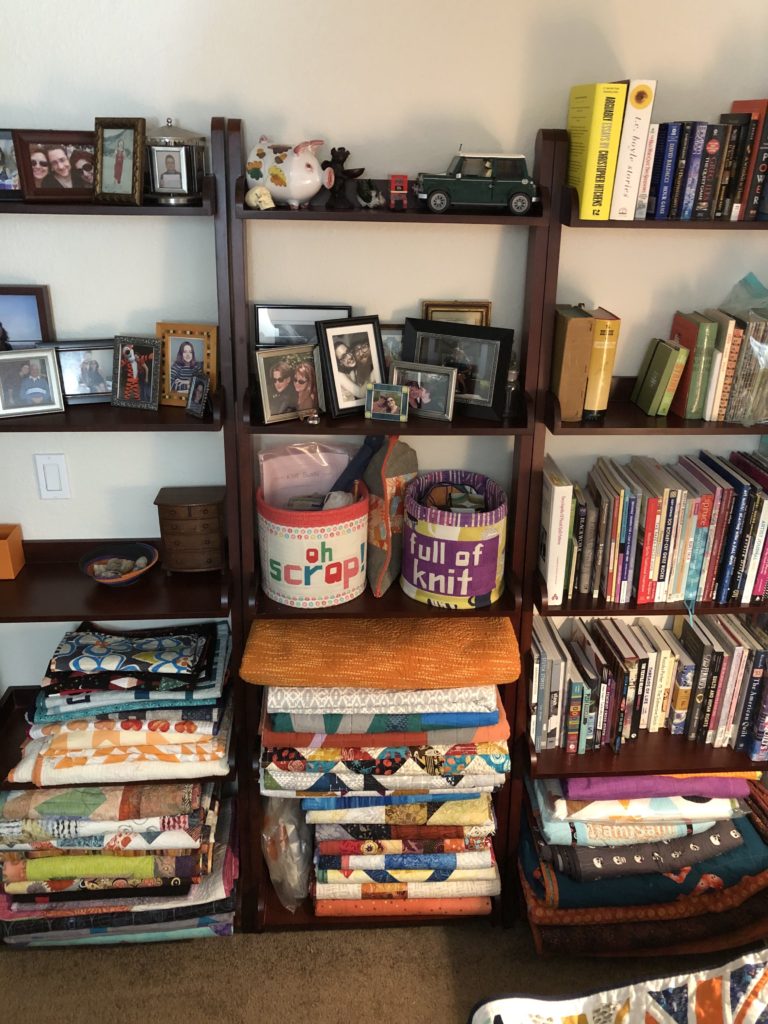 And this is the pile that I'll be donating to my library once my friends have had a chance at them: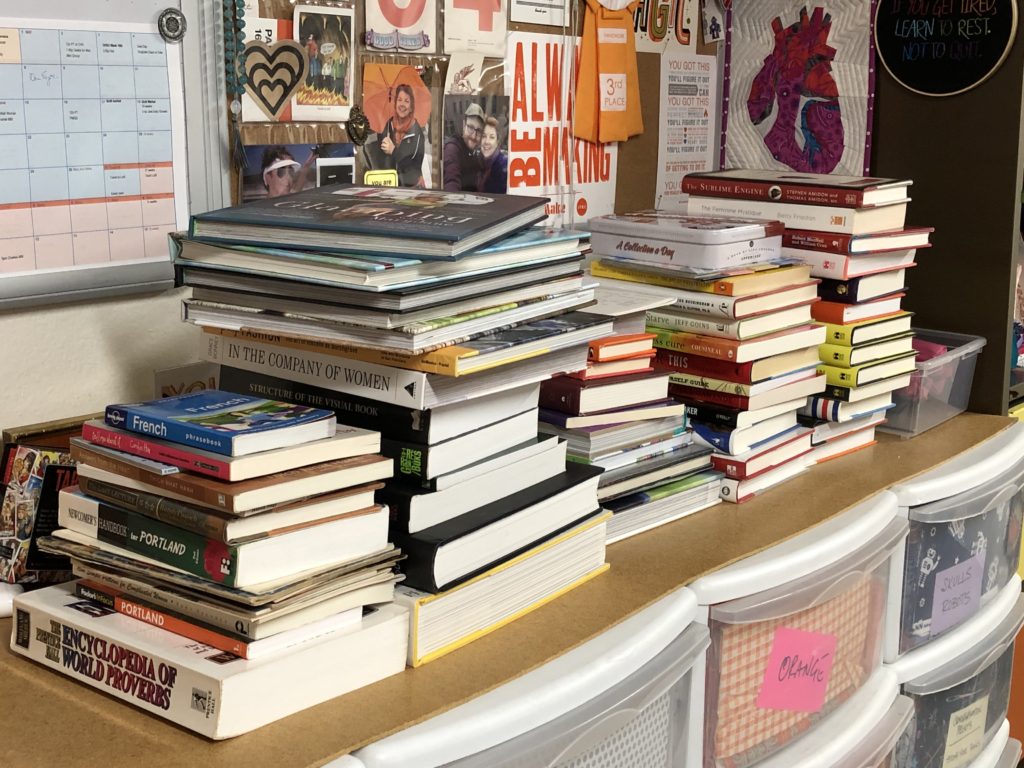 Oh… and here's my tidy studio!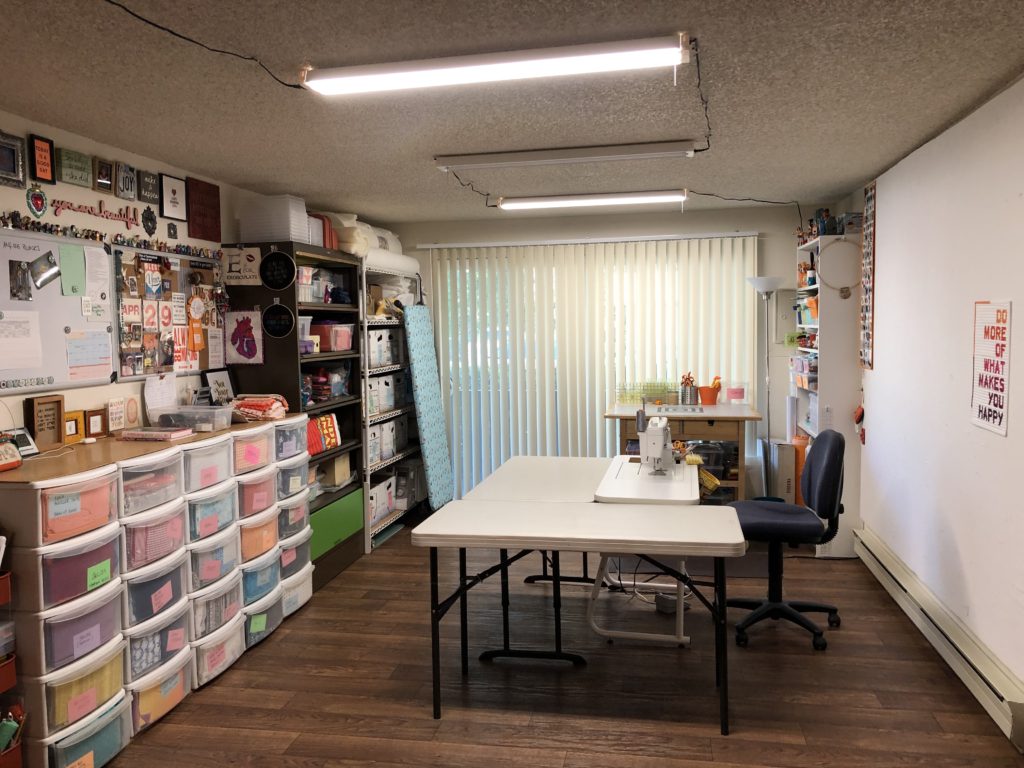 Please take a peek at the rest of the studios on the hop – you're likely to find inspiration there!
April 29 – Linda Bratten – http://lindabcreative.blogspot.com/
April 30 – Sandra Johnson – http://www.sandrajohnsondesigns.com
May 1 – Jennifer Schifano Thomas – http://www.Curlicuecreations.com
May 2 – Becca Fenstermaker – http://www.prettypiney.com
May 3 – Sue Griffiths – http://www.duckcreekmountainquilting.com
May 4 – Kate Starcher – http://katiemaequilts.com/blog
May 5 – Jo Westfoot – http://www.thecraftynomad.co.uk/blog
May 6 – Sam Hunter – https://huntersdesignstudio.com <– you're here!
May 7 – Simone Fisher – http://simonequilts.com/blogs/news
May 8 – Elisabeth DeMoo- http://www.brownbirddesignsquilts.com
May 9 – Sarah Myers –  http://www.quilted-diary.com/blog
May 10 – Amy Bradley – http://www.purplepineapplestudio.com
May 11 – Kathy Nutley – http://www.QuiltingsByKathy.com
May 12 – Carla Henton – http://createinthesticks.blogspot.com/
May 13 – Sherry Shish – http://www.poweredbyquilting.com
May 14 – Kate Colleran – http://www.seamslikeadream.com/blog
May 15 – Pamela Boatright – https://www.pamelaquilts.com/
May 16 – Cathy McKillip – http://wishuponaquilt.com/blog
May 17 – Cheryl Sleboda – http://blog.muppin.com