I love quotes. I've subscribed to a few "quote of the day" emails over the years, and I'm a sucker for a chunky little book of them. I think this one might be the next in my collection. I like how they are usually a short but precise way to express things, and often come with a built in punch of a message that I usually needed to hear that day!
So I've decided to start putting a few of them into fabric, and as I do, I'll be blogging the pattern notes for them here… consider them free/bonus additions to my book, Quilt Talk®, just for you. Just to be clear, you'll still need the book to access the letters, but I'll have done a lot of the setting math for you 🙂
I started plotting the letters of this one while I was in the writing phase of the book two years ago (TWO YEARS! ARGH!), but life got busy, and it ended up in the UFO pile. I paper-pieced the letters sometime last year, and again, it stalled. A couple of weekends back, I got real, and got to setting the letters. And from there, the finish was an easy one!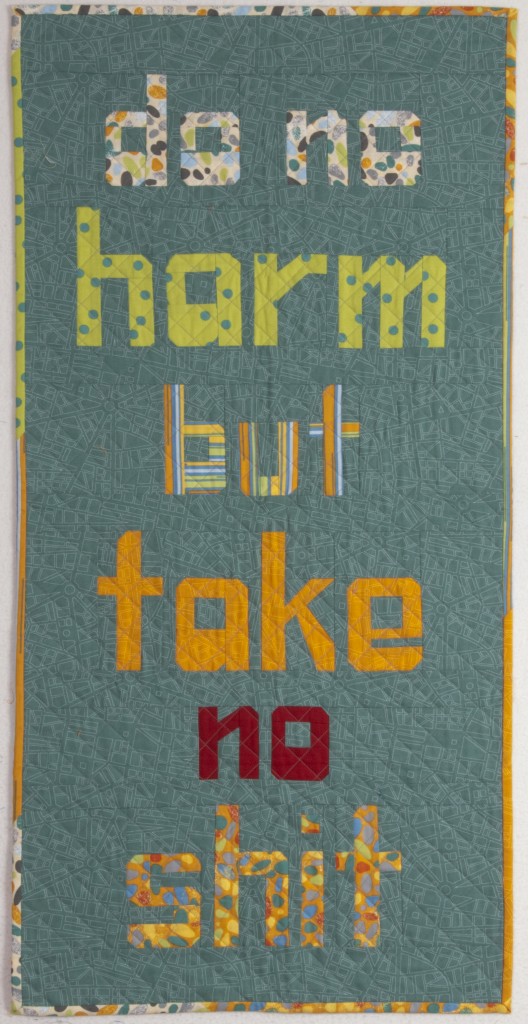 I used the Barcelona line from Brigitte Heitland/Zen Chic – not only is she a talented designer, but she's a lovely human as well! I used her highly successful Comma line for the Rackafrax quilt in the book.
This finished size for "Do No Harm" is 20" x 40" and this is how to do it:
The construction is similar to "She Just Ignored People…" in the book (p 101)
Copy the letters for

do no

,

but

, and

no

at 120% ("o" is 3")
Copy the letters for

harm

,

take

, and

shit

at 150% ("a" is 3.75")
Just to note, if you're not keen on having a cuss word on your quilt, you can either play with the spelling by substituting an asterisk or exclamation mark for the "i", or just change the word to a sentiment that suits you better.
The K space for the letters is 1/2" finished. The Word space between

do

and

not

is 2" finished.
The A&D strip for the 120% letters is 1.5" finished, and for the 150% letters is 2.375" (2 3/8") finished
The Leading is 1.5" finished, except under

do not

and

no

, where is is 1" finished.
The top and bottom are 3" finished.
The width is 20". So to calculate the size of the strip on either side of the word, measure the word, subtract 0.5 to get the finished word size, then subtract that from 20, then divide the result in half (one for each side) then add 0.5 to each piece for seam allowance. As an example:

8.5" word
minus 0.5 for seam allowance = 8
Subtract 8 from 20 = 12
Divide 12 in half = 6
Add 0.5 to each for seam allowance = 6.5" – so cut 2 pieces 6.5" x height of the word, and sew to either side of the word.
Quilting ideas: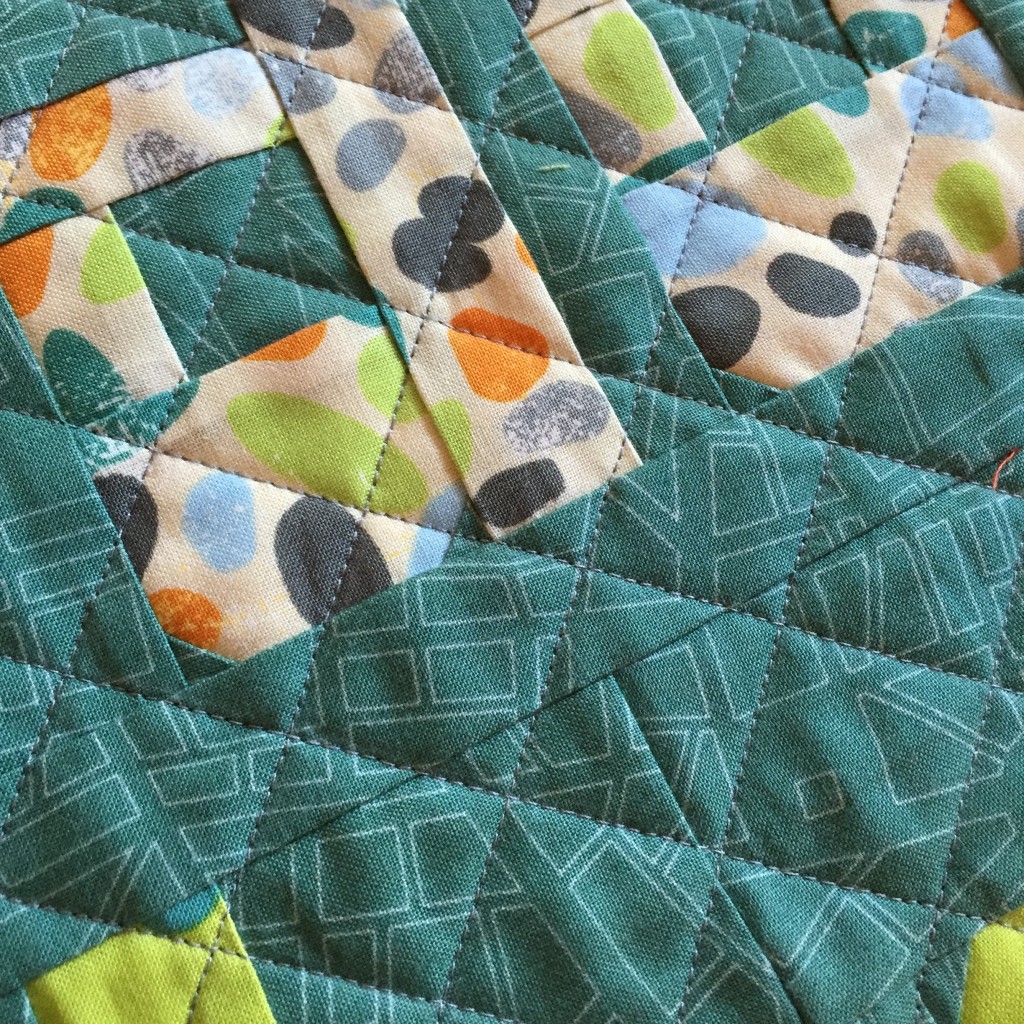 I find that a simple cross hatch, or straight lines works well with this kind of lettering, preferably done in a thread that doesn't scream against any one fabric. I used medium gray Aurifil 2605 in this instance, with the cross hatch about 1" apart.
You could also densely quilt down the background with pattern or stipple to allow the letters to stand up.
I hope you have fun making this one!