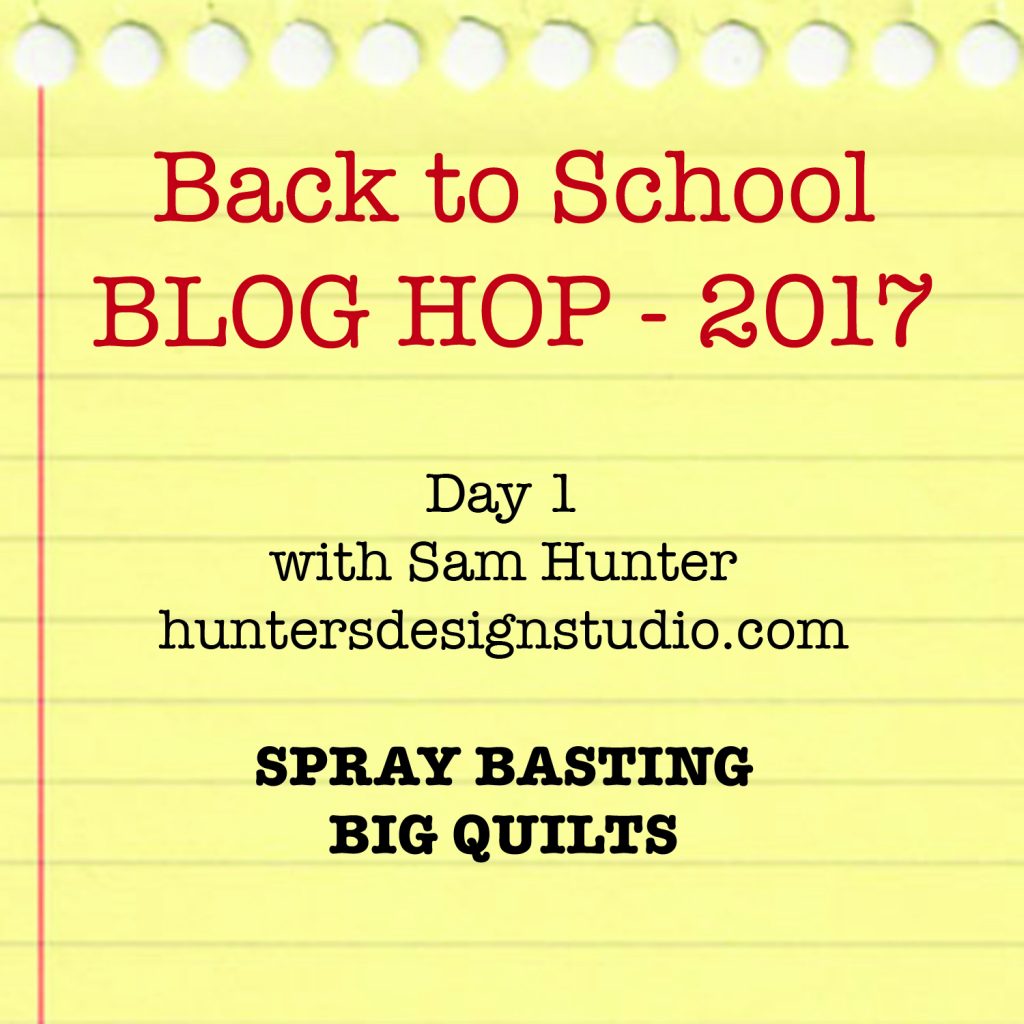 Welcome to Day 1 of the Back to School Blog Hop! I'm kicking it off with a video tutorial on how to spray baste a quilt that's bigger than your table.
The video is the entire process in one take. If you're pressed for time and need to skip through some of the repetitive parts of basting a large quilt, here are some places to fast-forward to for catching the high points:
00:30 Different clip options for different tables
01:15 Start basting down the center of the quilt
08:30 Moving the center of the quilt for the first time
13:00 Moving the center of the quilt for the second time
17:00 Moving the center of the quilt for the last time
20:30 Center of the quilt is finished, rotating the quilt and moving to the sides
24:30 Moving the side of the quilt up
27:30 End of first side, moving to second side
I mention some clamps/clips in the opening that work on the thick, white, plastic tables. You can get those here.
If you're using regular binder clips, buy the big 2" variety (1" capacity).
My favorite spray baste is 505 Spray and Fix Temporary Fabric Adhesive.
All links are not affiliate 🙂
(Huge thanks to Cheryl for loaning me a big quilt to baste!)
I hope you follow the rest of the hop as there's some fantastic content coming your way! BTW, the contributors are from all over the world, so please be patient is everything is not posted at bright and early in your exact timezone! 
Day 1 – August 15 – Sam Hunter: How to spray baste a BIG quilt – www.huntersdesignstudio.com <—- you are here!
Day 2 – August 16 – Mandy Leins: Thread Dread: removing stray bits after quilting – www.mandalei.com
Day 3 – August 17 – Nancy Stovall: The Sweet Creamy Filling – www.justquiltingpdx.com
Day 4 – August 18 – Ebony Love: 7 Indispensible feet for your sewing machine – www.LoveBugStudios.com
Day 5 – August 19 – Michelle Freedman: Machine throat plates – www.designcamppdx.blogspot.com
Day 6 – August 20 – Teresa Coates: Edge/Under/Top stitching – www.crinkledreams.com
Day 7 – August 21 – Kelly Cole: Ten ways to regain your sew-jo – www.vintagefabricstudio.com
Day 8 – August 22 – Megan Dougherty: Choose to Fuse: tips for working with fusibles for applique – www.thebitchystitcher.com
Day 9 – August 23 – Kim Lapacek: Tricks to being productive while hauling your kids around – www.persimondreams.blogspot.com
Day 10 – August 24 – Yvonne Fuchs: Circuitboard quilting on Domestic and Longarm Machines – www.quiltingjetgirl.com
Day 11 – August 25 – Sandi Hazlewood: Chain Piecing Quilt Blocks Tips – www.craftyplanner.com
Day 12 – August 26 – Juliet van der Heijden: Paper-piecing with children – www.thetartankiwi.com
Day 13 – August 27 – Maddie Kertay: Fabric folding for any storage solution – www.badassquilterssociety.com
Day 14 – August 28 – Cath Hall: Working with Lawn fabric – www.wombatquilts.com
Day 15 – August 29 – Tracy Mooney: Tips for the perfect seam – www.sewmuchcosplay.com
Day 16 – August 30 – Teri Lucas: How to bury thread – www.terificreations.com
Day 17 – August 31 – Debby Brown: Securing machine quilting knots – www. higheredhands.blogspot.com
Day 18 – September 1 – Flaun Cline: How to put some sparkle in your fabric pull (part 1) – www.ipleadquilty.com
Day 19 – September 2 – Jessica Darling: How to put some sparkle in your fabric pull (part 2) – www.jessicakdarling.com
Day 20 – September 3 – Trish Frankland: A bigger blade really IS better?! – www.persimondreams.blogspot.com
Day 21 – September 4 – Robin Koehler: Tips on how to travel with handwork – www.nestlingsbyrobin.blogspot.com
Day 22 – September 5 – Jane Davidson: How to make scrappy HSTs – www.quiltjane.com
Day 23 – September 6 – Linda Pearl: Low cost tips for organizing your sewing room – www.onequiltingcircle.com
Day 24 – September 7 – Christa Watson – Top 10 tips for quilting on a domestic machine – www.christaquilts.com
Day 25 – September 8 – Sarah Nunes: To Starch or Not to Starch – www.berrybarndesigns.com
Day 26 – September 9 – Suzy Webster: Testing fabric for bleeding – www.websterquilt.blogspot.com
Day 27 – September 10 – Sarah Goer: Machine bind your quilts like a pro – www.sarahgoerquilts.com
Day 28 – September 11 – Vanda Chittenden: Beginner paper-piecing tips – www.chittenden.co.za
Day 29 – September 12 – Cheryl Sleboda: Needle threading tips – www.muppin.com
Day 30 – September 13 – Kim Niedzwiecki – Different thread weights and when to use them – www.gogokim.com
Day 31 – September 14 – Sandra Healy: Conquer Your Fear of Machine Appliqué – www.sandrahealydesigns.com
Day 32 – September 15 – Sandra Starley: The Basics of Antique Quilt Collecting – www.utahquiltappraiser.blogspot.com