UPDATE: Shirley won the patterns! She was the THIRD person I contacted to win… keep an eye on your emails, folks!
Now that Spring Quilt Market is done, I can show you all the new patterns I released for the first half of this year! They're in stock and available in the store now!
Before I introduce the patterns, I'd like to just give HUGE THANKS to my test crew: Monica, Flaun, Kimberly, Trish, Adva, Jean, Mary Ellen, Chelley, Barbara, Megan (who names a lot of the patterns), and Janet and the SLO Creative Test Crew.
And more HUGE THANKS to Nancy Stovall of JustQuiltingPDX and Kazumi Peterson of K.Peterson Quilting for making my quilts look pretty!
Flight Club is FQ friendly, and also includes a cutting chart for WOF quarters too. It's another "planned improv" quilt, where I give you instructions for the precise layout. I had a lot of fun playing with all the ORANGE and red fabrics on this one!
Skyline Reflected is a cousin of one of my enduringly popular patterns, Loose Change. It's another "planned improv" affair, with precise instructions to get that random look. One 40 piece strip pack will get you a queen quilt, or a twin with some leftovers for a scrappy binding. Here's another version in more traditional batiks:
Next is Big Hearted: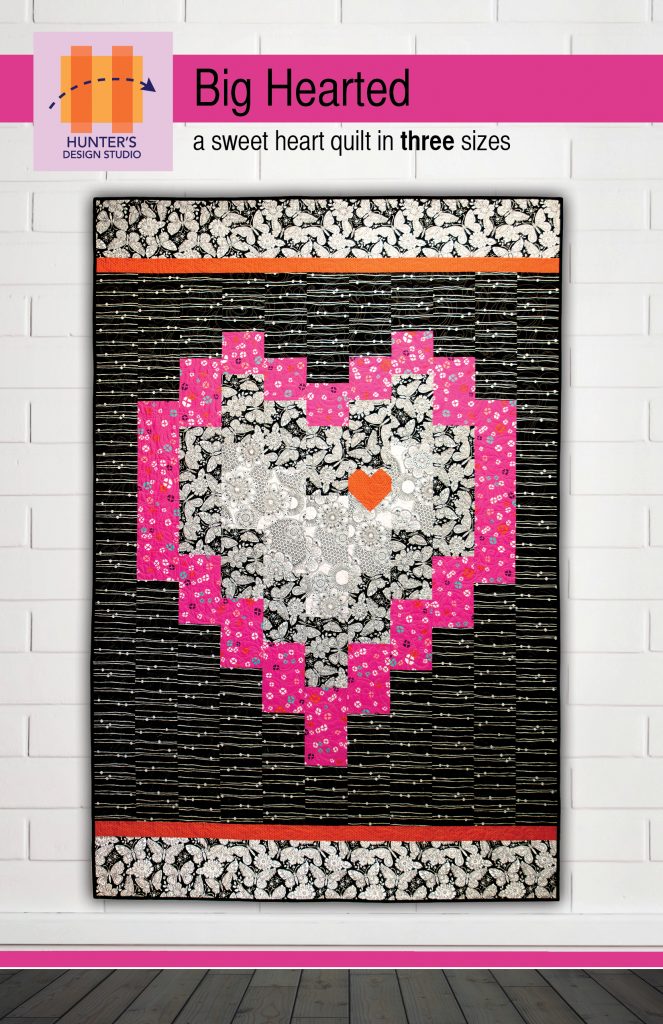 I know… I made a PINK quilt! It happens to the best of us! You'll note it has some ORANGE in it (how else would you know it's mine?!) Big Hearted is really fast and easy, based on big strips with a few simple snowballs to make the heart. I am celebrating my 8th anniversary of surviving a heart attack, so a heart quilt popped up in my sketchbook.
It has 3 sizes too: Snuggle (almost twin), Lap/Baby, and Crib. I've already gifted one to a friend, and have another in the works to welcome a baby due soon, made of Pooh and Tigger fabric… more ORANGE!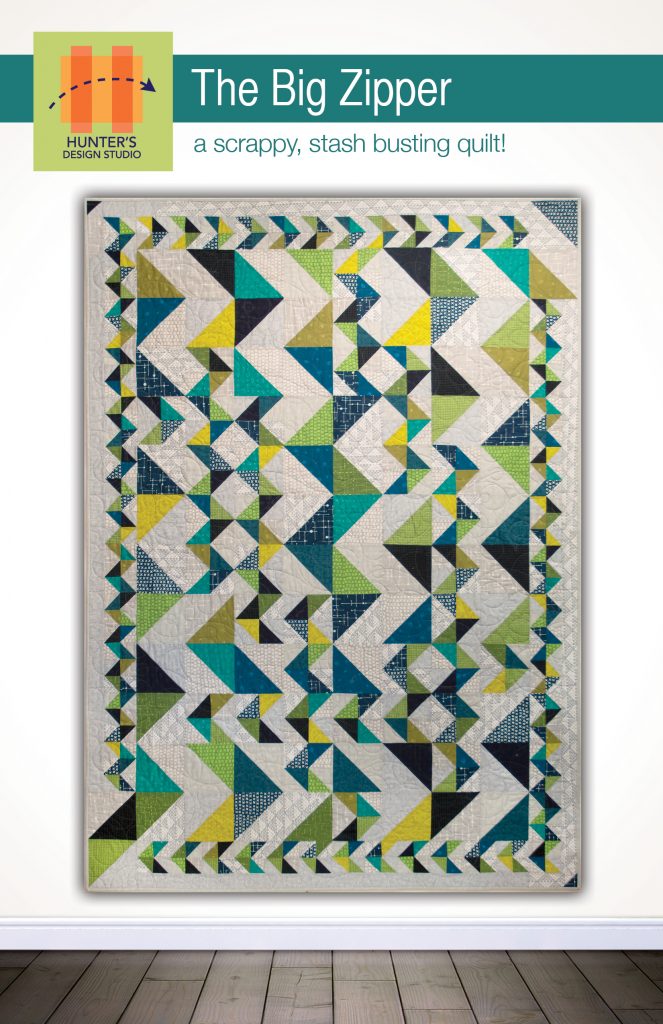 The Big Zipper is also "planned improv", but has enough pieces that you can change the layout if you want to. There are 2 methods in the instructions for making the half-square triangles – one uses an inexpensive ruler, and avoids cutting anything with 1/8th inch numbers in it!
Title IX is a stack/cut/shuffle/sew type pattern. The directions include 4 sizes from lap to king. I was playing around with putting a random X in a pattern, and this was the result. When the IX emerged, I thought it would be great to name it after the 1972 law that prohibits discrimination on the basis of sex/gender in any federally funded education program or activity. This law is the foundation of many collegiate sports programs for women!
Big Star Diamond is the second in the Big Star series. I love the drama of these large scale stars, and they go so much faster than lots of little ones! It's made from 2 1/2" strips, and the pattern includes 2 different setting treatments, one with Y seams and the other without – you can choose the one that suits your fabric or skills best.
Off Kilter is fat quarter friendly, and is another stack/cut/shuffle/sew pattern. The directions include 4 sizes from lap to king. The shapes in this block were inspired by a rather unassuming door I saw in Barcelona last fall:
Inspiration can come from anywhere!
And for those who read to the end, a chance to win a set of all seven of these patterns! Please add a comment to tell me what you're working on – I love to be inspired by your projects!
I'll draw a random winner on June 10th.