2022 Undie Fundraiser Quilt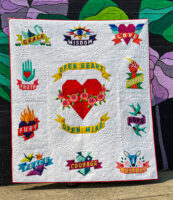 Thank you for participating!
Our grand total for undies collected is 2,316 during the drive, and we received more after the deadline making our grand total:
2,400 undies!
Congratulations Andrea H!
This year, our 2022 Undie Fundraiser Quilt made by the #Lucky13MiniGroup is the Tattoo Quilt. This quilt was designed by Berene Campbell of @happysewlucky). Many thanks to Ruby Star Society for donating the Speckled fabric we used. Check out detailed shots of the quilting and blocks at the bottom of the page.
This gorgeous quilt was quilted by Nancy Stovall from Just Quilting.
Do you want to win this quilt? Of course, you do!
To enter to win the Tattoo Quilt, we are collecting underpants for a local domestic violence shelter, Raphael House.
Raphael House let us know that they are in most need of the following items:
Underwear for adult women is our greatest need at the moment, and a full variety of sizes – including plus sizes – would be lovely if possible. Of course, we always welcome a real range. As for socks, again – a little of everything would be awesome and make a huge difference here! 
How to Win:
 Donate underpants and pairs of socks.  To donate, please send your items for the 2022 Undie Fundraiser quilt to:
Sam Hunter – The Undies Project
Hunter's Design Studio
16055 SW Walker Ave, #218


Beaverton, OR 97006 

OR for local to PDX, we're doing an in-person drop off at Cliff's PDX on Sunday, November 20, from 3-5 pm (128 NE Russell St, Portland, OR 97212)
Record your 2022 undie quilt fundraiser donation via our Google Form:  
**YOU MUST RECORD YOUR DONATIONS TO HAVE YOUR DONATION COUNT!**
The quilt winner will be selected on November 20th, 2022, at the end of the in-person donation event at Cliff's via a random number generator.
Any questions? Feel free to write us at lucky13quilts@gmail.com
Frequently Asked Questions for the 2022 Undie Quilt Fundraiser:
Q: Did you get my donation?
A: Please forgive us for not being able to dig thru all the parcels to find yours! We get hundreds of underpants each time we do this fundraiser!
Q: Is this project only local to Portland?
A: NO! Anyone within the US is welcome to participate. We'll cover shipping!
Q: Do I need to be present to win?
A: No! We'll contact you if you're the winner.