I'm so excited to tell you about the new patterns I have releasing this season! There are six coming… these are the first two!
First, Show Up: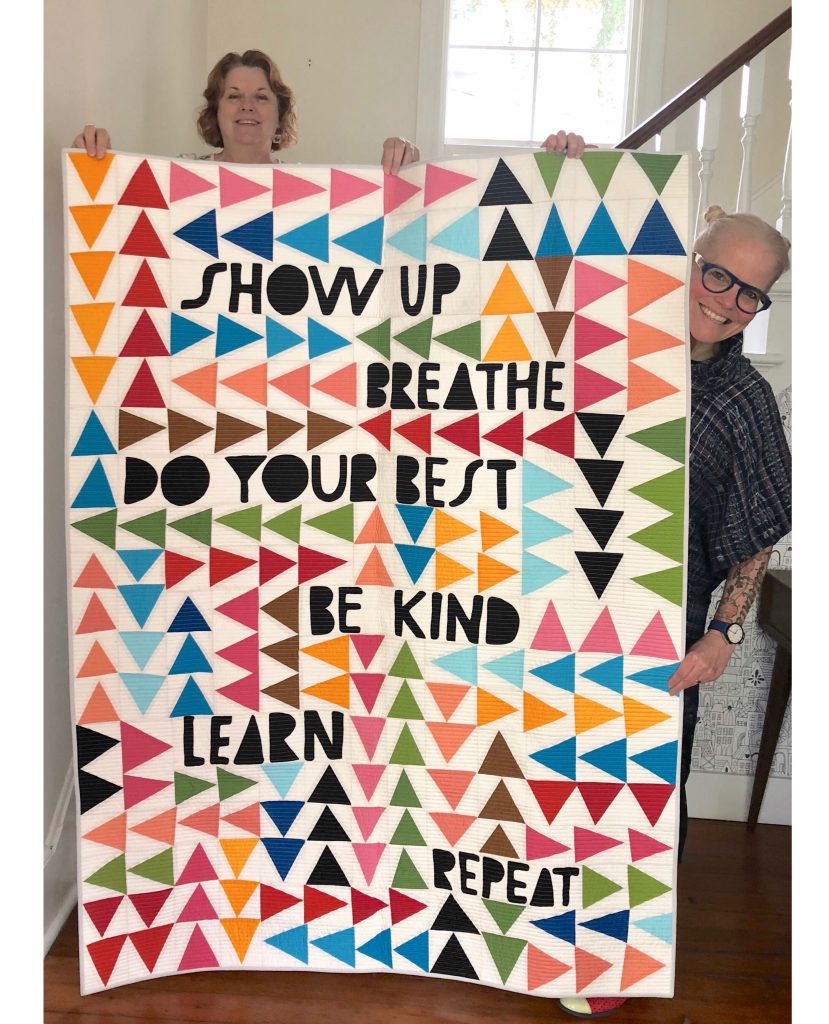 This is a collaborative pattern! I approached artist Lisa Congdon last year to see if she was interested in having me adapt one of her stunning posters into quilt form. I was tickled when she said yes! The result is this beautiful quilt.
This is a paper-pieced pattern with fusible appliqué (because you all know how much I don't hand appliqué!) and there are instructions for reducing it by 50% to make a wall hanging. Lisa chose all the colors to match her original artwork, and there are some lovely tonal variations in our version. The pattern also includes a coloring worksheet, and a chart of the Kona Cotton colors we used. I chose paper-piecing as the main construction technique so that I could preserve the subtle variations in the shapes of the triangles. Every row of triangles is slightly different, giving it the handmade feel of the original. We had a great time working on this, and plan to do more!
You can buy the paper or PDF of Show Up here in the shop.
I'm planning a Quilt Along for Show Up this summer – keep an eye on the newsletter for details.
The second pattern I'm releasing today is Mortimer: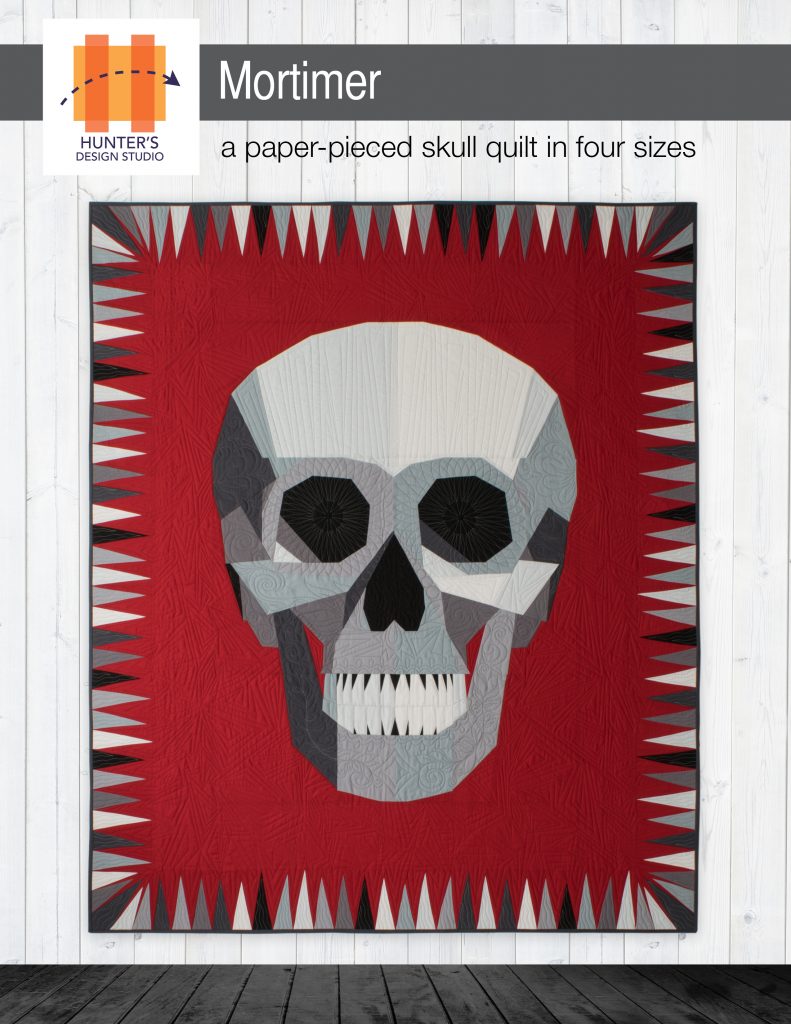 You might remember Morty as a small block I released a couple of years ago. He's back, but BIGGER. The skull block is 36" x 48", and the quilt pictured above (with the spikey border) is 60" x 72". The pattern includes instructions to add even more border for a queen sized quilt too, as well as the original 9" x 12" block. This one is all paper-pieced – it's the best way to get accuracy in small places like his teeth 🙂 The pattern includes a Kona Cotton color chart for the cover quilt. I'm currently working on one in Liberty style florals (I KNOW… me and florals!)
You can get the paper or PDF of Mortimer in the shop here (and if you already bought little Morty from before and you want this guy, shoot me your receipt from the prior purchase and I'll refund that against this pattern for you when you buy it!)
Watch this space… more new patterns coming soon!
And a very special shout out to the HDS Stunt Sewing and Pattern Test Team! Huge thanks to Nancy Stovall (who quilted both of these), Matthew, Maria, Megan, Linda, Nicole, Amy, Kimberly, Janet, Trish, Jean, Barbara, Paula, and Monica!
Check out that quilting!