There have been some great discussions out on the interwebs, of late, covering some thoughts on pricing and working for free. These are definitely worth your time!
First: Karen McTavish on the Crafty Planner Podcast. At about minute 42, Sandi and Karen start discussing the pricing for long-arm services. Karen makes her version of the point I'm always trying to make: When you undercut yourself, you undercut EVERYONE. She believes that as you get better, you should raise your prices, then the new folks coming up behind you can earn a decent rate too. AMEN.
The rest of the podcast is great also, as Karen talks about her unlikely journey to being the Karen McTavish – and she's a funny lady to boot!
Second: This WONDERFUL video shows how nuts it is to be asked to work for free in other industries outside of the arts. In two and a half very short minutes, the point is beautifully made, especially by the old chap in the restaurant! There are some great points about being a professional who gets paid for their time, and keeping ownership of one's intellectual property.
Third: We have a new organization in town, The Craft Industry Alliance. Abby Glassenberg of While She Naps, and Kristin Link of Sew Mama Sew have joined forces to make an online community where craft industry professionals can discuss the details of how we do business, and get help from the wisdom of others. I have long thought that we needed some type of unofficial union in our industry so that fewer crappy contracts are offered to (or accepted by) my colleagues. I had no idea how to build such a thing, and am grateful that Abby and Kristin figured it out. It's been running for a couple of months, and already there are some great reference articles and robust forum discussions going on. Brava, and thank you, ladies!
We Are $ew Worth It!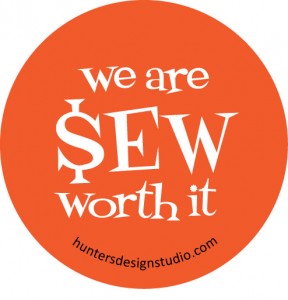 ******
BTW – Did you join my mailing list yet? Do it here. I'm dreaming up groovy exclusive stuff for you!